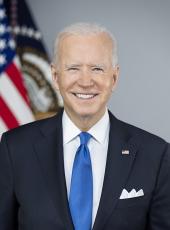 Remarks in an Exchange With Reporters Prior to Departure for Wilmington, Delaware
China/Russia/Ukraine
Q. If China starts arming Russia in Ukraine, what are you going to do?
The President. You think I'd tell you if I—if they did, you think I'd announce it ahead of time?
Q. Well, that would be bad, right?
Q. Are you worried that China is going to partner with Russia in this war?
The President. Say again?
Q. Can Ukraine win the war without fighter jets?
Q. Are you worried that China will side with Russia in the war?
The President. There's no evidence of that so far.
And by the way, I had a long conversation with Xi about this in the summer. And I said: "Look, this is not a threat. It's just a statement. When, in fact, Europeans saw what was happening, and Americans saw what's happening in Russia—in Europe, guess what? Six hundred corporations pulled out. They left. They didn't want to be associated." I said: "You told me that the future of China rests on investment from the Western world. And that matters." I said, "I'd just keep on eye that."
There's no evidence he's done it yet.
Q. When will you speak with President Xi?
Q. [Inaudible]—of the war?
President Volodymyr Zelenskyy of Ukraine
Q. What did you tell Zelenskyy in Kyiv about the possibility of providing F-16s?
The President. Well, that's a private discussion.
Q. But are you open to it? Are you open to it, sir?
Train Derailment and Chemical Spill in East Palestine, Ohio
Q. Will you go to East Palestine, Ohio? Are you planning to travel to East Palestine, Ohio?
The President. This time, I'm not. I was—I did a whole video—I mean—you know, the—what the hell—on——
Q. Zoom?
The President. Zoom! Zoom. All I can hear every time I think of Zoom is that song of my generation, "Who's Zoomin' Who?"
Q. Sir——
Q. Have you——
The President. Guys, wait, wait, wait. Let me answer the question.
The answer is that I had a long meeting with my team as to what they're doing. You know, we were there 2 hours after the train went down. Two hours. I've spoken with every single major figure in both Pennsylvania and in Ohio.
And so the idea that we're not engaged is just simply not there. And initially, there was not a request for me to go out, even before I was heading over to Kyiv.
So I'm keeping very close tabs on it. We're doing all we can.
NOTE: The President spoke at 5:21 p.m. on the South Lawn at the White House prior to boarding Marine One. In his remarks, he referred to President Xi Jinping of China. Portions of these remarks could not be verified because the audio was incomplete.
Joseph R. Biden, Remarks in an Exchange With Reporters Prior to Departure for Wilmington, Delaware Online by Gerhard Peters and John T. Woolley, The American Presidency Project https://www.presidency.ucsb.edu/node/359830