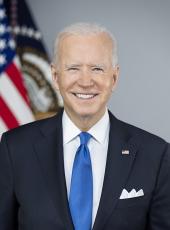 Remarks in an Exchange With Reporters After Paying Respects at Section 60 of Arlington National Cemetery in Arlington, Virginia
The President. Hard to believe, isn't it?
Bravery of U.S. Servicemembers
Q. Mr. President, what does this moment mean to you?
The President. It means that I—I'm always amazed at generation after generation, the women and men who are prepared to give their lives for their country. But they don't give it for their country, per se; they give it for their brothers, their sisters, their mothers, their fathers, their uncles, their aunts.
And I—it means that I have trouble these days ever showing up at a veterans cemetery and not thinking of my son Beau, who proudly insisted on putting on that uniform and going with his unit to Iraq and giving up his spot as attorney general of the State of Delaware because he thought it was the right thing to do.
And look at them all.
Counterterrorism Efforts/U.S. Military Operations in Afghanistan
Q. Was it a hard decision to make?
The President. I'm sorry?
Q. Was it a hard decision to make, sir?
The President. No, it wasn't. To me, it was absolutely clear. Absolutely clear. We went for two reasons: to get rid of bin Laden and to end the safe haven.
From the very beginning, you may recall, I never thought we were there to somehow unify Iraq—I mean, excuse me, Afghanistan. It's never been done. It's never been done.
Thank you all for being out here in the rain. It means a lot. Thank you.
NOTE: The President spoke at 3:13 p.m.
Joseph R. Biden, Remarks in an Exchange With Reporters After Paying Respects at Section 60 of Arlington National Cemetery in Arlington, Virginia Online by Gerhard Peters and John T. Woolley, The American Presidency Project https://www.presidency.ucsb.edu/node/349531