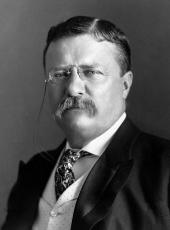 Remarks in Elmira, New York
My friends and fellow citizens:
It is a very great pleasure to be again in your beautiful city and to have traveled as I have been traveling to-day through this wonderful fertile country of southern New York, my own State. In greeting all of you, I want to say a word of special greeting to the bodies of Firemen's Associations that have met here within the last day or two. In our modern industrial life things are sometimes made so easy that the harder qualities almost tend to atrophy. Therefore it is a fine thing to see men who have taken up a profession which calls for the exercise of very ounce of courage and coolness and prowess a man can have. They are good qualities to develop in a nation and I am mighty glad to see any of our people who develop them.
There are certain classes of our people, such as firemen, most of them employed on railroads, and the men in the light-houses and lifesaving services, who, by the very fact of their profession, are called upon to exercise those qualities of which this nation would have need should it ever again be called to war. I earnestly hope it never will be called again, and I will make every effort to see that peace obtains, but one first-class way to keep peace is to make it evident that you are not afraid to fight.
I have a great contempt for the brawler, and not merely contempt but the most active dislike for the man who bullies whomsoever is weaker, who wrongs the less fortunate. I feel that we should have the same kind of international morality as of individual, we must not brawl, but we must let other nations see that we are strong enough to hold our own.
Theodore Roosevelt, Remarks in Elmira, New York Online by Gerhard Peters and John T. Woolley, The American Presidency Project https://www.presidency.ucsb.edu/node/343640