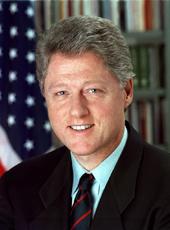 Remarks at Elmendorf Air Force Base, Alaska
Thank you. Thank you very much. You may have noticed from the news, I'm a little hoarse. But if you will be patient with me, I will try to say what is in my mind and heart for you.
First, Governor and Mrs. Knowles, General Gamble, Colonel Lake, Mayor Mystrom, Lieutenant Governor Ulmer, to the other distinguished leaders of our Air Force and Army who are here. All of you know that when I tell you I just couldn't go home without stopping here, I'm telling the truth. [Laughter]
I guess I could go home without seeing you, but that would be my loss. Hillary and I look forward so much to the opportunities we have to come here to see the people who serve our Nation, who serve particularly in the Asia-Pacific region where I have just spent a number of days in Australia, the Philippines, and Thailand, and to see your families. I want to thank you for what you do. I want to tell you that, once again, I see from my talks with leaders throughout the world how important our leadership in this region is for peace, for stability, for prosperity and how much people all over the Asia-Pacific region look to you, trust you, believe in you, and see America in you. I thank you for that, and you should be very, very proud.
As Hillary and I go home for Thanksgiving we'll be giving special thanks this year, because it's Military Family Appreciation Week, for the families of our men and women in uniform throughout the world. From Bosnia to the Middle East, to Haiti, to the DMZ in Korea, here in Alaska, and in countries throughout the world, in bases all over the United States, I have seen the sacrifices and the support of our military families. I'm so grateful to all of you who have brought your children here today. I hope I get to shake hands with as many of them as possible. Those of you in the back who have your children on your shoulders, I thank you for that. I hope they will always remember that their parents served their country with pride and honor and that they had a chance to see the President thank their parents for their service.
To all of you in our families—I know here at Elmendorf alone there are 10,000 dependents—I know that the national security would not be possible without you. I was so moved by General McCaffrey's story of his own experience. I have seen that in military support families, in accidents which cost the lives of our military personnel, and in losses in active-duty service. But every day I see it in the support you give in countless ways to make it possible for families to stay together, for children to be raised properly, for families to support each other so that our country can be properly defended.
So on this Thanksgiving Day, for all of our many blessings—and I've got a lot of things to be thankful for, including having my contract renewed—[laughter]—I want you to know when our family, including a lot of our extended family, gathers on Thursday at Camp David, we will be thanking God for all of you who make our country the greatest, strongest force for freedom in human history.
God bless you, and thank you.
NOTE: The President spoke at 9:17 p.m. Alaska time (after crossing the international dateline) in Hangar One. In his remarks, he referred to Gov. Tony Knowles of Alaska and his wife, Susan; Lt. Gen. Patrick K. Gamble, USAF, Commander, Alaskan Command; Col. William J. Lake, USAF, Commander, 3d Wing; Mayor Rick Mystrom of Anchorage; Lt. Gov. Fran Ulmer of Alaska; and Gen. Barry R. McCaffrey, USA (Ret.), Director, Office of National Drug Control Policy.
William J. Clinton, Remarks at Elmendorf Air Force Base, Alaska Online by Gerhard Peters and John T. Woolley, The American Presidency Project https://www.presidency.ucsb.edu/node/222299