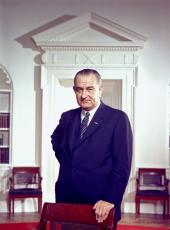 Remarks in El Paso at the Inauguration of the New River Channel Completing the Chamizal Boundary Change.
President Diaz Ordaz, Mrs. Diaz Ordaz, Senator Mansfield, distinguished Members of the Congress, distinguished guests, ladies and gentlemen:

About a year ago, two signatures were placed on a declaration in Spanish and English in the City of Juarez.
The international boundary between Mexico and the United States was changed.
It was changed without a shot being fired, without the massing of troops on frontiers, without an exchange of threats through respective embassies.
The course of a historic river was to be permanently altered.
The Chamizal--symbol of contention for more than 100 years--was returned to Mexico. It was no small accomplishment.
Credit for it must go to hundreds of dedicated Mexicans and Americans who labored long for many years to achieve it.
It must go particularly to President Adolfo Lopez Mateos, with whom I first discussed this project as far back as 1958 and after whom the new Rio Grande Channel is deservedly named, and for whose improved health we all pray, and to the farsighted and the beloved late President John Fitzgerald Kennedy, who gave a new urgency to the settlement of this old dispute.
These men were determined to seek justice for both of their countries. They believed that nations, like men, must not be trapped by the ideologies or the events of the past.
They had the courage to believe that there are few problems between reasonable nations which cannot be solved--no matter how complicated, no matter how emotional or sanctified by age.
So, for 4 long years now, I have worked with my dear friend, and the friend of all of the citizens of my country, the most distinguished President of Mexico, Gustavo Diaz Ordaz, to complete the Chamizal story.
We believe that we have worked out together a fair and a just solution, and we have worked it out in peace.
"Respect for the rights of others is peace," said Benito Juarez. Peace is also sharing the burdens of hemispheric leadership. Peace is mutual respect for the unique national and cultural identity of other peoples.
I told my daughter only yesterday that my wish for my grandson was that he would learn to speak Spanish as he learned to speak English. And I believe he understands a little more Spanish today than he does English.
Peace is the free commerce of men and ideas and goods across borders.
The finest thing I know to say about both countries, and both Presidents, and both peoples is that as we sit here today we have no armies patrolling our borders. We have confidence in each other and we have peace with one another.
Now, peace is the active development of physical resources and human potential. The International Boundary and Water Commission has shown us in concrete terms how peace and understanding can bring about economic, social, and educational development.
The magnificent works along this river are eloquent testimony to the Commission's success. Land has been redeveloped. New bridges have been built--including the impressive structure on which we gather here today. An unpredictable river has been converted into a controlled source of water-water for irrigation, water for electric power, water for recreation--for Mexicans and Americans alike.
To insure that the movement of men and ideas and goods will continue between our two countries in the border areas, President Diaz Ordaz and I agreed to create the United States-Mexico Commission for Border Development and Friendship 2 years ago, during my happy visit to your capital, Mexico City.
Long after our words of today are gone and forgotten, something more important is going to endure--channels between men, bridges between cultures, border commissions which link the human values that Mexico and America hold dear. These, my friends, will never pass away if we are true to our heritage.
Together, we have shown that borders between nations are not just lines across which men shake their fists in anger. They are also lines across which men may clasp hands in common purpose and friendship. And throughout our periods of respective service, no head of state, no leader of any nation has worked closer, cooperated better, or extended the hand of friendship more than the most distinguished President of Mexico, and we are all grateful for it.
In the years to come, Mr. President, the American people are going to demonstrate to you and your people that we are worthy of your trust and your confidence and we are going to return the hand of friendship that you have extended all the time to us.

Gracias, amigos.
Note: The President spoke at 11 :53 a.m. at the Paso del Notre Bridge in El Paso, Texas. In his opening words he referred to President and Mrs. Gustavo Diaz Ordaz of Mexico and Senator Mike Mansfield of Montana, Senate Majority Leader. During his remarks he referred to his daughter, Mrs. Patrick J. (Luci) Nugent, and his grandson, Patrick Lyndon Nugent.
Following their remarks the two Presidents crossed the bridge to the west side where they pushed buttons setting off a dynamite blast on the holding dam, permitting the water to flow into the channel.
The plans for the meeting of the two Presidents were announced by the White House on December 2, 1968 (4 Weekly Comp. Pres. Docs., p. 1654).
For the text of the Chamizal Declaration signed at Ciudad Juarez, Mexico, on October 28, 1967, see 1967 volume, this series, Book II, Item 454. For 1966 remarks of the President in Mexico City and a joint statement with President Diaz Ordaz, see 1966 volume, this series, Book I, Items 174-177.
Following President Johnson's remarks, President Diaz Ordaz responded in Spanish. A translation of his remarks follows:
President and Mrs. Johnson, ladies and gentlemen:
President and Mrs. Johnson, I wish to extend, in the name of the people of Mexico, a cordial greeting to the people of the United States and to reiterate the warm and increasingly deep friendship that unites our peoples and our countries.
I also wish to tell you, President and Mrs. Johnson, that the hand of friendship extended a little over 4 years ago at your Texas ranch was the hand of friendship of a Mexican man and woman who consider loyalty above all else when they offer their friendship. Again we meet at a place that was, as you have just said, Mr. President, a symbol of dispute, and which is now a symbol of understanding and friendship. For that change to come about, it was necessary, as you said, for many men from our two countries to work actively with a broad vision of the future and a profound knowledge of our two peoples in settling that long-standing dispute and converting it into an abiding symbol of peaceful solutions.
President Benito Juarez lived in one of the most dangerous, most difficult periods in Mexican history, when a very small part of Mexican territory had been removed by changes in the channel of the Rio Grande; as a result, steps were taken to file a claim to have that land duly returned to us.
After many efforts to no avail, the voice of Lyndon Baines Johnson was raised in the United States Senate, approximately 14 years ago, asking that the solution of the Chamizal problem, a thorn in the relations between Mexico and the United States, be accelerated.
A few years later, in Mexico City, during the visit of President John F. Kennedy to our country, Adolfo Lopez Mateos again brought up the matter, and the two men resolved to recommend to their associates that an immediate effort be undertaken to find a solution to the problem.
And later, President Johnson and I discussed the final points in order that we might come to today's ceremony.
The boundary was changed without irritating words in embassies, without threats or troop movements, as you stated, Mr. President, because the work of many men had been effective, and those men had not thought of annoying words or offensive actions; rather they had applied a much more effective means of action, that is, law.
As soon as man began to live in society, he invented a system of rules of general conduct for the benefit of all, which have demonstrated throughout history that they are capable, by their moral power and, at times, by the coercive force of the penalties they establish, of solving disputes among men in the best possible manner. These rules are called law.
We all know this, but from time to time we endeavor to set aside these rules of conduct that lead to peaceful, fruitful solutions and apply other means that, quite naturally, produce results that are akin to the means used.
The use of law to solve the problem of the Chamizal is also producing fruitful results. The construction of the imposing Amistad Dam to make these waters, that previously were only a source of problems for the two nations and the people living along the banks of the river, produce electric power and render the land they irrigate fertile.
The first months of 1969 will see the completion of the work we are doing also on the course of the Rio Grande at a place called El Morrillo, to solve a problem of salinity that Mexican waters were causing in United States lands.
As the bed of this river was nearly ruined during the disaster at the end of 1967, another piece of Mexican territory was detached and formed the bank known as Los Indios. With the application of the same principles that had been applied to solve the Chamizal problem, this land was returned to us immediately; thus, we did not have to wait another 100 years.
I hope that in a few months we shall be able to conclude a bilateral agreement to solve, with similar legal treatment, the problem which sometimes arises and which is much like the problem of the banks that form in the river, that is to say, the islands that this river leaves in changing its course.
When disputes are solved by law, not only does the solution bring peace of mind to those involved in the dispute, but also one of the finest manifestations of human relations--friendship.
You gave us an example of that friendship a little more than a year ago, Mr. President, when you were good enough to accept the suggestion that the new course of the Rio Grande, determined by the agreement putting an end to the Chamizal problem, should bear the name of an illustrious Mexican President, Adolfo Lopez Mateos.
Many places in the United States still bear the Spanish names given them long ago, but since October 28 of last year, a small strip of territory in your country--that is, the part of the river bed that lies north of the boundary--has borne the name of that distinguished Mexican. And for us, it will always be a symbol of friendly cooperation that you decided to give this name to the new part of the bed of the Rio Grande, and we shall always be grateful for it.
Mr. President, we seem to be in competition. Just as your grandson is learning to speak Spanish, my grandson is learning to speak English.
I speak very bad English, only a few words and with terrible pronunciation. And when he hears me say something in English, he immediately corrects me, because his pronunciation is very good.
A little more than a year ago, Mr. President, in this same area, we vowed to make every effort in our power, not to hamper, but rather to improve the friendship of our peoples.
I should like to invite you to join with me in renewing that pledge in order that we may continue doing everything possible so that men, women, children, and old people on both sides of this new river bed may always live in increasingly cordial friendship; and so that when the children of today, the grandchildren of millions of Americans and Mexicans, our grandchildren, are grown and assume responsibility for their countries, they may come together anywhere on our common border to speak in friendship and make plans for the benefit of all.
My closing words are to renew the friendly wishes of the Mexican people for the American people, for the great and noble people of the United States, and to repeat to you, President and Mrs. Johnson, that the hand of friendship extended to you on the LBJ Ranch in Texas, a little over 4 years ago, was offered not only to the President of the United States, but also to the man, Lyndon Baines Johnson, and the woman, Claudia Alta Taylor Johnson.
Lyndon B. Johnson, Remarks in El Paso at the Inauguration of the New River Channel Completing the Chamizal Boundary Change. Online by Gerhard Peters and John T. Woolley, The American Presidency Project https://www.presidency.ucsb.edu/node/236501