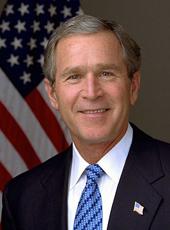 Remarks on Efforts To Assist Students and School Districts Displaced by Hurricane Katrina
The President. Laura and I just had a good visit with Secretary of Education Spellings and her team about the—about the school children who have been displaced because of Hurricane Katrina. You know, this is a time when a lot of families are looking forward to sending their child back to school, and their children are excited about school. But a lot of those dreams and a lot of that excitement has been upset for a lot of students because of the storm.
Yesterday we went to a shelter in Baton Rouge and met a lot of little kids, many of whom are starting school in Baton Rouge. And it's indicative of what's taking place across the country. A lot of school districts are taking in these children who have had to leave their homes and their local districts. And we want to thank the schools and the school districts and the teachers and the PTAs for reaching out and doing their duty.
We spent time talking about how to help States absorb the costs. And Margaret is working on a plan that we'll announce to the country after a while. The other thing that—and by the way, they're going to set up a web page tomorrow that will enable people from around the country to be able to access the Department of Education web page to determine how they can help these school districts that are bringing in the new students.
As well, yesterday, when Laura and I were in Mississippi, I ran into a young pharmacy student that had been going to Xavier in New Orleans. And Xavier is one of our great universities, and she was so excited about going to school and had to come back home because of the hurricane. And she was concerned and worried.
One of the things that people can be assured of is that, one, we're reaching out to other universities to encourage them to accept students, and many are. And we will—there will be loan forbearance and loan extensions. In other words, the Department of Education will help those who have—are dependent upon student loans, will help them be able to finance their education, will help them—if they're not going to go back to school—and we hope they do, but if they choose not to, there will be a loan forbearance. In other words, this Education Department of ours is going to be flexible.
I'm confident that this Government of ours will be able to help the local school districts, and I'm confident that the local school districts will still want to maintain a high standard of excellence and make sure every child learns to read and write and add and subtract.
Laura is going down to DeSoto County, Mississippi, to comfort the folks there and to let them know the Federal Government is aware of the problems when it comes to education and that we will step up and assume our responsibility to make sure every single child in this country gets a good education.
And again, I want to thank the local school districts all around the country who are making extraordinary efforts to make sure that the children who have been upset by this hurricane are able to find some comfort and some solace in the midst of their anguish by being able to go to a school.
Thank you all.
Q. Can you take a question on energy, sir?
Q. When is the First Lady going, sir?
The President. Thursday.
NOTE: The President spoke at 2:04 p.m. in the Oval Office at the White House. The Office of the Press Secretary also released a Spanish language transcript of these remarks.
George W. Bush, Remarks on Efforts To Assist Students and School Districts Displaced by Hurricane Katrina Online by Gerhard Peters and John T. Woolley, The American Presidency Project https://www.presidency.ucsb.edu/node/212520