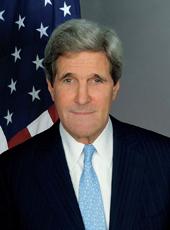 Remarks on Earth Day 2004 in Houston, Texas
Thank you. I'm glad to be in Houston on Earth Day.
I've been spending the last few days talking with Americans about how we can build a cleaner, healthier environment. And while there's plenty that we're going to do differently than this Administration on this issue, let me start by saying something nice about President Bush-he is an expert on recycling. He's recycled the same bad Republican policies from the 1980's all over again in the year 2004.
Thank you Dr. Lauren. Your story reminds all of us about a basic American idea: "we can all make a difference and each one of us should try." When it comes to protecting our environment, strengthening our economy, and improving public health, effort is everything.
Whether it's saving our great public spaces like this one, stopping polluters from sending toxins into the water your drink, or protecting those national treasures we count on for our jobs, our livelihoods, and to feed our souls, our responsibility as Americans is to protect and preserve God's gift to human kind.
We only have one chance with this place, and you and I together are going to make sure we use it wisely. We're going to ensure that our values and our beliefs reflect in how we treat our oceans, how we develop our small towns in the mountains, and how we protect our national parks and treasures.
For we are all stewards of our land and water. We are all capable of creating lasting change. And we are all determined to ensure that those Americans who have yet to grace this earth can live in a country that keeps them healthy and gives them the opportunity to reach their full potential.
But you and I know that we cannot succeed unless we change course. We cannot build a stronger America together—an America that protects our air and our water and our children—unless we change course in November.
One of the great traditions in America is an unspoken vow between the old and the young. For generations, older Americans have worked hard to ensure that the America they leave behind is smarter, stronger, and more secure than when they found it.
Yet, for the first time in our history, this tradition may end and an older generation may pass on an America that is in worse shape than when they found it. We're facing trillions of dollars in debt. Our foreign policy has pushed the world aside and left us to face threats on our own. We have a health care crisis that is emptying the pockets of working families. And in three short years, one man and one Administration has put the breaks on 30 years of environmental progress.
Houston, do you want four more years of rolling back our clean air laws that pollute our air and give our kids asthma? Do you want four more years of arsenic in our drinking water? Do you want four more years of mercury levels rising in women and children? Do you want four more years of polluters getting a tax break while you're stuck with the bill? Do you want four more years of ignoring our allies to stop global warming? Neither do I! Their kind of environment is hazardous to our health, our kid's health, and the world's.
We can do better because we know that the environment is about something bigger than a photo-op event once a year. It's about protecting our economy, our public health, and our way of life. They are all connected and they are all endangered if we don't change course in November.
So Houston will you help me change course in November? Will you help me lead America to a place where no soldier ever has to be sent overseas because of our dependence on Mid-east oil? Will you help me protect our coastlines and preserve those towns we count on for jobs and to raise our families? Will you help me protect our clean air and clean water laws so that our kids grow up healthy?
Houston will you help me make sure that next Earth Day George Bush celebrates it back home in Texas?
This week I have spent time in Florida and along the coast of Louisiana. I talked about the common sense steps we can take today that will protect those places we love while creating jobs and protecting our economy. This Administration uses the same tired old argument that you can't have a clean environment if you want a strong economy. Well they're wrong. We can have both.
I have a plan that will make this country independent from Mid-East oil in ten years. And it will create 500,000 new jobs doing something that's right for our environment, right for our economy, and right to strengthen our national security. We will put that tired old Republican argument to rest when we elect a new president in November!
I have a plan that will protect our oceans and our water ways. I will enforce the BEACHES ACT and provide states with funding so that we know our beachwater is clean. I will work with local officials like Houston's great Mayor Bill White to create strong partnerships to reduce storm-water runoff. I will provide our states and local communities with the resources they need to protect important coastal ecosystems and implement smart coastal development.
And when it comes to mercury, I will not let the utilities off the hook. It just makes sense when 4.9 million women of childbearing age have high levels of mercury, and when one in six new born-infants have levels of mercury so high that they can cause brain damage. You stop the polluters to protect the health of women and children!
Yesterday, I talked about my plan to protect our coastlines. In Louisiana, every 30 minutes a piece of land the size of a football field sinks into the Gulf of Mexico. Costal erosion isn't just swallowing their beaches; it's drowning their economy. Fishermen see their nets come up empty. Sportsmen watch entire habitats disappear. And families who live and visit those coastline towns fear that their homes or businesses may literally slip away.
We can change this. We can enact laws that conserve and protect coastal regions here and all over America. We will make the protection of our coastlines a national priority, because a secure coastline means security for the families who live there, the business owners who make a living there, and the sportsmen who hunt and fish there.
This is what we can do when we change course in November. All it takes is a president who understands that there are no false choices to make between a clean environment and a strong economy—we can and we will have both when I am president.
We have great local leaders like Mayor Bill White, who are dedicated to making their cities and neighborhoods healthy places to live, work, and raise their families.
Mayor White has been a leader in advocating the use of new technologies to reduce the energy use in buildings. The use of tree planting, paving and roofing materials which reflect, not absorb heat. This could reduce energy bills and over time reduce outside air temperatures. We need to support innovative thinking like that.
You know when I was young I learned this invaluable lesson about our environment from my mother. She taught me how to recycle before it became second nature for so many Americans today. And often, she would wake me up in the middle of the night, take me outside and say, "Listen."
30 years ago, a generation listened to Rachel Carson and her wisdom. I was proud to be apart of that movement then—painted Storrow Drive in Boston a biodegradable green-- and throughout my time in the senate.
We saw our country transform from a place where lakes caught fire, there was lead in our gasoline, and polluters had free reign to send anything into our sky, our land, and our water ways. But we put an end to that and we are not going to let this Administration put an end to 30 years of progress.
Thirty-five years ago, when I was on a boat, drifting along Vietnam's Mekong Delta, I grew up with a band of brothers from all walks of life and every corner of America. We learned many things on that journey, but above all, we learned that we were never the kid from South Carolina, Iowa, Arkansas, California, or the kid from Massachusetts.
Under the heat of fire and the fog of battle, our mission became crystal clear, and color, religion, and background melted away. We understood that we were all simply "Americans." All of us fighting under the same flag, praying to the same God.
I'm running for President because I believe that we are all in the same boat, not all on our own. I believe that no matter what our differences, Americans all over this country want pretty much the same things in life. We want to be united, not divided. We want to believe there is more we can do about the problems facing America, not less. We want the opportunity to build a better life, not more barriers to prosperity.
So let's go out of here determined to keep that tradition begun by our forefathers of caring for this great land of ours and handing it on to our children in better shape then we were given it. Let's work our hearts to make sure that the America we pass on is a country with clean rivers, clean air, clean water, with a safer environment that once again sees the smoke from the smokestacks disappear right along with our kid's asthma.
With the right leadership again, we can be a nation that is once again filled with people who never forget that we are not the inheritors of the earth, but the stewards for the future. And when I am President, we will respect that deep rooted value in the United States of America, not just on Earth Day, but every day!
John F. Kerry, Remarks on Earth Day 2004 in Houston, Texas Online by Gerhard Peters and John T. Woolley, The American Presidency Project https://www.presidency.ucsb.edu/node/216785