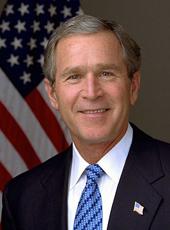 Remarks During a Visit to a White House Staff Member at Inova Fairfax Hospital and an Exchange With Reporters in Fairfax, Virginia
The President. You know, when you come, it reminds us of the responsibilities that we have in life. And Vivienne is lucky to have a mother and dad who will love her all the time. And she doesn't know it, yet, but she's learning pretty quickly. She's less than 24 hours old.
We also have a responsibility to make sure our education systems provide excellence for every child.
We have a responsibility—and Congress needs to bring me a bill that will help the patients who come to these hospitals maintain reasonable insurance, and a bill that doesn't help lawyers.
We have a responsibility to encourage love all throughout our communities. That's why the Faith-Based Initiative is so important. A lot of babies are born sometimes where the—some babies are born where people just don't love them like they should. And as a society, we've got to make up for that love. Yesterday I had the opportunity to meet with service organizations all across—representing people from all across the country, committed to finding a million mentors to love children.
The good news for this little baby is, she's got a mom and dad who know their responsibilities. It's a great Fourth of July gift. Congratulations.
Okay.
Stem Cell Research
Q. Mr. President, do you know when you'll actually make a decision on stem cell research funding?
The President. In a while.
NOTE: The President spoke at approximately 9:30 a.m. In his remarks, he referred to Vivienne Anna Sayle, daughter of Desiree Sayle, Director of Correspondence for the First Lady, and attorney Stephen Sayle.
George W. Bush, Remarks During a Visit to a White House Staff Member at Inova Fairfax Hospital and an Exchange With Reporters in Fairfax, Virginia Online by Gerhard Peters and John T. Woolley, The American Presidency Project https://www.presidency.ucsb.edu/node/214305