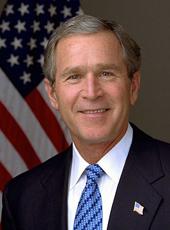 Remarks During a Visit to the National Hurricane Center in Miami, Florida
The President. Good afternoon. I want to thank Max Mayfield for this really interesting tour of this important facility. And I want to thank you, Max, for your service to our country.
Director Max Mayfield. My pleasure.
The President. You did a fabulous job. You did a fabulous job. It's good to be here with my brother, Jeb, as well.
A short time ago, I visited the relief efforts at Port St. Lucie, and I've just toured the National Hurricane Center. The people I met today are committed, and they are compassionate. They're doing a fantastic job, and I appreciate their dedicated service to our country.
Once again, Florida has faced the devastation of a hurricane. And once again the people of Florida are showing their character and their strength and their deep concern for their neighbors.
The damage from high winds and flooding reaches the Atlantic Coast to the Panhandle. Some have lost their lives. Many have had their homes damaged. Some have lost their homes. Families have lost power. Small businesses have suffered. Citrus growers have lost much of their crop. And all those here in Florida are in the thoughts and prayers of the American people. People all across this country know that—know what you've been through and care deeply about you.
I want the people of Florida and other affected areas to know that the Federal Government is doing everything we can to help you. This morning, I signed legislation providing $2 billion in additional funding for cleanup and FEMA relief operations and emergency food, shelter, and medical care. I want to thank the Members of Congress for their bipartisan support of this bill. I've also directed the Department of Agriculture to help compensate citrus growers for lost crops and trees, to help fund the clearing of debris, and with other agencies to help migrant farm workers find shelter. As the damage is assessed, I will ask Congress for additional resources for infrastructure repair and disaster loan assistance to businesses and homeowners.
Jeb is doing a really fine job down here, and I appreciate, Jeb, you and your staff for working so hard on behalf of the people of this State.
I want to thank Mike Brown of FEMA and the FEMA staff that have worked long hours to help coordinate efforts for—for the people of Florida. I want to thank the local officials for their outstanding work as well in preparing and responding to Hurricanes Charley and Frances. And of course, again, I want to thank Max and his staff for doing a really fine job of helping to predict these hurricanes and watching them carefully, and using all the technology available to them to better prepare the people of the United States if a hurricane were to hit.
I want to thank the emergency operation centers all across the State of Florida, the first-responders, the police, and firefighters. People are working long hours here to help bring stability and help into the communities in this State, and they're doing a really fine job.
I want to thank the Red Cross—and I appreciate the president, Marty Evans, joining us today. It seems like every time I've been to a disaster, the Red Cross is always there first. And that means a lot to the people of our country.
I want to thank the people from the Convoy of Hope. Jeb and I had a chance today to pass out ice and water and food supplies to people who needed help. We were there because the Convoy of Hope set up an aid station of compassion, and I want to thank those people there. They're from all around the country.
I want to thank the Salvation Army. I want to thank all the faith-based groups and citizens who have showed up to help somebody who needs help.
I want to thank the power and telephone crews who have worked so hard to restore service. A lot of people lost their electricity. And thanks to the good work of people here in Florida and repair folks from around the Southeast, electricity is being restored as quickly as possible.
I know the people of Florida will always remember the nurses and others who have worked incredibly long shifts at shelters to care for the elderly and the vulnerable.
The people of this State are overcoming adversity, once again. The Government is responding with needed resources. Businesses and community and faith-based groups are helping to speed the recovery. And in tragedy, the people of this State and the people across America are responding with goodness and generosity.
May God bless those who hurt. May God bless those who mourn the loss of life. And may God continue to bless this State and our country. Thank you very much.
NOTE: The President spoke at 3:55 p.m. In his remarks, he referred to Max Mayfield, Director, National Hurricane Center; Gov. Jeb Bush of Florida; and Marsha J. "Marty" Evans, president and chief executive officer, American Red Cross.
George W. Bush, Remarks During a Visit to the National Hurricane Center in Miami, Florida Online by Gerhard Peters and John T. Woolley, The American Presidency Project https://www.presidency.ucsb.edu/node/212118