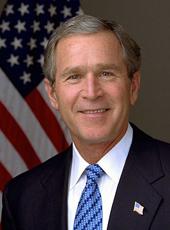 Remarks During a Tour of Areas Damaged by Hurricane Wilma in Pompano Beach, Florida
I have come here with the Governor and the mayor of this area because I wanted to thank all the volunteers who've come down to help people in need. And it's— there's an amazing spirit after a disaster, and that spirit is the spirit of people willing to give of their time. I've also come to make sure the Federal response dovetails in with the State efforts. And people here—what I've heard are people concerned about gasoline. A lot of the gasoline—the lines that people are standing in will be alleviated by new ships coming in, and they'll be able to off-load the gasoline and make sure the stations have got fuel. But a lot of the gasoline issues relate to the fact that the electricity is not up and running.
I know people are frustrated because they don't have power on yet, but I've been told by Jeb and others that there are at least 6,000 people from out of State working with the power people here in-State to get people's lines up as quick as possible. In other words, this is a priority. People are working hard to get your electricity back on.
The mayor wanted me to make sure that I told the citizens here that water and ice are moving quite rapidly, and that one of her concerns is generators. And Jeb and I spoke to her about the generators that are being moved from a central location to parts of Florida that need the generating capacity to get their life up and running.
Things don't happen instantly, but things are happening. Right here on this site people are getting fed. Soon, more and more houses will have their electricity back on and life will get back to normal. In the meantime, the Federal Government, working with the State and local governments, are responding as best as we possibly can.
Again, I'm impressed by the deep compassion and care of our fellow citizens. Out of these disasters oftentimes comes some good. And one of the good that comes out of a disaster is it gives people a chance to love a neighbor, to help somebody in need.
So thank you all for giving me a chance to come by.
NOTE: The President spoke at 1:45 p.m. In his remarks, he referred to Gov. Jeb Bush of Florida; and Mayor Kristin D. Jacobs of Broward County, FL.
George W. Bush, Remarks During a Tour of Areas Damaged by Hurricane Wilma in Pompano Beach, Florida Online by Gerhard Peters and John T. Woolley, The American Presidency Project https://www.presidency.ucsb.edu/node/216824