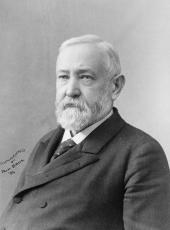 Remarks During Decoration Day Ceremonies at Laurel Hill Cemetery in Philadelphia
Commander, Comrades of the Grand Army of the Republic and Fellow-Citizens:
I have neither the strength nor the voice adequate to any extended speech to-day. I come to you as a comrade, to take part in the interesting exercises of this Memorial Day. It gives me special pleasure to combine with that tribute, which I have usually been able to pay since this day was instituted, to the dead of all our armies, a special mark of respect to that great soldier who won Gettysburg. It is impossible to separate some impressions of sorrow from the exercises, for they bring to memory comrades who have gone from us. How vividly come to my memory many battle scenes; not the impetuous rush of conflict, but the cover of sadness that followed victory. Then it was our sad duty to gather from the field the bodies of those who had given the last pledge of loyalty. There is open to my vision more than one yawning trench in which we laid the dead of the old brigade. We laid them elbow touching elbow in the order in which they had stood in the line of battle. We left them in the hasty sepulcher and marched on. Now we rejoice that a grateful Government has gathered together the scattered dust of all of these comrades and placed them in beautiful and safe places of honor and repose. I can not but feel that if they could speak to us to-day they would say put the flag at the top of the mast. I have recently returned from an extended tour of the States, and nothing so impressed and so refreshened me as the universal display of this banner of beauty and glory. It waved over every school; it was in the hands of the school children. As we speeded across the sandy wastes at some solitary place, a man, a woman, a child, would come to the door, and wave it in loyal greeting.
Two years ago I saw a sight that has ever been present in my memory. As we were going out of the harbor of Newport, about midnight, on a dark night, some of the officers of the torpedo station had prepared for us a beautiful surprise. The flag at the depot station was unseen in the darkness of the night, when suddenly electric search lights were turned on it, bathing it in a flood of light. All below the flag was hidden, and it seemed to have not touch with earth, but to hang from the battlements of heaven. It was as if heaven was approving the human liberty and human equality typified by that flag. Let us take on this occasion a new draught of courage, make new vows of consecration, for, my countrymen, it was not because it was inconvenient that the rebel States should go, not that it spoiled the autonomy of the country, but because it was unlawful that all this sacrifice had to be made to bring them back to their allegiance. Let us not forget that as good citizens and good patriots it is our duty always to obey the law, and to give it our loyal support, and insist that everyone else shall do so. There is no more mischievous suggestion made than that the soldiers of the Union Army desire to lay any yoke on those who fought against us, other than the yoke of the law. We can not ask less than that in all relations they shall obey the law, and they shall yield to every other man his full rights under the law.
I thank you for the pleasure of participating in these exercises with you to-day, and give you a comrade's best wishes, and a comrade's good-bye.
Benjamin Harrison, Remarks During Decoration Day Ceremonies at Laurel Hill Cemetery in Philadelphia Online by Gerhard Peters and John T. Woolley, The American Presidency Project https://www.presidency.ucsb.edu/node/276719