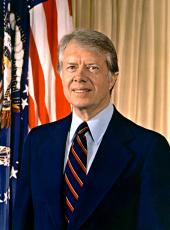 Remarks During a Campaign Tour of Manchester, New Hampshire
The American family is in trouble.
I have campaigned all over America, and everywhere I go I find people deeply concerned about the loss of stability and the loss of values in our lives. The root of this problem is the steady erosion and weakening of our families.
Some shocking statistics are available to document the problem:
• Forty percent of all marriages in America now end in divorce.
• In 1960, one of every 20 women giving birth was not married; today the figure is about one in eight.
• The extended family is all but extinct. According to one study, in 1900 in Boston half the households included parents, children, and at least one other relative. Today the comparable figure is four percent.
• One out of seven children, 8.6 million, live with a single parent, and we now have a larger percent of children who live in poverty than we did in 1970.
• About 350,000 children live in foster homes, at an average cost throughout their childhoods of $60,000. At least 10,000 of them could be adopted.
• Fifty-five percent of the arrests for serious crimes are of young people under 18 years of age, and more than 90 percent of the children sent to correctional institutions last year were found guilty of offenses for which adults would not have been punished at all.
• The number of gonorrhea cases has tripled in the last ten years among children less than 14 years old.
• Among young people aged 15 to 19 the second most common cause of death is suicide.
• And alcohol, drug abuse, and emotional problems are steadily increasing among both young people and adults.
As these statistics, and many others, show, the breakdown of the American family has reached extremely dangerous proportions. There can be no more urgent priority for the next administration than to see that every decision our government makes is designed to honor and support and strengthen the American family.
The problems of the aged would be reduced if we would all obey the Biblical command to honor our father and mother. As Rabbi Abraham Joshua Heschel said: "One father finds it possible to sustain a dozen children, yet a dozen children find it impossible to sustain one father."
The family was the first church.
The family was the first school.
The family was the first government.
And for a child, this is still true.
Our churches, our schools and our state, local and national governments all have major responsibilities to strengthen the American family, and when they fail, they themselves lose strength.
If we want less government, we must have stronger families, for government steps in by necessity when families have failed.
It is clear that the national government should have a strong pro-family policy, but the fact is that our government has no family policy, and that is the same thing as an anti-family policy.
Because of confusion or insensitivity, our government's policies have often actually weakened our families, or even destroyed them.
Our present welfare system is both anti-work and anti-family. We have welfare policies in half our states that deny aid to children unless and until their father deserts them. As President, I intend to reform that system so that it encourages work and encourages family life and reflects both the competence and the compassion of the American people.
We have urban renewal programs that shatter homes and families and entire neighborhoods. You rarely see an interstate highway go through a golf course, but you've seen lots of them blast their way through neighborhoods where people have lived for generations. That's the kind of bureaucratic indifference we must end.
We have transfer and assignment policies in our armed services that don't take into account their impact on the families of the servicemen.
We have tax policies that often seem to discriminate against families, particularly lower income families. For example, the so-called "anti-grandmother" provision that disallows a child care deduction if the family employs a relative closer than a cousin. Also, the present personal tax deduction for dependents in effect provides a greater benefit for wealthy families than to middle income or poor families.
Some people argue that income tax exemptions for children encourage large families. But I agree with my running mate, Senator Mondale, who says that at his house the tax laws were never discussed at those moments of decision.
I have pledged to enact tax reform if I become President, and one basic goal of any tax reform must be to help and strengthen our families.
Nixon-Ford economic policies have been dismal failures. We still have an unemployment rate of 7.5 percent, one of the highest in 30 years. We still have an inflation rate of 5 percent, which is higher than any year from 1952 to 1970. We still have an unprecedented budget deficit. The Ford Administration, in its budgets for fiscal 1975, 1976, and 1977, will have a total deficit of $170 billion—more than the combined total of all budget deficits at the end of the Second World War until 1974. And Mr. Ford and his spokesmen like to say that we Democrats are reckless spenders!
Not only have the Nixon-Ford policies failed in their stated purpose, they have failed to consider their human consequences. When the head of a family is out of work, the entire family suffers, and not just in an economic sense. There is a loss of dignity and pride and self-respect
Leonard Woodcock, the president erf the auto workers, recently testified that when the unemployment rate in Flint, Michigan, reached 20 percent, it became the city with the highest alcoholism rate in America, and its drug problem doubled, and cases of child abuse soared.
There are many other areas where our government can do more to support our families.
At a time when teenage pregnancy and illegitimate births are rising sharply, we need a comprehensive program of family planning, which would include adoption and education and moral leadership, and would do everything possible to prevent the need for abortion.
In education, as we struggle with such problems as busing, we need to remember that our basic goal is quality education for every child, and that we need individualized instruction for every student, so that he or she can progress at the fastest possible rate, and that whenever possible we want children to attend schools close to their homes.
In the area of health, we need a comprehensive health care program, with emphasis on children and on the prevention of disease—and we're going to enact such a program when I become President.
We need to recognize the special problem of the single-parent family.
We need a national day care program.
We need to change the ridiculous Social Security regulation that prevents many elderly men and women from being married.
In short, we need a government that thinks about the American family and cares about the American family and makes its every decision with the intent of strengthening the family.
One of the things that has most impressed me about my running mate, Senator Mondale, has been his deep concern about the family and the leadership he has provided, as chairman of the Senate subcommittee on children and youth, on a variety of family-related subjects including child abuse, crib deaths, child health, adoption and foster care. I intend to rely upon him heavily as I chart a pro-family policy in the next administration.
One idea that Senator Mondale has proposed is that each federal program present a family impact statement, to analyze how it would affect the family, much as federal programs now prepare environmental impact statements. We don't need a new bureaucracy, but the President and Congress should routinely conduct such an analysis when any major decision is made, and when I am President this will be done.
As an immediate step toward developing a pro-family policy, I have asked Joseph A. Califano, Jr. to serve as a special advisor to me on how federal programs can aid and support the American family.
With Mr. Califano's help, and Senator Mondale's, and that of many, many other concerned men and women, I intend to construct an administration that will reverse the trends we have seen toward the breakdown of the family in our country.
The job will not be an easy one, but it is worth whatever effort may be required. The entire history of the human race teaches us that the family unit is the best way for men and women to live their lives, the best way to raise children, and the only solid foundation upon which to build a strong nation.
Ours is a time of unprecedented change, and of unprecedented pressures on the family structure. The family is a tough, tenacious, and adaptable institution, and I believe it can survive and prosper if given a decent chance. The trouble is that too many of our families don't get a decent chance. We must do everything in our power to see that they do.
Jimmy Carter, Remarks During a Campaign Tour of Manchester, New Hampshire Online by Gerhard Peters and John T. Woolley, The American Presidency Project https://www.presidency.ucsb.edu/node/347636