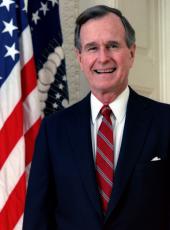 Remarks to Drug Enforcement Administration Officers in New York, New York
Thank you, Bob Stutman, and to Commissioner and, I guess, all our distinguished guests. Secretary Bennett -- this is my man here on the left, the man that I have selected, and that the country, I think, overwhelmingly approves, to be the first drug czar in the history of this country. I'm glad he came up here with me today. And to all of the prosecutors, and especially each one of you out there on the cutting edge, on the front line, thank you for being here. And you have important work to do, and Bob gave you the time frame: short, but to me, very important. I have a chance to say hello to Ms. Hatcher -- I wish the circumstances were different -- but also to listen and learn when we finish here, listen to some of those who are out there every single day risking their lives.
In the empty streets of an island borough, the life of Everett Hatcher was ended with some four cowardly shots. And the echoes of those four shots were heard in Washington and, I'd say even more important, all across this country, where decent men and women share your sense of loss and share your sense of outrage. Here in New York, as in other cities across the country, the war is no metaphor. Before we could -- I say "we," as a country -- bury Everett Hatcher last week, another officer was gunned down, felled by a single shot fired pointblank beneath his bulletproof vest. And as we speak, those accused of ambushing Eddie Byrne, one of New York's finest, are standing trial in this city. And this week, the DEA group that helped handle security for Everett's funeral is in yet another New York courtroom, testifying about the attempted murder of Special Agent Bruce Traverse.
You know that my personal interest and the interest of the Nation goes beyond today's visit. As Vice President, I wrote to Bruce Traverse while he was in the hospital, and now, Bruce -- all of us are glad that he's recovering so well. Last week, Matthew Byrne, the dad to Eddie Byrne, came down to the White House for dinner with Barbara and me, joining us for a private dinner there. He couldn't believe he was in the White House, and I couldn't believe I was, either. [Laughter] So, we had a nice private dinner. But it was important to me that he come. Earlier today, as I said, I had the pleasure to -- privilege, put it that way, of visiting with Mary Jane, a woman of enormous dignity and strength -- she and her two kids and husband's mother and sisters.
And so, it's been quite an education. And I understand, I think, the special and dangerous challenges that all New York drug enforcement officers face. This area leads the Nation in overall consumption, distribution, the importation of narcotics, run by a well-armed cross-section of drug traffickers as diverse as this city itself. Your role in this battle is very special. You put your life on the line every day. And if the legions of State and local patrolmen represent the infantrymen in this effort -- and I salute them at every occasion -- then you are something like the Special Forces, the Green Berets, if you will, of narcotics enforcement.
Like Everett Hatcher, many of you have worked undercover, in effect, operating, if you want to use the conventional war analogy, behind enemy lines. And I admire your courage. When I was a kid in World War II, I was behind enemy lines only briefly, sick and paddling in a little raft to get away from a Japanese-held island. But it was enough to know what it feels like -- and I'll confess it -- to be scared. And each of you probably has been there. You know the dry mouth and the moist palms and the ball of ice that grips your stomach.
And you know, it used to be unthinkable to shoot a cop. And no longer -- Bob was telling me this upstairs -- no longer. Today narcotics agents are sometimes the first ones shot, targeted by criminals armed with a staggering array of battlefield weaponry. The explosive, expensive lesson of the past year in New York is that the rules of the game have dramatically changed.
Well, we've got to deliver some news to the bad guys. The hunting season is over. The rules on our side have changed, too. And we still need more change in those rules. But they're changing fast, and it's about time.
The scales of justice are becoming more balanced because of the newly enacted Federal drug laws. New York policemen and all of you in this room deserve all the protection that tough laws can offer. I've asked Bill Bennett to look into what can be done to prevent these fully automatic assault weapons from falling into the hands of the criminals that you face. Drug dealers need to understand a simple fact: You shoot a cop, and you're going to be severely punished -- fast. And if I had my way, I'd say with your life.
Drug traffickers used to know that. But it's been over 25 years since anyone has faced the death penalty in this State, and they may have gotten a little forgetful. But I want you to know that I have not changed my view. I strongly support the death penalty for the crimes we're talking about here today. And I want to have it as Federal law, and I want to see it swiftly and firmly, fairly enacted. The killing's got to stop.
I wish Senator D'Amato had come up with me today. He couldn't leave the Senate, and it was legitimate Senate business. He's been in the forefront, though, down there, of the drug question -- a strong leader, a tough, no-nonsense fighter against drugs. And he has been very helpful to me in having me understand the problems that you face. I understand that this State is the home to an estimated 260,000 heroin addicts -- half of all those in the United States. And in the city alone, another 600,000 people are believed dependent on crack or cocaine.
And not surprisingly, the seizures that you've made are correspondingly huge. DEA New York is responsible for 30 to 50 percent of all heroin seized by the DEA nationwide each year. And last year, you seized more than 10,000 kilograms of cocaine in or destined for New York, almost 20 percent of the entire DEA nationwide total. In January, you recovered nearly $20 million from a furniture store delivery van, said to be the largest cash seizure in the world. And these impressive figures are a credit to your talent and dedication and to the effective working relations you've forged with your Federal, State, and local counterparts.
And still, we in Washington understand that the importance of a case cannot be measured merely by the size of the seizures or the numbers of arrests. Statistics in the drug war become mind-numbing as well as mind-boggling. And wars aren't won by statistics. We know wars are won by winning battles, and in this war, battles are won by putting particular drug organizations out of business. It's done the old-fashioned way, one group at a time.
And you in New York have done just that. And the names are as familiar to you here as the battlefields of World War II are to my generation: United States versus Torres, Monsanto, LIDO, Based Balls -- Bob was explaining this to me just a minute ago -- the Flying Dragons, Lai King Man, Reiter-Jackson. These are more than buy-busts, more than just another news conference with powder on the table, no matter how impressive those conferences are. Each of these cases represents an entire organization put behind bars, out of business. And most importantly, each of these cases involved sophisticated, long-term investigations. And several were among the first cases in the entire country to make use of the new drug kingpin statutes. Nearly all involved task force cooperation and the pioneering use of forfeiture laws, in some cases to spectacular effect. The forfeitures from the Torres brothers, I'm told, may ultimately total $30 to $50 million.
And just as the death penalty for cop killers helps even the odds, stripping the enemy of their ill-gotten gains turns the tables in a dramatic and highly effective way. Perhaps you heard Woody Allen's wry observation: "Organized crime in America takes in over $40 billion a year and spends very little on office supplies." Philosopher, that he is.
Experts have estimated that today drugs alone count for $110 billion -- an industry right here in our own country. We're hurting the drug kingpins where they live when we take their money, and we're going to get even better at taking it. We've got to be. Ladies and gentlemen, we do intend to prevail. The scourge will end. I will lead the fight. Bill Bennett, our nation's first drug czar -- tenacious, unafraid -- is going to be right there at my side.
And although we meet on a crucial battlefield of this war, you might say, it is a war that is being waged on many fronts. Last month I spoke to Congress about four areas: rehabilitation, education, interdiction, and enforcement. And in a time of budget constraints -- and regrettably, we are living in such a time -- I asked for an increase of $1 billion in budget outlays to fund these new efforts. And for you in Federal law enforcement, our proposal budgets a record $4.1 billion, fully 70 percent of the total. By 1995, we also intend to reduce present prison overcrowding by 50 percent.
And beyond enforcement, other monies will go to expanded treatment for the innocent and the poor, like the over 5,000 babies born in New York last year already addicted to drugs. Other new funds will go to cut the waiting time for the treatment programs, perhaps along the lines of the innovative oral methadone program at New York's Beth Israel Hospital, designed to get the addicts off the needles as well as heroin.
Mary Jane Hatcher spoke with eloquence last week about the responsibility mainstream America and so-called casual cocaine users must bear for the death of her husband. Well, $1.1 billion of our request will go for prevention and education, to let the casual users know the risk they take and the price they may have to pay and to tell our children that drugs are wrong.
While there may not be light at the end of the tunnel, there does seem to be some light coming in under the door. At the Apollo Theatre in Harlem one Wednesday last month, the amateur night performances were interrupted by spontaneous antidrug messages from the stage and then supportive chants from the crowd. And things like this don't happen because of government programs: They happen because attitudes are beginning to change, and they are changing because the American people are behind your efforts all the way.
Attitudes are beginning to change overseas as well. Your boss, the Attorney General [Richard L. Thornburgh], returns today from meetings with officials in Colombia, Bolivia, and Peru. And Bill and I will meet with him as soon as he gets back. I think we're having lunch tomorrow at the White House to be briefed on this trip. And I know that some of you have also served or will serve your own tours in South America, a tribute to our increased cooperation there.
When I first became Vice President 8 years ago, several South American Presidents told me: "It's your problem. You're the consumer. If it weren't for the rich gringos to the north, we wouldn't have the problem." But now they see that the narcotics have affected their own kids, their own society. Look at Colombia, where the Supreme Court Justices were mowed down like tenpins.
Obviously, the race is far from won. But there is power in us yet. And we in Washington will continue to understand, to learn -- but certainly to support your work here. The Adamita trial, the Johnny Kon and Brooks Davis cases, the new seizure program in which whole apartment buildings are wrested back from the crack lords who control them -- they're all important to this fight. But first and foremost, the killing must stop. And we must repeat it until we're hoarse, repeat it until we're heard, from the Apollo Theatre to the halls of Congress to anyone who doesn't seem to understand what it is you are up against out there on the street. The killing must stop!
And what happened on the streets of Staten Island last week was a horrible tragedy which means -- you knew it all along -- that you have an important task ahead. The cowards who murdered Everett Hatcher should be given no rest. But be careful out there. Remember the tearful salute of 9-year-old Zachary, and find these criminals. Bring them to justice. Nobody -- nobody but nobody is going to beat the DEA.
May God bless you all, and thanks for what you're doing for the United States.
Note: The President spoke at 4:19 p.m. in the auditorium at the Drug Enforcement Administration. He was introduced by Robert Stutman, Special Agent in charge of the New York City field office. In his opening remarks, the President referred to New York City Police Commissioner Benjamin Ward and William J. Bennett, Director-designate of National Drug Control Policy.
George Bush, Remarks to Drug Enforcement Administration Officers in New York, New York Online by Gerhard Peters and John T. Woolley, The American Presidency Project https://www.presidency.ucsb.edu/node/248319