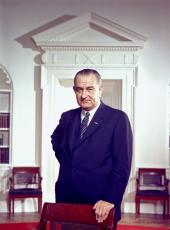 Remarks at a Dinner Meeting of the Texas Electric Cooperatives, Inc.
Mr. Chairman, Senator Yarborough, Congressman Patman, ladies and gentlemen:
I am glad to know that Babe Smith and the Pedernales Electric Cooperative and the Blue Bonnet Cooperative are sponsoring this dinner. I have never known Babe to be a fast man with a buck. So we can all be mighty sure that the Texas congressional delegation rates pretty high--at least with Babe.
As a matter of fact, if I had not had some problems to worry with tonight myself, I would have come over a little sooner, because all of my family's life we have been paying out to the Pedernales Electric Co-op, and tonight I could have had one meal on them without that monthly minimum.
You have all followed the events of the past few days, I am sure. So I think you know why I am here.
For all of my public life, when I am in need of light I turn to the REA. I know that some of you were first against my policy about turning out lights in the White House until you found out that we were serviced over there by private power and then you regarded that as a step in the right direction.
For years everyone has wondered what there would be to do when all rural America had electricity. Well, I think now you have the answer--you are going to help electrify the rest of the world.
Tonight, an REA team is in South Viet-Nam at my request, talking and planning and working with the officials there, to find ways to bring the healing miracle of electricity to that poor, war-torn countryside where the per capita income is $50 a year, and where the average person's span of life is 35 years.
So we must be ready to fight in Viet-Nam, but the ultimate victory will depend upon the hearts and the minds of the people who actually live out there. By helping to bring them hope and electricity you are also striking a very important blow for the cause of freedom throughout the world.
Wherever we are in the world, whatever we are doing in faraway places--many with strange-sounding names--we are doing it not for power, not for territory, not for dominion, or not for influence. It is none of these things that we want. We want nothing that someone else has. We are there because we have to be. We are there so that the free choice of peoples to select their own pathway to their own future can be preserved. We are there because the United States of America in 1954 gave our word, and our pledge, and our commitment. And we keep it.
As we labor there tonight, there are a hundred other little nations in the world that are looking, and watching, and hoping, and praying, because if we are unsuccessful there they know they are next on the list. Once our promise is broken in one place, even though it is a little country called South Viet-Nam, America's promise is worthless in all places. Once we ignore and fail to live up to our treaty in southeast Asia, our treaty in Berlin is not worth the scrap of paper it is written on.
This has been a rather long day for me, and I suspect the night will be even longer. But however heavy the burden and however demanding the task, we are not about to flag or to fail.
Whether it be in Viet-Nam, where a brave people struggle for their own freedom, or whether it is in the Dominican Republic, where the spoilers of freedom have plundered and killed, this Nation--your country--will do what is right, and will do what is just, and will do what is needed, when it is needed.
I don't want to keep you long this evening. I would hope that some of my problems go away with the dispatch that I am to depart this rostrum tonight. But I could not let you come to Washington without telling you of my gratitude and the affection that I have had for all the REA people since REA was born.
The REA is, has been, and I hope always will be my friend. I want to keep it that way.
And now just one other thought. There are 531 men and women associated with me in attempting to provide leadership to this great country in these troubled and critical times when we never know what the next moment will offer. In that group, Texas has one of the largest delegations, and one of the most trusted and most able.
While I have been known to differ with my fellow men in Congress--of both parties--from time to time, I have not found it necessary to ever criticize or to quarrel with any of the members of my delegation from my State.
I have been President 17 months and they have supported me beyond my wildest and fondest expectations. When they could vote with me, and for me, in good conscience, they were down on the front row with their flag flying high. When they couldn't, they were frank and friendly, and praying that I would not make that mistake again.
Thank you.
Note: The President spoke at 10:05 p.m. at the Washington Hotel. Early in his remarks he referred to Seth Kennedy, President of the Texas Electric Cooperatives, Inc., and chairman of the dinner, Senator Ralph Yarborough and Representative Wright Patman, both of Texas, and E. B. (Babe) Smith, Jr., President of the Pedernales Electric Cooperative.
Lyndon B. Johnson, Remarks at a Dinner Meeting of the Texas Electric Cooperatives, Inc. Online by Gerhard Peters and John T. Woolley, The American Presidency Project https://www.presidency.ucsb.edu/node/241687