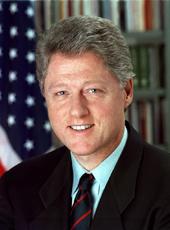 Remarks at a Dinner Hosted by President Roman Herzog of Germany in Berlin
Mr. President, Chancellor, members of the German and American delegations. First, Mr. President, let me thank you for your wonderful toast and for the spirit in which it was delivered. It has been a truly wonderful day to be in Berlin and to be in Potsdam. I am struck more than ever by the friendship that joins our two nations.
Today I have been given many gifts, Mr. President, but to come here tonight to hear Bach on the saxophone is more than I could have ever dreamed. [Laughter] I thank you.
I am delighted to be in this historic hotel where once one of my predecessors, Theodore Roosevelt, stayed. As I'm sure all Germans here know, who are students of America, Theodore Roosevelt was a lifelong admirer of the German people. As a young man he spent time in Dresden, and he later wrote, "From that time to this, it would have been quite impossible to make me feel that the Germans were really foreigners."
The rebuilding of the Adlon is one of the many steps taken in recent years to build a new future upon the foundation of Berlin's and Germany's past. Here, close to the Brandenburg Gate and the Reichstag, we see a united Germany that will be a force for peace and prosperity in the next century. Tomorrow we will commemorate the airlift, the Luftbrucke, the bridge we built together almost 50 years ago.
But long before that, the people of Germany helped America to build bridges, too. The Brooklyn Bridge was designed by a German-American, John Roebling. And German-Americans have been building other kinds of bridges since the beginning of our country. After all, Germans helped to create our Nation through revolution, helped to preserve it through civil war, and they are still helping to advance our democracy in the twilight of the 20th century.
One hundred years ago tomorrow, a distinguished American summed up the lessons of the century that was then drawing to a close. Carl Schurz served in the Cabinet of a President, as a United States Senator, and as a general in the Army. He was a close friend of Abraham Lincoln. He was also a German, one of many who came to the United States after the Revolution of 1848. I might say that as a result of that revolution, the State from which I come has towns named Stuttgart and Ulm, where we grow more rice than any other place in the United States. [Laughter] Carl Schurz lived quite a long life. And as he reflected back on it, he was proud to have stood for democracy on two continents, in two nations. He never forgot the friends he left in Germany or the two goals that animated the younger generation of 1848: representative government and German unity. In his speech to a gathering of old '48ers on May 14, 1898, Carl Schurz swore that he would never stop working to spread liberty around the world.
Mr. President, you have led Germany toward these same goals: liberty, representative government, and unity. In countless ways, you have worked for unity, reaching out to neighboring countries, building consensus, laying the ground work for a new and peaceful Europe. You have made democracy work at home.
Mr. President, you recently wrote, "Even a superpower needs friends." [Laughter] Truer words were never written. [Laughter] And so Mr. President, I thank you for the friendship that unites us personally and for the unbreakable friendship that joins our people.
And ladies and gentlemen, I ask you to join me in raising a glass to President Roman Herzog and to the people of the Federal Republic of Germany.
NOTE: The President spoke at 10:27 p.m. in the Ballroom at the Hotel Adlon. The transcript made available by the Office of the Press Secretary also included the remarks of President Herzog.
William J. Clinton, Remarks at a Dinner Hosted by President Roman Herzog of Germany in Berlin Online by Gerhard Peters and John T. Woolley, The American Presidency Project https://www.presidency.ucsb.edu/node/225399