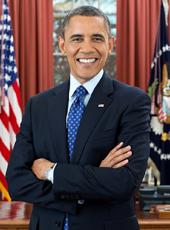 Remarks at a Dinner Hosted by Chancellor Angela Merkel of Germany in Berlin, Germany
[At this point, Chancellor Merkel made brief remarks, concluding as follows.]
So allow me to raise my glass and drink to your very good health, Mr. President, to the very good health of your wife Michelle, and to pay tribute at the same time to the friendship between the Federal Republic of Germany and the United States and to the people of America and the people of Germany who constitute the true core of our friendship.
[A toast was offered.]
President Obama. Guten abend. Thank you to you, Angela, for your very kind words, to you and Professor Sauer for your extraordinary hospitality and all of you for the incredibly warm welcome, both literally and figuratively. [Laughter]
Your English is much better than our German. I was just mentioning to the Chancellor that this is an area where the United States clearly has lagged behind: making sure that all of our young people learn a second and third language. So we're going to give my interpreters a break this evening.
Fifty years ago, as this city prepared to welcome President Kennedy, Berliners were ecstatic. Mayor Willy Brandt tried to calm everybody down; he told them, don't be too emotional. It didn't work. So after one speech, one newspaper wrote that it was one of the most emotional responses President Kennedy had ever received; it's said that more than 1,000 people fainted. We did not have 1,000 people faint today. The few who did, did so because of the weather and not because of my speech. [Laughter]
But like Presidents before me, and as during my President—previous visits, I could not be more grateful for the incredible reception that we have received. And I recognize that this signifies the incredible friendship between our two countries. I'm especially pleased that I've been able to bring Michelle and Malia and Sasha along. And let me just say, on behalf of Michelle and myself, we're incredibly grateful that Sasha and Malia have had the privilege to see not only the beauty, but also the history of this city. And they took a number of tours, and when we were in the hotel room, Malia was reciting back to me everything that she had learned about the formation of the wall and the history of reunification. And nothing is more gratifying than when you see your children understanding not only the facts of history, but also the values that drive history.
In these stunning surroundings tonight, we're reminded of the breadth of that history and the friendship between our two peoples. About the same time this palace was being built, a band of families from along the Rhine—Mennonites—set out across the Atlantic, arrived in what is now Philadelphia, and found a new home that remains to this day: Germantown. And immigrants from Germany and German Americans have continued to shape America ever since.
For our independence, we thank von Steuben. For our prosperity, families like Chrysler and Guggenheim, Heinz and Hershey. For inspiration, Einstein, Steinway, Steinbeck, Babe Ruth, Lou Gehrig. Young Americans, like our daughters, will always be grateful to Levi Strauss for their blue jeans. [Laughter] And Americans will always be grateful especially for some very important German immigrants: Anheuser-Busch. [Laughter]
Now, on a very personal level, I'm thankful to Angela. Schiller once said, "Keep true to the dreams of your youth." Angela, you've spoken often of the dreams of your youth: the freedom that you longed for. Today, as we were out on the balcony before our lunch, she pointed to the train tracks along which the wall used to run, and her memories of riding to her university and then hearing the tracks on the other side and imagining one day that she would be free. And you've not only kept to those dreams, but you've also helped those dreams become real for millions of your countrymen.
I'm extraordinarily grateful for our partnership and our friendship. As I've said before, you're an inspiration to me and to people around the world.
Two years ago, Chancellor Merkel became only the second German leader to address our Congress; the other was Adenauer. And as you closed your speech, you mentioned the Freedom Bell that hangs in the former town hall here, which was a gift in 1950 from the American people to the people of Germany, and it was modeled after our Liberty Bell. Here in Berlin, that bell tolled after President Kennedy's speech. It rang after German unification. It rang after 9/11, which obviously meant so much to us as a symbol of the freedom and friendship that binds us together.
What you may not know is that before the bell was given to our German friends, it traveled all around the United States. Millions of Americans joined the effort, lending their support and signing their names to a declaration of freedom.
And so I want to close tonight by proposing a toast. I left my wine there, so I'll go with water.
[The President was handed a glass of wine.]
Oh, here we go. And I'm going to do so by borrowing the words that those millions of Americans once expressed to their German friends as part of this gift, the Liberty Bell. Here's what they said: "We believe in the sacredness and dignity of the individual. We believe that all men derive the right of freedom equally from God. And we are proud to join with millions of men and women throughout the world who hold the cause of freedom sacred."
Zum wohl.
[A toast was offered.]
NOTE: The President spoke at 7:25 p.m. at Schloss Charlottenburg. In his remarks, he referred to Joachim Sauer, husband of Chancellor Merkel. The transcript released by the Office of the Press Secretary also included the remarks of Chancellor Merkel. Chancellor Merkel spoke in German, and her remarks were translated by an interpreter. A portion of these remarks could not be verified because the audio was incomplete.
Barack Obama, Remarks at a Dinner Hosted by Chancellor Angela Merkel of Germany in Berlin, Germany Online by Gerhard Peters and John T. Woolley, The American Presidency Project https://www.presidency.ucsb.edu/node/304585