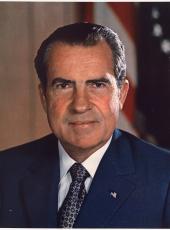 Remarks at a Dinner Honoring Robert J. Brown, Special Assistant to the President.
Mr. Mason, and all of the distinguished guests at the head table:
There are as many at the head table as there are in the audience, believe me-look at that.
I know this is an interruption of this beautiful dinner tonight. Although I had another engagement for which I was already dressed when I got the call from Don Rumsfeld and Maurice Stans that they were honoring Bob Brown, I said, "I will come over." And I am glad to be here.
Everybody in this audience rightly figures that whenever the President of the United States makes a speech, he probably had it all figured out in advance. I can tell you that tonight this is off the cuff; it is from the heart. And I want to say a few things about Bob Brown, about those who honor him here, and about this audience.
First, I asked Sammy [Davis] to come over for a reason. He has probably forgotten this, but I will always remember it. Seventeen years ago, on one of the few evenings when I was Vice President when we had a little time off in New York, we went over to the Copacabana Restaurant. He was performing then. He was a young star. And he performed, I remember, with his father and his uncle.
Afterwards, I went backstage and I met the three of them--this wonderful family. And I said to them, "This has to be the very best that possibly could be done in the field of entertainment."
And Sammy said, "Well, you're probably right." [Laughter]
No, he didn't say that, because he is a man who knows how good he is, but he also is a very humble man. But he appreciated the fact that I came back with my wife, and believe me, I appreciated the fact that he was a great star, a star then and a star now.
I thought back on that time, and I thought also of the present time, and this brings me to Bob Brown.
In the field of music, in the field of art, in the field of athletics, we all know that as far as ability is concerned, it is recognized; it knows no color, it knows no religion. If a man or a woman has it, he or she goes to the top, and that is the way it ought to be.
And what Bob Brown stands for in this White House of ours is this: Bob Brown is a rather quiet kind of a man, but he is the most tenacious fellow I ever knew, believe me. But the point that he makes over and over again in my office is this: that not just in the field of music, or in the field of art or the field of athletics where we have learned that any kind of a difference with regard to color denies us the ability that can see us the perfection, the very best, he says, "You know, we have got to be sure that in every field of life in America, when a man or woman has got it, he or she has got to be able to go to the top." That is what he stands for.
Now I said that I was going to speak directly to you and from the heart. That isn't true in America today, not completely. It perhaps will never be true, became we will never be perfect. But it is better than it was, and it is going to be better, and we have got to make it better, because what we have to do is to provide the opportunities in this country that every individual, if he wants to go to the top in Government, he can go to the top.
Let me tell you something. Why does Ed Brooke win overwhelmingly for Attorney General and for Senator in the State of Massachusetts? Not because he has got the black vote, but because he is the best there is in that State. That is why he goes to the top.
So in the field of government, so it must be in the field of business. I know that there are many in this audience that rather wonder whether our whole program of minority business enterprise means anything. It looks like sort of tokenism and symbolism. But it is a beginning, and we have to have a situation in which people can go to the top, because if one group of people are forever going to be confined to doing tasks that are not those that are administrative or executive, that is not right. We have got to be sure that if an individual really has it, he has the chance to go to the top.
And that is one of the things Bob Brown has fought for, that he has talked for, and that we are trying to work for. We haven't done as well as we would like to do, but we want your help, the help of everybody in this audience, black or white, to see that we reach that great goal, that everybody can go to the top in America.
And now, just a personal word about Bob Brown, if I may. We have something in common. I was delighted to meet his grandmother tonight. She really looks like his mother, believe me, or his sister, for that matter. But whatever the case might be, we both were educated in North Carolina. I spent 3 years there and Bob spent most of his life there. So when we first met, just a few years ago, we reminisced about that State and about the things we had learned together. And I was delighted that he would come to us at the White House and work in this cause, work quietly, but very, very effectively for the ideals that he believed in and that I believed in.
And I simply want to say that I don't think of any better tribute to Bob than what you have done tonight. When I checked a little before this meeting, I said, "What are they doing, are they just giving this for Bob Brown, a testimonial for him?" I said, "Who is going to get the money?" And I asked Mr. Mason, "Is this house paid?" And he said, "Yes." And that of course is good, too.
Paid for what? And then I thought what a wonderful tribute to a man. Not for himself--he isn't going to get anything out of this except a picture, which I hope they print in the paper, incidentally.
But when I think of the cause of sickle cell anemia, when I think of the cause of foster children, when I think of the cause of the Mississippi project, I realize that all of the 2,000 people in this room say, "This is a nice dinner." It was nice because Bob Brown and Sally, his wife, are honored, and his wonderful grandmother, and Sammy Davis, with his magnificent entertainment, along with the other stars who are here.
But also it was a nice dinner and an event we will never forget, because of what you have contributed, by what you have paid to come to this dinner. You will help particularly young people, young people that might otherwise never have had a chance, young people that didn't have enough nutrition, young people that didn't have enough guidance, young people that might have gotten off on the wrong track, and you have helped them by what you did tonight.
Let me say, speaking now, and I trust that I speak for all of you, whatever our backgrounds, whether we come from poor families, as I did, as did Bob, or wealthy families, whether we are black or white, whatever our religion, let us be thankful tonight that when it comes to the young of America, whatever they are, when we can all go forward together in helping those young people have a chance to go to the top if they have got it, it is a wonderful came and I am glad to be here with you. Thank you.
Note: The President spoke at approximately 8:45 p.m. in the Main Ballroom of the Washington Hilton Hotel. He spoke without referring to notes.
Willie C. Mason was chairman of the dinner.
In addition to honoring Mr. Brown, the dinner was a benefit for the Sickle Cell Anemia Fund, the Social Services Administration for Foster Children of D.C., the Howard University Mississippi Project, and the United Negro College Fund.
Richard Nixon, Remarks at a Dinner Honoring Robert J. Brown, Special Assistant to the President. Online by Gerhard Peters and John T. Woolley, The American Presidency Project https://www.presidency.ucsb.edu/node/254975