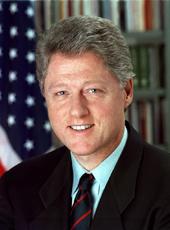 Remarks at a Dinner Honoring Prime Minister Keizo Obuchi of Japan
Ladies and gentlemen, Prime Minister and Mrs. Obuchi, members of the Japanese delegation, and all our distinguished guests. It's a great pleasure for Hillary and for me to return the hospitality that the Prime Minister extended to me when I visited Japan last November.
In 1963, as a high school student, I first came to this house. There I heard President Kennedy challenge a group of us to make the world a better place. A year earlier a young Japanese graduate student walked straight into the office of Attorney General Robert Kennedy and asked for a meeting. He left a letter saying he was deeply impressed by a speech Kennedy had given at Waseda University.
Keizo Obuchi apparently made his own impression, because a week later he got his meeting with Robert Kennedy. He has said often since then that that meeting helped kindle within him a desire for public service. I understand, Mr. Prime Minister, that the Attorney General's graciousness also impressed you. We see it today reflected in your own decency and generosity.
I treasure the bonsai tree you gave me last year, a tree you tended yourself. I was honored when you presented me with sake that came from His Majesty, the Emperor. And you were kind enough to write this warning: Be careful, because overall, sake will result in dancing and singing. [Laughter]
Well, many people were dancing and singing, with or without sake, when this year the young Japanese filmmaker Keiko Ibi won an Academy Award for her film on the lives of elderly New Yorkers. Her acceptance speech pointed to the possibilities for understanding and friendship between people of different cultures.
That spirit is more important than ever today, as the world community works to end the ethnic and religious cleansing in Kosovo. I am grateful to Japan for supporting NATO's efforts and for its aid to refugees in frontline states—part of Japan's broader commitment to relieve human suffering and support peace and freedom around the world. You have helped survivors of Central America's hurricanes, supported the peace process in the Middle East, promoted democracy in Indonesia and stability on the Korean Peninsula. Ratifying the Nuclear Test Ban Treaty, fighting deadly disease in Africa, protecting endangered forests and oceans—Japan truly is a world leader for all that is best in humanity.
The whole world looks to Japan—and to you, Mr. Prime Minister—for that kind of leadership. And we are pulling for you and working with you for economic policies to lift the lives of Japan's citizens, as well as the people in your region.
We share the same dreams for a better future. We are united in an alliance of fundamental importance to peace and freedom. As I said to you in Tokyo, all is possible when our countries join hands.
I ask all of you to join me in a toast to the Prime Minister, to Mrs. Obuchi, and to the people of Japan.
NOTE: The President spoke at 9:05 p.m. in a pavilion on the South Lawn at the White House. In his remarks, he referred to Prime Minister Obuchi's wife, Chizuko; and Emperor Akihito of Japan. The transcript released by the Office of the Press Secretary also included the remarks of Prime Minister Obuchi.
William J. Clinton, Remarks at a Dinner Honoring Prime Minister Keizo Obuchi of Japan Online by Gerhard Peters and John T. Woolley, The American Presidency Project https://www.presidency.ucsb.edu/node/229721