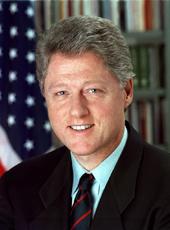 Remarks at a Dinner Honoring President Konstandinos Stephanopoulos of Greece
Good evening. Ladies and gentlemen, President Stephanopoulos, Foreign Minister Pangalos, Education Minister Papandreou, members of the Greek delegation, to all of our distinguished guests from the United States and from Greece.
Hillary and I are delighted to welcome President Stephanopoulos to the White House. Mr. President, throughout your long career in public life, you have shown an extraordinary devotion to democracy and to serving the people of Greece. As a Member of Parliament as well as Minister for the Interior, Welfare, and State, you established a record of exceptional integrity and judgment. As President of the Hellenic Republic, you have represented Greece with dignity and wisdom, befitting the history of your great nation. Hillary and Chelsea were so warmly received by you and by all the Greek people recently. I thank you for that, and it now gives us very great pleasure to return the hospitality to you.
We are especially happy to have the President here at this particular point in the friendship between our two nations. Aristotle speaks at length about how friends strengthen one another by sharing virtues and characteristics. Well, Greece has turned to President Stephanopoulos for leadership, and I have my own Stephanopoulos. [Laughter] Mr. President, I think we're both doing pretty well.
Though thousands of miles separate our two nations, America has very deep roots in Greece. The evidence is all around us. Most of you came to dinner through the North Portico, built in Greek revival style during the Presidency of Andrew Jackson. Next door, the Treasury is the largest Greek revival building in the world. There are many other examples nearby. The Lincoln Memorial was originally modeled on the Parthenon. And the architecture we see outside is only the most visible expression of the values we share.
The earliest generations of our leaders who founded our traditions and built our institutions, as the President said earlier today, were deeply influenced by Greek thought, by the passion for truth and justice that had been handed down from the ancients. They studied history's first democracy in the original Greek. I wish I were as well educated. Some were so moved by the struggle of modern Greece for independence that they left home to join in that distant fight for freedom. In 1824 Daniel Webster asked on the floor of the House of Representatives, "Does not the land ring from side to side with one common sentiment of sympathy for Greece?"
In this century, the relationship between our nations deepened as we fought together in two World Wars. Then the desire to help preserve freedom in Greece moved President Truman to stand firm against isolationism and for our postwar engagement abroad. His actions led to the Marshall plan, the establishment of NATO, and a half century of unparalleled success for democracy. We stood together in Korea and the Gulf war. We continue to work shoulder to shoulder today in the former Yugoslavia. Our alliance shows the truth of the Greek proverb: Ou thaneeskee zeelos eleutherias; the passion for freedom never dies.
Tonight we also thank Greece for the greatest of all gifts it has given us, wonderful Greek-Americans. Our society has been enriched beyond measure by them, whether an aria sung by Maria Callas, films by Elia Kazan, the brilliant tennis of Pete Sampras. In business, in the arts, in our public life, Greek-Americans have brought such energy and grace to the life of our Nation, and we are all profoundly grateful. In public life, we treasure men and women like Senator Sarbanes and Senator Snowe, former Governor Dukakis, and former Senator Paul Tsongas, people who have shown a deep dedication to serving the United States. And I know that all America is grateful to the more than one million Greek-Americans who have built our communities, our businesses, and our cities. Because of what they have done, America is a stronger and a greater nation.
Ladies and gentlemen, let us raise a glass to the great partnership between our nations, the heritage we share, and the Greek-American community that is one of our greatest blessings.
Zeeto ee Hellada, and God bless America.
NOTE: The President spoke at 8:25 p.m. in the State Dining Room at the White House. In his remarks, he referred to Foreign Minister Theodoros Pangalos and Education Minister Yeoryios Papandreou of Greece, and Michael S. Dukakis, former Governor of Massachusetts.
William J. Clinton, Remarks at a Dinner Honoring President Konstandinos Stephanopoulos of Greece Online by Gerhard Peters and John T. Woolley, The American Presidency Project https://www.presidency.ucsb.edu/node/222546