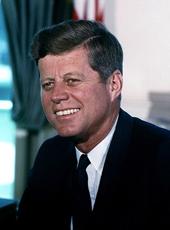 Remarks at a Dinner Given in His Honor by President Segni
I wish to first express in behalf of all of my countrymen our very warm appreciation to you, Mr. President, Prime Minister, members of the Italian Government, for their generous reception of us. All roads have always led to Rome, and it is quite natural that in this trip through Europe, the purpose of which was to emphasize the strong convictions which my countrymen have, that the maintenance of freedom, the protection of our mutual independence, strongly depends upon the close cooperation between all of our countries. And I am particularly glad, Mr. President, to be your guest, you who have played such a distinguished role in the Italian miracle, which I think has been one of the most remarkable phenomena in the postwar period.
In addition, Mr. President, I want to express our admiration for the role that this country has played in the last decade, in the Treaty of Rome, in NATO, in the United Nations, in its own internal efforts, in its own external efforts. It seems to me that Italy has been a very good neighbor of the United States and this friendship is strongly reciprocated.
[Today, Italy and the United States are more closely allied than ever before as partners in the defense of freedom. Italian and American soldiers, sailors, and airmen serve side by side on this continent. Italian statesmen have played major roles in building European unity and Atlantic partnership. Italian diplomats and soldiers have been instrumental in maintaining the vitality and guarantees of the United Nations. And despite a volley of both belligerence and blandishments from the communist East, Italy has stoutly maintained her loyalty to the principles of peace and freedom.]
Mr. President, the United States believes strongly in peace. We believe the world is one, that East and West can learn to live together under law, that war is not inevitable, and that an effective end to the arms race would offer greater security than its indefinite continuation, that such progress requires clarity, firmness, against threats from those who make themselves our adversary.
Standing here in this country, I want to assure you--and this is an assurance that my predecessors have given with equal conviction, for reasons that I have stated since I have come to Europe--that the United States will regard any threat to your peace and freedom as a threat to our own, and we will not hesitate to respond accordingly.
But now our ties are more than military. What has brought our two countries ever closer together in the postwar years has been our common recognition that freedom must mean more than an absence of tyranny; that it must have internal meaning as well; that it must provide not only for theoretical rights, but for solid economic and social progress towards the enjoyment of those rights by all of its citizens. As a result of these developments, Italy and the United States have attained a new harmony, not only in foreign affairs, but in domestic political outlook and concern.
[We both believe in the achievement of social justice and in progress for all our people. We both believe in democracy at what Americans call "the grass roots"-placing the individual ahead of the state, the community ahead of the party, and public interests ahead of private.
[The growth of your nation's economy, industry, and living standards in the postwar years has truly been phenomenal. A nation once literally in ruins, beset by heavy unemployment and inflation, has expanded its output and assets, stabilized its costs and currency, and created new jobs and new industries at a rate unmatched in the Western world. For this remarkable achievement, I salute all those who provided the labor, initiative, and vision to make it possible. But even more phenomenal than the recovery of your economy has been the recovery of your freedom--the reconstruction and renewal of a strong, progressive democracy after 21 years of dictatorship.
[Democracy, as both our nations know, is not without its problems. On the contrary, as Winston Churchill once remarked, it is probably the worst form of government on earth except for every other that has ever been tried.
[Democracy involves delays and debates and dissension. It requires men to think as well as believe, to look ahead as well as back, to give up narrow views or interests that retard their nation's progress. But given an opportunity to work, it completely contradicts and isolates the false appeals of the extremists who would destroy democracy.
[During the 1930's, when despair and depression opened wide the gates of many nations to these archaic and harsh ideologies, my own nation adhered to the course of freedom under the leadership of Franklin Roosevelt. His administration introduced a higher degree of social, economic, and political reform than America had previously seen-including tax and budget reforms, land and agricultural reforms, political and institutional reforms. Workers were assured of a decent wage-older citizens were assured of a pension--farmers were assured of a fair price. Working men and women were permitted to organize and bargain collectively. Small businessmen, small investors, and small depositors in banks were given greater protection against the evils of both corruption and depression. Farms were electrified-rivers were harnessed-cooperatives were encouraged. Justice--social and economic justice as well as legal--became increasingly the right and the opportunity of every man, regardless of his means or station in life.
[I do not say that the battle for justice is over in my country, any more than you would say it is over in yours. The achievement of justice is an endless process--democracy must be a daily way of life. And there are still inequalities to be removed in the United States. We are striving to reduce geographic inequalities, in which some States and communities are not sharing in the general prosperity. We are striving to include health and hospital care among the financial disasters covered by social insurance, as your system, I am told, already provides. We are striving to increase jobs without increasing prices, in order to spread the benefits of abundance without unleashing the forces of inflation.
[Of great importance today, we are trying to erase for all time the injustices and inequalities of race and color in order to assure all Americans a fair chance to fulfill their lives and their opportunity as Americans, and as equal children of God. I can neither conceal nor accept the discrimination now suffered by our Negro citizens in many parts of the country; and I am determined to obtain both public and private action to end it.]
While progress remains to be made in all of the areas of social progress, the fact remains that no totalitarian system offers any promise of solution. As your own spokesmen have stressed, the process of free reform is not complete in any country, nor will it ever be. The obstacles in such a course will always look large; and the siren temptation of those with the seemingly swift and easy answers on the far right and the far left will always be great. But I am convinced that Italy and the United States will draw even more closely together as they share a common dedication to social justice and progress and the common ideals of human rights and dignity.
All this is not unrelated to our goals for the world at large. If our nations can set an example of vigorous freedom in action, if we can achieve full employment, control inflation, reduce inequalities, and spread the blessings of prosperity to all of our people, if we can fulfill each family's need, not only for a full day's work at a fair day's wages, but for schools and hospitals and housing and other services--then we can more surely and strongly sustain our commitments to Western security, lay the foundation for a democratic Atlantic Community, and inspire freedom and hope in other lands. Together let us build sturdy mansions of freedom, mansions that all the world can admire and copy but that no tyrant can ever enter. It will not be easy. It is not easy to secure progress through democracy, but in my opinion it is the only way that progress can be assured.
If there is one fact, it seems to me, larger than any other, it is that the last decade has proved that those who sell their souls to the Communist system under the mistaken belief that the Communist system offers a quick and sure road to economic prosperity, have been proven wholly wrong. Berlin is an obvious example. Eastern and Western Europe are obvious contrasts. The Soviet Union and China versus the progress of the West offer other contrasts. The fact is that the last decade has conclusively proven that communism is a system which has outlived its time, that the true road to prosperity, the true road to progress, is by democratic means. This has been proven very clearly in Western Europe. It has been proven in my own country. It seems to me incumbent upon us all to make that promise bright in the remainder of the sixties; in short, to build not only military defenses for the West, but also in all of our own countries to provide the kind of progress for our people that makes freedom meaningful, that makes freedom understandable, that makes freedom worth fighting for.
This I think the Italian people, the Italian Government, has understood. The American people, the American Government, has understood it. I think that our prospects are bright for the future. I think that the great effort for the West still lies before us, but I think the great opportunities and promises of the West lie not too far over the horizon.
So, Mr. President, in this country which has done such an extraordinary job in the last years in attempting to carry out internally the great progress which you have made, and which we have made, I want to offer a toast to the people of this country upon whom so much of our hopes depend, the leadership of this country, whose help and friendship we seek, and most of all to you, Mr. President, who have given direction and meaning to the last years in your own country.
Ladies and gentlemen, to the President of Italy.
Note: The President spoke at the dinner in the Quirihal Palace in Rome. In his opening remarks he referred to President Antonio Segni and Prime Minister Giovanni Leone of Italy.
The prepared text of the remarks, released by the White House, was shortened in delivery. Portions of the omitted text have been printed above in brackets.
John F. Kennedy, Remarks at a Dinner Given in His Honor by President Segni Online by Gerhard Peters and John T. Woolley, The American Presidency Project https://www.presidency.ucsb.edu/node/237094