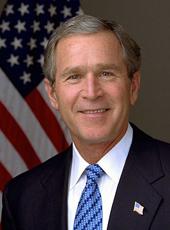 Remarks at a Dinner for the Nation's Governors
Good evening. Welcome to the White House. Laura and I are glad you're here. We really look forward to this evening. It's good to see some old friends, and I want to welcome two new Governors: Governor Corzine and Governor Tim Kaine. It happens to be his birthday. The first lady said he was tired of getting birthday songs, so we'll skip it. [Laughter]
We've also got some Governors here who will be here for the last time, some by choice, some by law. We thank you for your service. One of them happens to be Brother. Come on back, you know. But all of you who won't be back here, thank you for serving your States and our country.
I like being around Governors. Governors know how to set agendas; Governors know how to rally people to convince the legislature to get results; Governors are results-oriented people. So I picked a few for my Cabinet, including two Mikes: Mike Leavitt and Mike Johanns. They're doing great jobs. I appreciate the rest of my Cabinet being here, even though you aren't Governors. [Laughter] You're welcome to have a meal. [Laughter]
Look forward to working with you to help shape the future of the country. You know, I told the people, we don't need to fear the future because we intend to shape the future. And Governors play a big role in that. You got a big role in helping to protect our country, and I want to thank you for understanding we're still at war and that we need your solid support in defending our country. Our most important duty is to protect the American people.
Our economy is strong, and I mean to keep it that way, with good tax policy, both at the Federal and State level. We've got to make sure we're less dependent on foreign sources of oil to keep our economy strong. We've got to make sure that our education system—make sure every child is educated, and with special emphasis on math and science. This country is a great country, and we've led the world, and we'll continue to lead the world. And I look forward to working with you on such an agenda.
This is historic times, and I know you know that. And so I want to thank you for your service to our great Nation. I want to thank you for bringing dignity and honor to the offices you hold. And so now I'd like to offer a toast to the Governors of the United States.
NOTE: The President spoke at 8:03 p.m. in the State Dining Room at the White House. In his remarks, he referred to Gov. Jon S. Corzine of New Jersey; Gov. Timothy M. Kaine of Virginia and his wife, Anne Holton; and Gov. Jeb Bush of Florida.
George W. Bush, Remarks at a Dinner for the Nation's Governors Online by Gerhard Peters and John T. Woolley, The American Presidency Project https://www.presidency.ucsb.edu/node/214374