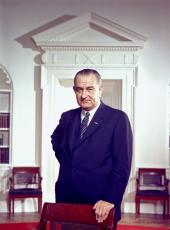 Remarks at a Dinner for Presidential Appointees
Ladies and gentlemen:
Mrs. Johnson and I are delighted that we could be here with you in the first house of our land this evening. I think this is the only dinner that we have ever scheduled at the White House that has had to be postponed twice.
I trust that you will understand and indulge me my tardiness this evening; but we found it necessary, in order to protect some of our fellow countrymen, to order in 400 Marines into the Dominican Republic. And they have safely landed there without incident and taken up their duty. And we have--we are in the process now of evacuating Americans. Some 200 have been evacuated and we have about 900 more to go.
I made a brief statement to the press and television cameras; but Mrs. Johnson, who has spent most of her adult life--she hasn't been an adult very long, but most of it trying to learn and understand and appreciate television, couldn't get her set to work over here. I'm sorry you all missed it.
The most important people in this house tonight are not the ones who think they are.
Public service requires much dedication, much devotion, and a great deal of self-sacrifice. For those who occupy the public positions, there are some compensations-some rich and meaningful compensations. But the true heroes--and heroines--of public life are those who give more than a full measure of self-sacrifice and receive less than a full measure of recognition.
There is one such hero--or heroine--in each family represented here tonight.
So I would like those who have received the Presidential appointments to raise their glasses with me to the most important and the most beloved people in these rooms-our wives and our husbands.
All of you that received the Presidential appointments, now stand.
This is an unusually proud occasion for me. Presidents have many duties. The weights and the burdens of this office are always great. But it is a particularly demanding responsibility to select other men and women to discharge the very great responsibility that attaches to every public trust in the Government of the United States.
When I came to this office 17 months ago, I was blessed--and the Nation was blessed-by the quality, the character, and the talent of the team that had been assembled throughout the executive branch by our late, beloved President Kennedy. No one is more aware of my debt to that great and gallant man in this particular regard than am I.
I believe strongly that the staffing of the executive positions of our Government has entered a new era within the past 4 years. At the high tide of our success--in a Nation bursting with more talent and genius than perhaps any other nation has ever known-we have laid aside the old concept that public positions could and would be filled with mediocrity, selected on the basis of political preference. We have gone forth to try to find the best in America to make sure that the functioning of our system is the best in the world.
To me all of you represent the best that America has produced.
One hundred years ago Abraham Lincoln told this story. He said:
"A fellow once came to me to ask for an appointment as a minister abroad. Finding he could not get that, he came down to some more modest position. Finally, he asked to be made a tidewater. When he saw he could not get that, he asked for an old pair of trousers. It is sometimes well to be humble."
For myself, let me say that there is not a single man or woman in this room who asked me for the job that they have tonight. The job has sought the individual and not vice versa. So long as I am permitted to continue here, this will continue.
I believe this is the way our system was intended to operate. In 1795, the Father of our Country, George Washington, wrote to a friend and explained his philosophy in these words:
"In the appointments to the great offices of the Government, my aim has been to combine geographical situation, and sometimes other considerations, with abilities and fitness of known characters."
From time to time there may be "other considerations" but our standard today is that standard set by President Washington-- we are concerned "with abilities and fitness of known characters."
Because of the standards that we have set--and the standards that we intend to maintain--you, your families, your children, and your grandchildren can be enormously proud of your association with the Government of the United States of America. There are no unexceptional persons in this room, tonight, because you are the leaders of your generation, of your country, and of the greatest cause in all human history.
I want you to know I am very grateful to each of you for the sacrifices you have made in assuming these responsibilities. I am proud that you are part of this Government and particularly proud that you are a member of my team. We--all of us together, yes, all of us alike--are servants of a great and good people and a strong and successful system that I am proud to have been a part of for more than half of my life--34 years.
I would ask now that you join me in a toast to the people of this country and to the Government of this Nation. May the people of this land live always united in freedom under peace and justice, and may this Government always be their good and their just and their faithful public servant.
Note: The President spoke in the State Dining Room at the White House.
For the President's statement on the Dominican Republic which he made to the press immediately preceding the dinner, see Item 212.
Lyndon B. Johnson, Remarks at a Dinner for Presidential Appointees Online by Gerhard Peters and John T. Woolley, The American Presidency Project https://www.presidency.ucsb.edu/node/241753