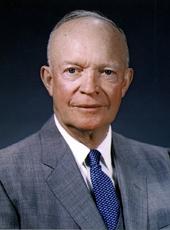 Remarks at a Dinner Commemorating the 50th Anniversary of Powered Flight.
President Johnson, and ladies and gentlemen:
It is indeed a great honor to have the privilege of addressing the aristocracy of aviation. Moreover, it is a very and even greater honor to join with you in honoring two names, those of the Wright brothers, which names will glow brightly in America's history as long as this country may endure.
Before such an audience as this, I shall not be foolish enough to talk at length about the accomplishments and the history of aviation. By no means would I get up before a college of surgeons and discuss or instruct in an intricate operation, and I am not going to make that kind of mistake here.
But I do want to refer to one element--one development--in the history of aviation: speed.
Recently, in reading about the Wrights, I noted that in that early year of 1903, when 30 miles an hour was achieved that was a very good performance. Then I noted, almost in the same day's paper, that someone recently flew 1,650 miles an hour. In 50 years we multiplied the speed of travel by 50 times. And let's go ahead until 2003. My grandson will then be half a dozen years younger than I am now. But if we keep up this same rate, he will see airplanes traveling at 82,500 miles an hour, if my mental arithmetic is somewhat correct.
Now, beyond that you have only to double it and you are at the speed of light. Then we will have the physicists talk about what is going to happen when you pierce the radiant barrier. It will be an interesting problem for them: if you travel faster than light, will you go blind?
This speed has become characteristic not only of the vehicle the great aviation industry has produced, but of the people. I shall tell you a little incident about one of your speakers this evening. A little more than 11 years ago tonight, we landed in North Africa. My headquarters was at Gibraltar. I had an aviation chief, and a question came up about aviation involving, really, the flight of some P-38's from Britain on down to Gibraltar. We needed them badly. I knew nothing of what they could do. So I sent for my Chief, General Doolittle. Not to be found. And so on my own I had to decide that a P-38 could fly that far, so I sent a cable and said send them on down.
Now, when Jimmy Doolittle came in, I said, "Where have you been?" And with his eyes glowing, he said, "I was flying a fighter plane against some French ships."
"Well," I said, "Jimmy, that is very interesting." And I said, "We have got a number of second lieutenants over there flying the ships, and you can be one of two things, a second lieutenant on a fighter ship or you can be my chief of aviation and a major general." I assure you, never did a potential second lieutenant get promoted faster.
Now, there are other characteristics about their personnel that have brought aviation to the point that it is today. I think they are vision and imagination, courage and perseverance.
Now, as the airplane of today is so much more complicated than the ship that the Wright brothers flew at Kitty Hawk as almost to defy comparison, so is our world of today a far more complicated thing than it was in those simple early days of this century.
This world is traveling in the speed of the complexity and intricacy of its problems almost as fast as aviation has come ahead. Indeed, I think maybe aviation is symbolic of what has happened to us.
Now I subscribe to every word that has been said here this evening about air power. It is important to us. It is a deterrent to potential enemies. It is absolutely needed in this day and time to us, if we are to preserve this country inviolate to attack.
But my belief goes far beyond that. I do not believe that in any amount of armed force, of whatever nature, is there real safety over the long run for any nation. The power of the surprise attack grows too great, and with every further step in the perfection of the airplane, with the terrifying increase in the power of bombs, we get to the point that the side that denies the moral and spiritual values in life preserves over people who live as we do such a terrifying advantage that something must be done about it.
Now that something, I submit, my friends, is the same vision, the same imagination, the same courage and the same perseverance that brought the Wright brothers' ship today to the B-52 and the B-47, and this new 1,650-mile job.
You people, as you build this air force, as you maintain it, as you keep it on top in quality, and wherever necessary in quantity, you must turn your imaginations and these great talents that you have displayed to our country in the widest sense. You must think in the deepest of spiritual and moral values, and how we are going to protect them, because there finally will be the capstone, as I see it, of all the service that the aviation industry can possibly do to our beloved country.
Again my friends, my profound thanks to each of you for the warmth and cordiality of your welcome, and for listening to me so courteously.
Good night.
Note: The President spoke at 10:24 p.m. at the Statler Hotel in Washington. His opening words referred to Vernon A. Johnson, President of the Aero Club of Washington.
Dwight D. Eisenhower, Remarks at a Dinner Commemorating the 50th Anniversary of Powered Flight. Online by Gerhard Peters and John T. Woolley, The American Presidency Project https://www.presidency.ucsb.edu/node/231493