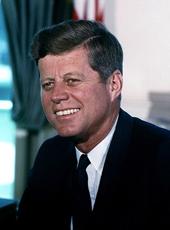 Remarks at a Dinner Celebrating the 50th Anniversary of the Department of Labor.
Secretary Wirtz, Madam Perkins, Mr. Justice Goldberg, Secretary Mitchell, Governor Hodges, Mr. Meany, ladies and gentlemen:
Perhaps for my own information I am wondering how many people here tonight are fellow employees of the Government, work for the Department of Labor, or is married to somebody in the Department of Labor? Perhaps they could hold up their hands.
And then how many people here hold a union card or is married to somebody who holds a union card? They've got labor segregated over there!
Well, I want to express my appreciation to both groups, first those who work for the Department of Labor and have made it what it is today. I think that this is an extraordinary record that we read off: for example, the program which Madam Perkins put forward when she became the Secretary of Labor, things which we now take for granted in both political parties and which were regarded as dangerous and revolutionary and things which must be fought for in the short space of 30 years ago. They were controversial and Madam Perkins-who looked so quiet and peaceful and sweet--was also one of the most controversial, dangerous figures that roamed the United States in the 1930's.
It gives us some hope that some of the things which may be suggested today, which are not controversial but which may be regarded as controversial, 10 or 20 years from now will be accepted as part of the ordinary life of Americans. That's what progress is.
We don't have child labor today, but it was a hard fight getting rid of it. We still have some, unfortunately. We don't have people working 12 hours a day. We don't have women exploited. All these things, however, took years of effort on behalf of a number of Secretaries of Labor and the people who worked in the Department and also men and women who worked in organized labor.
Madam Perkins said 15 million Americans were unemployed for a period of 6 or 7 or 8 years, with a much smaller percentage of the population, 20 million Americans, on relief 30 years ago. We have very difficult problems today, they are more difficult in some ways and they are more complicated, but we still need the devoted service of the men and women who work in the Department of Labor, who work for the United States Government.
I don't know why it is that expenditures which deal with the enforcement of the minimum wage, that deal with the problem of school dropouts, of retraining of workers, of unskilled labor, all the problems that are so much with us in the sixties, why they are always regarded as the waste in the budget, and expenditures for defense are always regarded as the untouchable item in the budget.
I think that in short I recognize that we have a good deal of unfinished business in the 1960's. And I think it is up to us, both those who work for this great Department and those who work in the field of organized labor, the men and women who head the unions, who work in the unions, it's up to us to do the job in our time as was done in the long 50 years of this Department's history.
Terence Powderly, who was the leader of the Knights of Labor a hundred years ago, once said, "An injury to one is of concern to all." That is a good motto for this Department, a good motto today for organized labor. It is a good motto today for the United States of America. It has motivated the trade union movement in this country since its inception. And, as Justice Goldberg said, it has also motivated the American labor movement in its encouragement of other men and women in other countries who desire to be free and can only maintain their freedom if they have a strong, free labor movement. An injury to one, whether it's a man, woman, or country, is of concern to us all here and around the world.
I express my thanks to you all and I hope that in our time we will do as well as those who have been before us.

Thank you.
[The President spoke first to a group in the hotel's Banquet Hall and then to a group Sheraton Hall.]
Mr. Vice President, Mr. Secretary, Madam Perkins, Mr. Justice, Mr. Mitchell, Mr. Meany, ladies and gentlemen:
Among the hardest fought for and most dearly held rights are the 8-hour day. Therefore, I shall be very brief because this celebration has gone on for at least 18 hours today!
I come here tonight to express my thanks, and I think the country's thanks, to all the men and women who work in the Department of Labor. I know that those who work for the Federal Government are frequently unsung and usually not spoken of in the admiring terms which I think they deserve. But I think it is appropriate on this 50th anniversary that we pay tribute to them. They work in some of the most significant, sensitive, important work for the benefit of American men and women of any group of our countrymen in our long history.
I don't know how many are here tonight. Perhaps they would hold up their hands, everybody who works for the Department of Labor. This is not to get a list for our Democratic dinner, but just to find out who is here. Would you perhaps hold up your hands, everybody here who works for the Department of Labor or would like to?
And now perhaps all of those who work for the labor movement, with it, holds a union card, or is married to someone who does? Down in the other room they are all in back. Now you have them all down front.
I want to express our thanks to all of you. This is a young department and it is a young country. A hundred years ago the average wage in America was about a dollar a day. We had less railroads than India has today. The life expectancy of a baby in this country was about that of a child today in Tanganyika. The most extraordinary progress has been made in the last 50 years. And a good deal of that progress has been because of the work of the Department, and also because of the work of the men and women in the labor movement.
Miss Perkins was telling us that when she became Secretary of Labor there were 15 million Americans out of work and there were 20 million Americans on relief, and we had a much smaller population. That was within the lifetime of everyone in this room, within the past 25 years.
Everything that we should be doing now for the advancement of this country's interest should be with that shadow of our very difficult past in our minds; and all of our efforts which are frequently inadequate, to provide a better life for our people, we should not have to fight for and struggle for, but, instead, we should recognize how fortunate we are in the 1960's, those of us who live in this country, those of us who work in this country, and make sure that in the decade of the sixties, in those years when we have some responsibility for the welfare of our country, that we meet our task as our predecessors in this department, as our predecessors in the labor movement have met theirs, and make our present possible and our future hopeful.
I express my thanks to all of you, to the former Secretaries, to Mr. Meany and the leaders of the AFL. They deserve well of the country and I think if they keep working the country will benefit from them in the future.

Thank you.
Note: The President spoke at the Sheraton-Park Hotel in Washington. His opening words referred to W. Willard Wirtz, Secretary of Labor; Frances Perkins, Arthur J. Goldberg, and James P. Mitchell, all former Secretaries of Labor; Luther H. Hodges, Secretary of Commerce; and George Meany, president of the AFL-CIO. Later he also referred to Vice President Lyndon B. Johnson.
John F. Kennedy, Remarks at a Dinner Celebrating the 50th Anniversary of the Department of Labor. Online by Gerhard Peters and John T. Woolley, The American Presidency Project https://www.presidency.ucsb.edu/node/237051