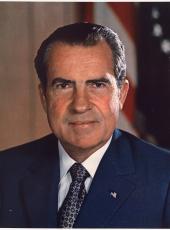 Remarks on Departure From Pakistan
Mr. President:
We want to express our grateful appreciation to you for the very heartwarming welcome we have received here and although, as you have said, the weather here may not be as good as it might be at some other time of year, we can only say that as far as the welcome was concerned, it was as warm a welcome as we have ever received on our visit to Pakistan or to any other country. For that we are grateful.
The talks we have had have been most helpful in giving me a better understanding of the problems of Pakistan, of our bilateral relations, but beyond that, of the problems of Asia as they relate to our overall goal of peace and progress in the world.
I feel as I leave Pakistan and complete what is now this phase of this journey, my trip through Asia, that Asia is on the road to a new era of progress, a new era of self-reliance, of independence, but that all this depends upon whether the leaders of the world will be able to produce peace-peace which will see that what is created by the hardworking people we have seen on the streets of Lahore, by the government officials who are working night and day on programs--to see that that progress which is so created is not destroyed by war. To that goal I have dedicated our administration, and that goal you also share. As I leave, I can say to you we look forward to a period of better relations between our two countries, based on mutual trust and friendship, and we look forward also to a period in which we can have real peace in Asia and thereby create the conditions which could lead to a lasting peace in the world. Thank you.
Note: The President spoke at 8:50 a.m. at Lahore International Airport in response to farewell remarks by President A. M. Yahya Khan, who spoke as follows:
President Nixon, Mrs. Nixon:
We bid you a goodby on the conclusion of your brief visit to Pakistan. We wish you a very pleasant homeward journey. We are happy to have had the opportunity to welcome again an esteemed friend in our midst, and trust that your next visit to Pakistan will be a little longer.
The charms of Lahore are not exhausted in a day, Mr. President. There are other places in Pakistan with feelings of warmth for honored guests like you. As the weather goes this is not the best time of the year, but I hope that you and Mrs. Nixon, and your party, have enjoyed your stay.
We are especially appreciative of Mrs. Nixon's interest in social welfare projects. Her visit yesterday to the Society for Rehabilitation of the Disabled and to the APWA School, an institution for the needy, was heartwarming for the social workers of Lahore. It was a happy thought on her part to have decided to accompany her distinguished husband in his travels. All that I can say to her: Come again. Farewell. God bless you.
Richard Nixon, Remarks on Departure From Pakistan Online by Gerhard Peters and John T. Woolley, The American Presidency Project https://www.presidency.ucsb.edu/node/239853