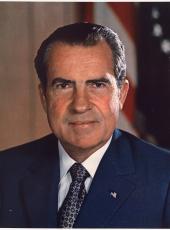 Remarks on Departure From Indonesia
Mr. President, Mrs. Suharto, all of the distinguished members of the Cabinet, the diplomatic corps, and those who are gathered here at the airport today:
This is the third time that I have said goodby at this airport to the people of this country. As I leave, I leave with the most pleasant memories of a wonderfully warm reception every place that we were. I only wish that we could have stayed longer. I look forward to the time that we can return.
Also, as I leave, I leave with the conviction that the future of this country is in good hands, and that the chances for a great breakthrough for progress, economically, are better than they have ever been before in the history of this country.
I am confident that is the case because of my meetings with the leaders of this nation, and also because of what I have seen insofar as the 5-year plan and the other policies that have been adopted by your Government, Mr. President. I can only say that the future of Indonesia is, of course, important to the 115 million people who live in Indonesia, but it is also vital to the future of the billions of people who live on this earth and particularly who live in the Pacific and the Asian area, because what happens here will have a dramatic effect on what happens every place else.
So we in the United States are proud that we have the opportunity to not only visit your country but, to the extent that you desire, to work with you in building that new future, to work with you always with the idea that we will work together, but always also with the idea that you choose your own way, and you develop your own policies; that there will never be any domination; that there will always be the freedom, the merdeka that means so much to the hearts of all the people of this country.
And, Mr. President, I can say that I am particularly pleased that you may be able to come to the United States. We want you to come on a return visit, at a time that will be convenient for you, and we only hope that we can give you and Mrs. Suharto and the members of your party as warm a welcome, as friendly a welcome, that all of us found every place that we were on this visit. I can say, in conclusion, that I have appreciated the great numbers of people that we have seen, and the very friendly signs that we have seen from place to place, some in English and some in your language. I have learned a little of your language while I have been here. One word I learned from you, and I heard it on several occasions. I repeat it as I leave. Hidup [long live] President Suharto, Hidup Indonesian and American friendship.
Note: The President spoke at 12:24 p.m. at Kemajoran International Airport in Djakarta in response to farewell remarks by President Suharto, who spoke in Indonesian. A translation of his remarks follows:
Your Excellency Mr. President and Mrs. Nixon, distinguished members of the Presidential party:
In a few moments you are leaving Indonesia. Although your visit is very brief, you have, nonetheless, left us with a profound impression. You have held discussions with leaders of Indonesia; you have also had the opportunity to mingle among the people of the capital and talked with some of them. I am sure that you have a clearer picture on our ideals, on our views with regard to world problems in general, as well as on our current issues, on our working programs and our firm determination in building a better future.
The frank discussion held in an understanding atmosphere, the desire to enhance friendly relations in a sincere and straightforward manner, are indeed very fruitful to us.
I greatly value your comprehension with regard to our identity. On behalf of the people of Indonesia, I would like also to express our appreciation to the United States of America, which is constantly disposed to assist us in building our future in harmony with our principles, aspirations, and our own ways.
This mid-20th century is characterized by the emergence of nations having their own identities. Every nation which has earlier gained independence should understand and accept this reality. One cannot evade this obligation because it constitutes a guarantee to world peace.
Mr. President, on this occasion, I would like to express my thanks for your kind invitation to visit the United States of America. God willing, I will gladly honor it at an appropriate time.
You have added some pillars to the "bridge" of friendly relations between our two countries; it is our common duty to foster and strengthen it further. We should launch on it a closer cooperation, beneficial to both our countries, which may contribute to the welfare of a new Southeast Asia, to world peace, and to the prosperity of mankind.
I wish, with your intermediary, Mr. President, to extend a warm greeting from the people of Indonesia to the great people of America. The whole people of Indonesia and I personally wish you and Mrs. Nixon a great success in your journey to other countries, and a safe homecoming in the United States of America. Have a nice trip and till we meet again.
May God the Almighty perpetually bless all mankind.
Richard Nixon, Remarks on Departure From Indonesia Online by Gerhard Peters and John T. Woolley, The American Presidency Project https://www.presidency.ucsb.edu/node/239736