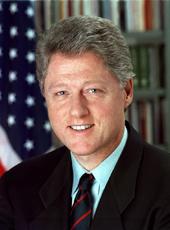 Remarks on Departure for the Summit of the Peacemakers
Good afternoon. As you know, I am on my way to Sharm al-Sheikh for an unprecedented summit in support of peace in the Middle East. I will meet there with the leaders of Israel, many of the Arab countries, Russia, Europe, and other nations to condemn the appalling acts of terror that have occurred in Israel in the last several days and to find ways to combat those who still seek to kill peace with violence.
The will of the people for peace is clearly greater than the forces of division. As we have seen in Northern Ireland and Bosnia and around the world, America must continue to support those who seek peace, and America will continue to support those who seek peace.
This Summit of the Peacemakers can be an important step in the process toward peace in the Middle East. After the summit I will also make a short visit to Israel to stand with the people there in their time of grief. I will also bring a message that in this time of difficulty and in the battle against terror and the struggle for peace, Israel is not alone.
Before I leave I would also like to say something to the Congress. We face here urgent domestic issues that demand our attention and our action. This Friday the Government will shut down for a third time if Congress does not pass a funding bill. Today I signed a temporary measure to ensure the creditworthiness of the United States until approximately the end of the month. But to preserve the full faith and credit of America, Congress must pass a longterm, straightforward debt extension.
Other significant legislation also awaits action. We should pass a balanced budget plan that reflects our values and supports our economic growth. The Congress and I have identified in common over $700 billion in savings, more than enough to balance the budget in 7 years and to protect Medicare and Medicaid and our investments in education and the environment, and to provide modest but important tax relief.
We should also pass a bipartisan welfare reform bill that genuinely moves people from welfare to work and strengthens families. And we should pass the Kennedy-Kassebaum health care bill so that working people do not lose their health insurance when they change jobs or when someone in the family gets sick.
Agreement on all these bills is clearly within reach. Our Nation must move forward. We cannot wait until after November to do the people's business. We have an obligation to keep the Government open and funded, and we have a distinct opportunity, if we act now, to pass the right kind of balanced budget, welfare reform, and health insurance reform.
I say again to Congress what I said in the State of the Union Address and what I have said repeatedly since: My door is open. I am ready to meet with the leaders of the Congress at any time to move forward on any or all of these matters of national urgency. It is time to put partisan politics aside and work together in the national interest. Spring is coming, and we ought to give the American people a rebirth of bipartisan, productive accomplishment in this new spring.
Thank you very much.
NOTE: The President spoke at 1:46 p.m. on the South Lawn at the White House.
William J. Clinton, Remarks on Departure for the Summit of the Peacemakers Online by Gerhard Peters and John T. Woolley, The American Presidency Project https://www.presidency.ucsb.edu/node/222517