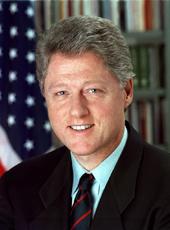 Remarks on Departure for Europe and an Exchange With Reporters
Situation in the Balkans
The President. Good afternoon. As you know, I am leaving in a few minutes for Europe. But first, I would like to say just a few words about what we've been doing on Kosovo in the last 24 hours and what we intend to do over the next few days.
Yesterday I met with Mr. Chernomyrdin, the Russian envoy. I reaffirmed our support for his efforts and our willingness to seize every diplomatic possibility for Serbian authorities to meet the requirements that NATO has articulated. I reaffirmed what all the Allies have agreed those requirements are, including withdrawal of Serbian security forces from Kosovo and the deployment of an international security force with NATO at its core. Only then will the refugees have the confidence to return, which is, after all, what we are working for. Only then will the KLA have an incentive to demobilize, which will contribute to peace and stability for all of Kosovo's people, including its ethnic Serbs. Only then will we have a chance to achieve a durable solution to the problem of Kosovo.
Tomorrow I will meet with Secretary General Solana and General Clark. We will discuss the progress of NATO's air campaign, which continues to grow in intensity and impact. I will speak with the airmen who are flying missions over Kosovo and Serbia out of Spangdahlem, Germany, and visit our humanitarian relief operations at Ramstein. Our men and women in uniform are doing their jobs with uncommon courage and skill. They have the support of the American people. They should hear unqualified support from their leaders in Washington.
On Thursday I will meet with Chancellor Schroeder and go to a refugee reception center in Ingelheim, Germany. We will hear the stories of the people fleeing the ethnic cleansing in Kosovo. We will assure them of our determination and resolve to see them return with security and self-government. That is what our effort in Kosovo is all about.
We need to remember that there is no middle ground between returning these innocent people to their homes and turning away from their faith. Whatever can be negotiated, it is not that. They have to be able to go home safe and secure. We cannot see what we have seen with our own eyes and take refuge in the false comfort of indifference or impatience. We have to take a stand. We have done that. We have to see our effort through. We will do that.
I want to thank again all of our allies for the steadfast support that we are jointly giving to our common efforts. We will continue to do that until our simple and plain objectives are met.
Q. Mr. President, what can you negotiate without giving up your core demands?
Q. [Inaudible]—any indication at all from Mr. Chernomyrdin that President Milosevic is prepared to move toward NATO's demands at all?
The President. Well, I don't know what he's prepared to do. I appreciate the fact that he let our American soldiers come home. That was the right decision. They weren't even involved in the operation.
It seems to me that if he asked the question, what is best for the Serbian people over the long run? What is most likely to preserve the territorial integrity of Serbia over the long run? What is most likely to give us a result where Serbia can join with its neighbors in a common endeavor to promote prosperity and peace and, therefore, the natural strengths that Belgrade and Serbia have because of the size of their country and the abilities of their people? What is most likely to promote that? Then the answer will clearly be: letting the Kosovars come home, having an international force to protect them and the Serb minority in Kosovo, and then getting on about the business of building a better future for all the people of southeastern Europe.
So, I think if the right questions are asked, then this is not a defeat for Serbia we're seeking. What we're seeking is the simple right of the Kosovar Albanians to live in peace on their own land, without fear of cleansing because of their religious or their ethnic background, and a simple statement that in Europe there will be no more ethnic cleansing. We will not usher in the 21st century with the worst nightmares of the 20th.
Thank you.
NOTE: The President spoke at 5:09 p.m. on the South Lawn at the White House, prior to his departure for Brussels, Belgium. In his remarks, he referred to Special Envoy and former Prime Minister Viktor Chernomyrdin of Russia; Secretary General Javier Solana of the North Atlantic Treaty Organization; Gen. Wesley K. Clark, USA, Supreme Allied Commander Europe; Chancellor Gerhard Schroeder of Germany; President Slobodan Milosevic of the Federal Republic of Yugoslavia (Serbia and Montenegro); and Staff Sgt. Andrew A. Ramirez, USA, Staff Sgt. Christopher J. Stone, USA, and Spec. Steven M. Gonzales, USA, infantrymen released from custody in Serbia. The President also referred to the Kosovo Liberation Army (KLA).
William J. Clinton, Remarks on Departure for Europe and an Exchange With Reporters Online by Gerhard Peters and John T. Woolley, The American Presidency Project https://www.presidency.ucsb.edu/node/229733