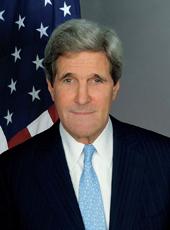 Remarks in Denver, Colorado
Thank you for being here. And thank you Chris for that kind introduction. Today is the first day of summer. But the first day of summer here in the mountains feels like the first day of fall back east.
Chris, your story is a constant reminder that one person can overcome adversity and make a difference.
Listening to you just now, I know that with focus and determination America can lead the world in science and research so that one day you can walk. To stand in the shadow of the Rockies and dream for anything less for you, for your family, and for the thousands of others who have suffered the same fate, would be to go against the Denver spirit. After all, we're in the "Mile High City" and in a country with "Mile High Dreams."
You know, I think of those Americans who came west and saw those mountains. They didn't buckle in fear at their grand scale. They said we're going to scale them, and keep going. And when we come to settings like this one and parks like the Civic Center, we are reminded that we are part of something bigger than ourselves.
That's what great urban green spaces do – they pull people together by giving them a place to gather in the heart of the city. Since 1926, people have gathered here for public concerts, public vigils as in the wake of the Columbine tragedy, and for celebrations like Cinco de Mayo and Martin Luther King, Jr. Day. And I just want to say that the renovations to the amphitheater look amazing.
And the man who helped build this park – Mayor Robert Speer – once said, "Give while you live." That's what he did for Colorado and that is what we're going to do for America.
That's why we're here. You bring us one step closer to an America stronger at home and respected in the world-- today brings us one step closer to the end of the Bush administration.
We're here to fight for good-paying jobs that let American workers actually get ahead.
We're here to make health care a right for all of our people.
We're here to make this nation energy independent.
We're here to build a strong military, and lead strong alliances, so that our military is never overextended and young Americans are never put in harm's way because we went in alone.
And we're here to build an economy of the future by investing in science, technology, and higher education, which is really what I want to focus on today.
You know, there is always something special for me about coming to Colorado. I was born here at the Fitzsimons Army Hospital when my father was a pilot in World War II. My father and my mother taught me the value of service.
I've always been determined to give something back to my country – as a soldier, as a prosecutor, as a Senator. And now, I'm running for President. It's been a great adventure and a great privilege. So many of you have welcomed Teresa and me and our kids into your homes and hearts. You have told us the stories of your lives – and they have become the work of my life.
The poet Langston Hughes told the stories in this way: "Let America be America again. Let it be the dream it used to be" – for those "whose sweat and blood, whose faith and pain, whose hand at the foundry, whose plow in the rain must bring back our mighty dream again."
In 2004, we have to bring back our mighty dream again. We have to make America all that it can become.
You know, working families all across our country are living by the oldest and greatest of American values – hard work, service, and caring for one another. And I'm running for president because I believe that our government should live by those values, too.
More than a million Americans who were working three years ago have lost their jobs. And the new jobs finally being created pay an average of $9,000 less a year. Colorado, we need a President who fights for your job as hard as he fights for his own.
We also need a president who fights for the working men and women of this country. As wages are going down, your health care costs are going up; your tuitions are going up; your bills are going up. In the last three years, here in Colorado, health care premiums climbed more than $2,600 and child care costs increased by more than $2,000. But guess what didn't go up? You're right, your wages! Family income has dropped by more than $1,400.
That's why last week, I talked about my economic plan to build up our great middle class by lowering your taxes so your incomes go up; cutting the deficit in half by rolling back the Bush tax cuts for the wealthy, and honoring middle class values so you can balance work and family. I'm running for president because I want an economy that strengthens and expands the middle class, not one that squeezes it – Americans shouldn't just be working and working for the economy-- the economy should be working all Americans.
I have a plan to put good paying jobs at the heart of our economy. And when I'm president, American taxpayers will never again subsidize the loss of their own jobs. I'm running for president, because I want an economy that's built on people and products, not perks and privileges.
This week, I want to talk about my plan to create an economy of the future – one that's based on innovation, ingenuity, and imagination. By harnessing the brain power of the best and brightest among us we can break new frontiers in science and technology and make our economy strong again. We can create the jobs of the future, improve our quality of life, and once again tap into America's greatest resource – our people and our sense of discovery.
We have always had this drive as a country to see around corners. To wonder "What if?" What if this plane takes flight at Kitty Hawk? What if we could go to the moon? What if we could put millions of pages on to one tiny computer chip? What if we could map our entire DNA? What if we could cure cancer, Parkinson's, AIDS, and Alzheimer's?
Just when it seems we've reached a plateau or come across a problem too difficult to solve, there is someone, somewhere in America who asks "what if?"
"What if" is, in its own way, a uniquely American question – a question that hasn't been asked enough over the last three years. Americans deserve a president who believes in science! And the American people deserve a president who understands that when America invests in science and technology and higher education we can build a new and stronger economy for the 21st century.
Tomorrow, I will focus on the ways we can create a business environment that develops and strengthens new technologies, and how we can create universal access to broadband – a technology that can transform our country and create jobs. If Bangalore and India can be completely wired, then so should all of Colorado and all of America. Our leadership in science and technology is essential for a strong economy and a strong national defense and effective homeland security.
And on Thursday, I will talk about my plan to build the workforce of the future by investing in lifelong learning, helping more Americans go to and graduate from college, and encouraging more women and minorities to become involved in math and science.
Today, I want to discuss my plan for an America the leads the world in science. Recently we've seen reports that other countries are spending and investing more in science. America has been losing its lead. As President, I will see to it that America is once again at the forefront of scientific discovery.
We need that to cure diseases, lower health care costs, and invest in new research and technologies that will create the good paying jobs of the next decade and generation.
First, we need a president who will once again embrace our tradition of looking toward the future and new discoveries with hope based on scientific facts, not fear. That's what presidents are supposed to do. Franklin Roosevelt built great national laboratories. Abraham Lincoln created the National Academy of Sciences. President Eisenhower established the White House Science Advisor. President Kennedy started America on the path that ended up with a man setting foot on the moon. And President Clinton helped lead us to a map of the entire human genome. Presidents think big and dream big. And nowhere is it more important to do so than crossing the new horizons of science and technology.
I am proud that today 47 Nobel Laureates have sent an open letter to America in support of my campaign and our cause to invest and lead the world in science. As president, I will listen to the advice of our scientists so I can make the best decisions. Their reports and evaluations will be open so that you can make informed decisions as well. This is your future and I will let science guide us, not ideology.
Second, we need to invest in science and new technologies that may help cure diseases, start great new industries and deepen our understanding of the world in which we live. That's why I will increase our funding to the National Institutes of Health, the National Science Foundation, the Department of Energy, and other important agencies and initiatives that promote crucial research. These advances have the opportunity to do so much good in the world and new technologies like nanotechnology and clean energy have the potential to transform the American economy. Nationally, Colorado ranks 8th in the total number of nanotech firms.
This state's economy is driven by cable TV, satellite, and telecommunications. These industries powered much of Colorado's economic growth during the 1990s. During that decade, the population of this state grew by 31%, but thanks to the economic boost of science and technology, unemployment fell to 2.5% in January 2001. It is clear – these technological advances are bringing good paying jobs to Colorado.
And finally, we must lift the barriers that stand in the way of stem cell research and push the boundaries of medical exploration so that researchers can find treatments that are there, if only they are allowed to look. And we should do this while providing strict ethical oversight.
More than 100 million Americans – just like Chris – have illnesses and injuries that one day could be cured or treated with stem-cell therapy. Stem cells could replace damaged heart cells or cells destroyed by cancer. Stem cells may have the power to calm the hand of an uncle with Parkinson's, and slow the loss of a grandmother's memory. So many Americans have looked at me with tears in their eyes and asked me to help them find a cure for a daughter, a son, a parent who's suffering from diseases that are controlling their future. By supporting stem cell therapy, we have the possibility to control the future. Not only can we reduce the economic cost of healthcare, we can reduce the emotional and social cost of families. We did it with polio, we did it with small pox, we did it with TB, we can do it again.
As America said good-bye to Ronald Reagan we also honored the devotion and love of his wife Nancy. Her pleas for stem cell research joined the pleas of millions across this country and reinforces in all of us the need to tear down every wall today that keeps us from finding the cures of tomorrow. I have full faith that our scientists will go forward with a moral compass – with humane values and sound ethics guiding the way.
If we pursue the limitless potential of science – and trust that we can use it wisely – we will save millions of lives and earn the gratitude of future generations. We have the potential to do so much good while at the same time meeting some very practical challenges – lowering health care costs and creating new jobs.
It's about investing in the future of our country. And when I am your president, I won't let ideology and fear stand in the way!
When America sees a problem or a great possibility, it is in our collective character to set our sights on the horizon and not stop working until we get there. That's what America does best – and now we need to let America be America again so we can lead in scientific discoveries and advances!
That's how we make America strong at home. That's how we build an economy for the 21st century that creates good paying jobs. And we can chart this course together.
You know, when I was in Vietnam, I served on a small boat on the Mekong Delta with men who came from places as diverse as South Carolina and Iowa ... Arkansas and California.
We were literally all in the same boat – and we came together as one. No one asked us our politics. No one cared where we went to school or what our backgrounds were.
We were just a band of brothers who all fought under the same flag, and all prayed to the same God. Today, we're a little bit older, we're a little bit greyer. But we still know how to fight for our country. And what we're fighting for is an America where all of us are truly in the same boat.
We're not just Democrats or Republicans. We are Americans. We have to end the divisions in this country. We have to work together for the America we can become. We need good education for all our children. We need to protect our environment. We need to strengthen our military and lead strong alliances.
So, I ask for your help. Talk to your neighbors; talk to your friends. Enlist in our cause.
My friends, this is the most important election of our lifetime. And that's not something I'm telling you. That's something you've told me again and again. And now, the outcome is more in your hands than in mine.
In great movements for civil rights and equal rights and the environment, we have come together as one America to give life to our mighty dream.
So come together again and stand up for a great purpose – to make America stronger at home and respected in the world.
We're a country of the future; we're a country of optimists. We're the can-do people. And we just need to believe in ourselves.
Let America be America again.
Thank you, and God bless you.
John F. Kerry, Remarks in Denver, Colorado Online by Gerhard Peters and John T. Woolley, The American Presidency Project https://www.presidency.ucsb.edu/node/216858