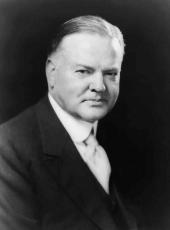 Remarks in Denver, Colorado
As you know, this is by no means my first visit to Denver. I came here first some 36 years ago while engaged in my engineering profession. I have been back many times and have many friendships which have grown steadily over these years.
It would not be proper for me on this Sabbath Day to enter upon a discussion of political issues. Sunday is provided as a day of rest. I have certainly been engaged in hard labor, and I am thankful for the Sabbath Day.
I do wish to express my appreciation for the generosity of your reception. It is encouraging to any man in public service to feel the enthusiasm which comes spontaneously.
There is one subject on which I can speak for a moment because it is not a matter of partisanship but a matter sacred to all faiths and to all men and women. I understand that you are about to enter upon your community chest drive in order to provide against distress over the forthcoming winter. The first obligation of man is toward his neighbor. The first obligation of a community is toward those in distress, and in this drive which you are about to undertake you are giving expression to the responsibility of both the individual and the community. It is important that distress shall be cared for, and it is also important that the spirit of giving and the sense of obligation shall be maintained in our people.
It is true that we have provided through the Federal Government a fund to supplement the efforts of local communities by way of loans to those communities whose resources have become exhausted and who have not been able to compass the problems of distress. This has not been done to relieve the responsibility of the individual or the community; it has been done as a guarantee by the United States Government that in this time of hardship no one shall go hungry or cold within our land. The sum provided by the Government is insufficient except as a supplement to local abilities when their resources are exhausted. But it is a mark of the resolution of the American people through their Government that they will make sure that our people are protected during the national emergency.
There is a phase of this entire problem of distress that has been of constant lift to me; that is the fact that under the leadership of the devoted women and men of our country, the general health of our children stands today on a higher plane than even in normal times. This is the result of the infinite effort and sacrifice on the part of our people. It is fundamental that this shall go on because we as a nation cannot afford for an instant to have the powers of the next generation in the slightest way diminished if we are to continue our great march of national progress.
A record of national and nonpartisan effort on behalf of children was recently made in the Children's Charter, drawn up at the conclusion of the White House Conference on Child Health and Protection. That was an expression of the national spirit and national thought and the national demand on behalf of children. The people of your State were represented on that important body. Your people have taken the conclusions of this able body of men and women with the utmost seriousness. You are developing those conclusions into definite community action. In so doing you are providing for us a generation in which the problems of handicap and disability in children will be infinitely lighter than those which we bear today. In the provision of a community nurse, you are substituting her, eventually, for a score of policemen.
There can be no partisanship in our obligations to our children. This is a subject that is worthy of discussion on this day.
In opening the White House Conference on Child Health and Protection, I felt that I was voicing the feelings of fathers and mothers everywhere, without respect to political faith, when I said:
"We approach all problems of childhood with affection. Theirs is the province of joy and good humor. They are the most wholesome part of our race, the sweetest, for they are fresher from the hands of God. Whimsical, mischievous, we live a life of apprehension as to what their opinion may be of us, a life of defense against their terrifying energy; we put them to bed with a sense of relief and a lingering of devotion. We envy them the freshness of adventure and discovery of life; we mourn over the disappointments they will meet."
And in describing the ultimate goal of all our American passion for a better life for our children I said in conclusion:
"The passion of the American fathers and mothers is to lift children to higher opportunities than they have themselves enjoyed. It burns like a flame in us as a people. Kindled in our country by its first pioneers, who came here to better the opportunities for their children rather than themselves, passed on from one generation to the next, it has never dimmed nor died. Indeed, human progress marches only when children excel their parents."
To that end we can always devote some portion of our spiritual contemplation on the Sabbath Day.
Now, I wish to again express my appreciation for this tremendous reception. It fills me with hope. I would like to address you on questions of national issues. I shall be entering into that again tomorrow morning at an early hour.
I thank you.
Note: The President spoke at 8:15 p.m., from a platform erected in front of the railroad station to an estimated 25,000 people. The President's train was en route to Palo Alto, Calif., where he planned to vote on November 8.
Herbert Hoover, Remarks in Denver, Colorado Online by Gerhard Peters and John T. Woolley, The American Presidency Project https://www.presidency.ucsb.edu/node/207510