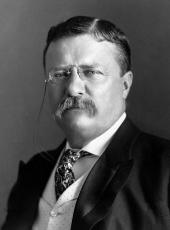 Remarks in Denison, Iowa
Friends:
As I come into your beautiful State there have come calamities upon our people here in Iowa, and, to an even greater degree, in Kansas and Missouri. I see also by today's papers the awful dis aster in Georgia. We have Biblical authority, as well as the authority of common sense, for the statement that the rain falls on the just and the unjust alike. When the hand of the Lord is heavy upon any body of men, the wisdom of man can do but little. Now and then in our country, from drought, from floods, from pestilence, trouble and misfortune will come; but oh, my friends, as I drove through your city this morning and now as I look at you, the men and women of this State, I know that all our troubles are temporary; that misfortunes will be met and overcome, because in heart and hand the American citizen is able to win his way in the long run.
When a misfortune, that human wisdom cannot avoid, comes, of course there will be suffering, there may be misery. Those of us who are free from it can try and must try to lighten it all we can, but we cannot help the fact that there will be much suffering. Furthermore, if through our own folly we do what is wrong, if we act foolishly in matters of legislation, we shall pay the penalty. If the business world loses its head it loses what no law can supply, but in spite of that we shall go forward. We shall keep in the run, not only of abiding but of increasing prosperity, if as a people we only keep our sanity, if we keep the qualities which made us win out in the Civil War, and which brought us in triumph through other crises so far.
Something, a good deal, can be done by law, a good deal can be done by the honest and upright administration of the law. I think you will do me the justice to say that I do not say what I do not mean. I never said anything off the stump that I would not say on the stump, so what I say now you can take as sincere. We have in the persons of Iowa's representatives in both branches of the national Congress, in Iowa's representatives in the administrative branch of the national government, men to whom I can turn as illustrating what I mean when I say that we are helped greatly by good laws and by intelligent, fearless, and honest administration of those laws. We need the ability that you in Iowa have furnished in your public servants. We need the standard of integrity that you have set in public life. We need that uprightness and fearlessness in a public servant which makes him do his duty, disregarding either the clamor of the many or the snarling of the few which is directed against a course of conduct demanded by regard for the immutable law of righteousness.
Theodore Roosevelt, Remarks in Denison, Iowa Online by Gerhard Peters and John T. Woolley, The American Presidency Project https://www.presidency.ucsb.edu/node/343677