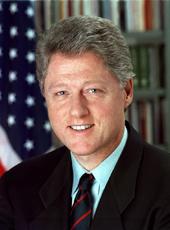 Remarks at a Democratic National Committee Brunch in Aspen
Thank you, Fred. First I'd like to thank Fred and Lisa for welcoming us into their modest little home. [Laughter] I live in public housing, myself. [Laughter] I want to thank Roy Romer for the wonderful job he's done as the general chair of our party and also as the Governor of this magnificent State. I thank all the members of the Democratic Party's hierarchy here today, Len Barrack and others who are here. But I want to especially thank all of you who have been part of this weekend.
Most of you have already heard me give two talks, and at least I've had a night's sleep now, but I don't want to make you go through it all again. I would like to make a couple of points very briefly.
First of all, I want to make explicit what Fred said. You should all feel some sense of personal responsibility for the buoyant economy, for the lessening social problems of our country, for the role that the United States has been able to play in advancing the cause of peace and freedom and security in the world.
So many of you said something nice to me yesterday about our trip to China, which would not have been possible had I not been elected and reelected. And I think we have the right policy there, where we're trying to advance both our security partnership and our economic interests and still stick up for democracy and freedom that we all believe in. You are responsible for that.
The second point I want to make, very briefly—it looks like the rain is coming again—is that in these elections, we're going to try to elect more Democrats to the House, to the Senate, and to the Governor's office. We're going to try to defend the incumbents that are up for reelection. I honestly believe, and any major national survey will show, that nearly two-thirds of the American people agree with us on virtually every significant question. And the attacks that Republicans have raised against Democrats—that we were weak on the economy; we couldn't be trusted on the deficit; we never met a tax we didn't like; we were weak on welfare and crime; we couldn't be trusted with foreign policy—all that has no salience anymore.
So, if we can convince the American people that by electing more Members to the House and Senate, they can have more of the progress they like instead of the partisanship they deplore in Washington day-in and day-out—instead of letting them get carried away by the kind of emotional, negative, but unfortunately very powerful tactics that our adversaries used in the last 2 or 3 weeks of every election—you can take pride that the next 2 years can produce even more progress than the last 6 have. That's what I want you to think about. That's what you've been here for. And I am profoundly grateful. Thank you very much.
Now show everybody the Democrats have enough sense to get in out of the rain. [Laughter]
NOTE: The President spoke at 12:10 p.m. at a private residence. In his remarks, he referred to Fred and Lisa Baron, dinner hosts; and Leonard Barrack, national finance chair, Democratic National Committee.
William J. Clinton, Remarks at a Democratic National Committee Brunch in Aspen Online by Gerhard Peters and John T. Woolley, The American Presidency Project https://www.presidency.ucsb.edu/node/226493