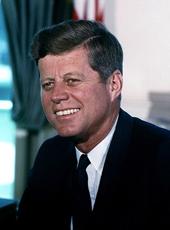 Remarks to Delegates of the American Committee on Italian Migration.
Ladies and gentlemen:
I want to express a warm welcome to all of you. As your chairman has said, this has been a matter of great interest to me through 14 years of Congress. I am sure that there are some members of your families who are here as a result of legislation which we were able to pass in the fifties, even though there is a good deal of unfinished business still left before us to correct the inequities in American immigration laws.
Next week, we will send to the Congress of the United States our proposals for improving and modernizing the laws which govern the admission of immigrants into this country. There are still a good many brothers and sisters of American citizens who are unable to get here, who may have preferences as members of families but because of the maldistribution of quotas in the European area we have this situation which has become nearly intolerable, where you have thousands of unused quotas in some countries while you have members of families, close members of families, in other countries who are desirous of coming to this country, who can become useful citizens, whose skills are needed, who are unable to come because of the inequity and the maldistribution of the quota numbers.
Now this is a problem with which you have lived; it is a problem which, I think, most Americans are unaware of. You have countries which have a population for example, of 1/25 or 1/20 of that of Italy, which have an immigration quota to the United States greater than Italy, and which use only half of the available quota and, of course, the Italian quota is oversubscribed.
We hope the Congress of the United States will accept these recommendations and that before this year is over we will have what we have needed for a good many years, which is the recognition that all people can make equally good citizens, and that what this country needs and wants are those who wish to come here to build their families here and contribute to the life of our country.
In the meanwhile, I congratulate you on the work you are doing. All the progress that has been made in this field, all the progress that has been made in any field of national life has been due to the dedicated efforts of citizens such as yourselves. I am glad you came here.
I hope to go to Italy within the next 2 weeks and to have a chance to see where it is from whence you came and to say hello to those members of your families who are still waiting at the docks.

Thank you.
Note: The President spoke at 10 a.m. from the colonnade bordering the Flower Garden at the White House to delegates attending the annual conference of the American Committee on Italian Migration. In his opening remarks he referred to Judge Juvenal Marchisio, chairman of the Committee.
John F. Kennedy, Remarks to Delegates of the American Committee on Italian Migration. Online by Gerhard Peters and John T. Woolley, The American Presidency Project https://www.presidency.ucsb.edu/node/236664