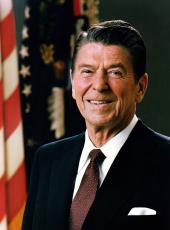 Remarks at Dedication Ceremonies for the New Building of the National Geographic Society
Thank you, Mr. Chief Justice. There are so many people I want to say hello to here today: Dr. Payne, Reverend Harper, and enough members of the Cabinet and the executive branch and from up on the Hill that I'm wondering who's watching the store. [Laughter]
But of course, there's also your distinguished board member Lady Bird Johnson. Lady Bird, it's always wonderful to see you and to be able to say in public what is often said in private, that you were a great First Lady of this nation, and your beautification program is a lasting improvement on the American landscape. You can't be thanked enough for your great and good work.
And it's good to see Gil Grosvenor again. The first time I met him, I gave him quite a start. It was just before I took office, and we were having a reception at Blair House. Gil introduced himself and told me where he worked, and I informed him that he was responsible for one of the biggest problems that Nancy and I were having in the transition. And he looked at me a little wide-eyed, and I told him—being in the middle of a big move from the West to the East—I said, "Gil, I have hundreds of National Geographics at the ranch, and I don't know how the heck I'm going to haul them all to the White House." [Laughter]
Well, I'm very happy to be here today to help you dedicate your new building, as President Johnson did just 20 years ago when you opened your last new building.
I guess you have some trouble storing your old National Geographics, too. [Laughter] You know, it's something, when you stop to think about it—we were just talking outside before we came in—I don't know of anyone I've ever known who could throw away a National Geographic. [Laughter] A lot of others go in the wastebasket when you finish reading what you want to read, but not these.
In the ceiling outside this room, there's a dome showing the stars as they were that night in the winter of 1888 when a group of public-spirited scholars, scientists, and adventurers came together to start a society aimed at institutionalizing the study of science in this new experiment called America. And it occurs to me that that little firmament is an appropriate symbol for this building. It reflects the outward reaching, no-boundaries impulse that has shaped your Society. It reflects the great respect that you have for specifics, for exactitude, for recreating things as they were, dot for dot and star for star. And it reflects the spirit of inquiry that has directed your studies up to the stars, out to the continents, and into the heart of man's experience on Earth.
In a world that sometimes seems to have grown sated with all it knows, you still discover; you fund expeditions; you help researchers; you encourage impossible dreams. And then you share the results with all the Society's members in your magazine. I think one of the great reasons for your magazine's success is that it's infused with the romance of discovery, the romance of history, of seeking out the past and discovering places man has never seen before.
Sometimes we think that there are no journeys anymore, that, yes, man goes places, even into space, but it's done with a kind of clockwork perfection, with our technology clicking away and bringing us from Plainfield, New Jersey, to the Himalayas in less than a day of a man's life. But it sometimes seems that there are no journeys anymore, no more great treks.
Remember how in the movie§ they made when we were young—well, the movies they made when you were young. [Laughter] Remember how they'd show a map unfolding, and they'd have arrows showing the journey as it progresses; our hero started here, visited there, and now he's just landed in his destination, fade in on hero. And there was the sense of a long journey unfolding. Well, that sense still exists in National Geographic. And somehow you take your readers along on the ride as you climb mountains and cut your way through jungles.
There is another thing, the special sensitivity you bring to your quest. I'm thinking here of a small item in your May issue, a picture of the frozen remains of a woman who died in the eruption of Mount Vesuvius. An anthropologist [archeologist] who studied the skeleton was quoted as saying, "She was very homely, but someone cared enough to give her beautiful things, delicate gold bracelets and jewels." A small observation, perhaps, but it carries a whole world of inference. It evokes. You bring history to life, and you remind us all that civilizations are born and die and are rediscovered in an endless continuum.
I think it should be noted that the National Geographic Society is the kind of organization that a nation like ours and a world like ours can produce. We provide the fuel upon which societies such as this one grow.
You tell your stories straight and with a rigorous objectivity. There is a fine, implicit respect for your readers in that, and it's a public service.
Throughout its history, the National Geographic Society has brought home the profound truth that we are, with all our differences, a human family living together on a tiny blue and green planet. For the past 25 years, our space program has reinforced this perspective of the world, helping us realize that we are all riders of the Earth together. As we dedicate this new home for the Society, I think it fitting that we rededicate ourselves to the pursuit of knowledge and excellence which has so long characterized our space program.
Accordingly, today I am pleased to report that NASA is beginning a new program aimed at achieving that goal. For more than 25 years, NASA has pioneered on the cutting edge of science and technology and has stimulated our young people to strive for excellence in all they do. Now NASA, in cooperation with the private sector, will expand its educational outreach program to our very young people in more than 75,000 elementary schools throughout the country. NASA will be able to share its engineering know-how, scientific discoveries, and sow the seeds of future progress by stimulating our young people to study science and engineering.
We call this new program Operation Liftoff, and it will incorporate such advanced instructional tools as computer software, laser discs, audiovisual materials, and other techniques. It will also involve, as I said, private enterprise. I've asked NASA to reinforce its ties with the aerospace industry and with private citizen's groups to expand this effort to the fullest.
In this connection, I was particularly pleased to learn of the efforts of the National Space Institute to develop and support a new national Young Astronauts Program to involve young Americans more directly in our space program. This new organization will expand their appreciation of space as a place in which people can live and work and learn. I've asked NASA to work directly with the NSI to develop this project in the context of our Private Sector Initiatives Program.
And I want to personally thank Jim Beggs of NASA for his leadership and great support in the creation of these new programs.
Now, I know as we near the end of this amazing and troubled century that you, as all of us, are looking to the future. And I know that one of your great interests and concerns is the environment—conservation and ecology. You are worried about what man has done and is doing to this magical planet that God gave us. And I share your concern.
What is a conservative after all but one who conserves, one who is committed to protecting and holding close the things by which we live. Modern conservatives in America want to protect and preserve the values and traditions by which the Nation has flourished for more than two centuries.
We want to protect and conserve the idea that is at the heart of our national experience, an idea that can be reduced to one word: freedom. And we want to protect and conserve the land on which we live-our countryside, our rivers and mountains, our plains and meadows and forests. This is our patrimony. This is what we leave to our children. And our great moral responsibility is to leave it to them either as we found it or better than we found it.

But we also know that we must do this with a fine balance. We want, as men on Earth, to use our resources for the reason God gave them to us—for the betterment of man. And our challenge is how to use the environment without abusing it, how to take from it riches and yet leave it rich.
But I think the whole idea of conservation has often been obscured these past 20 years by some who've attempted to seize it as an issue, politicize it, and claim it as their own. I think there have been some who use the conservation movement as an excuse for blind and ignorant attacks on the entrepreneurs who help the economy grow—the farmers who make our food, the businesses that give us heat in winter and coolness in the summer. This kind of antagonism to all things that speak of business has tended to confuse the issue, blur responsibility, and overshadow sincere concern.
As I said in my last State of the Union message: "Preservation of our environment is not a liberal or conservative challenge-it's common sense."
Our nation has taken great strides in the decades since an old conservative named Teddy Roosevelt led the charge to create the National Park System. From that great beginning step, we have steadily expanded efforts to protect our heritage of land and water. We've been proud to pick up the mantle and move forward in a number of important areas.
We've spent $737 million since 1981 as part of a billion-dollar plan to repair and replace national park facilities that were designed to correct years of neglect. Even as we grapple with getting Federal spending under control, the 1985 budget request proposed that almost $160 million be made available to acquire new lands for our national park and wildlife refuge system.
We're keeping a close watch on endangered species. With the leadership of Secretary Clark, the Interior Department has listed 23 species so far this fiscal year, including the wood stork and the woodland caribou—maybe even some of us. [Laughter]
Together, the Federal Government and Ducks Unlimited have created a new program to ensure the protection of American waterfowl nesting areas. This, by the way, reflects our attempts to work closely with the private sector. The nonprofit Ducks Unlimited will work with the Fish and Wildlife Service and fund the protection of the waterfowl areas.
Now, just this past April, the Prudential Insurance Company donated more than a hundred thousand acres of wetlands and forest areas to the National Wildlife Refuge System. That's a $50 million gift. And we rely on private volunteers in our national parks. Last fiscal year, we had the help of more than 22,000 volunteers who, in all, donated more than a million hours of their own time. And that was a taxpayer savings of about $7 million.
Creating parks and wildlife refuges is only a part of protecting our environment, of course. I'm proud to report that the most recent studies of the Environmental Protection Agency show that we've made great progress in cleaning up the air and water. Hundreds of lakes and streams have joined the Potomac River in being declared open for fishing and swimming, after being closed to a whole generation. EPA tells us that after a national expenditure of $150 billion on air pollution controls, concentrations of all the major pollutants are on a downward trend.
We're moving forward in responding to new challenges as well. In just 3 years, we have tripled funding for the cleanup of abandoned hazardous waste dumps from $210 million in 1983 to $640 million proposed for 1985. We have doubled funding for acid rain research in each of the past 2 years. We're trying to get a clear, scientific understanding of its causes and effects. And what we're aiming at is a policy of common sense.
We have, all of us, over the past 20 years, reached consensus on the need to conserve our environment. Now we must come to agreement on how to do it. And in coming together on that, we must keep in mind the word "balance"—a balance between the desire to conserve and protect, and the desire to grow and develop; a balance between concern for the good earth, and concern for the honest impulse to wrest from the earth the resources that benefit mankind; a balance between the overall demands of society, and the individual demands of the free citizen.
If we rid our minds of cant, of empty rhetoric, of mere politics, we'll strike that balance naturally and together. This is my great hope, and in this you have my complete commitment.
And I thank you all for inviting me here today, and may you do great new work in this, your fine, new building. God bless you all.
Note: The President spoke at 11:28 a.m. in the new building's auditorium. He was introduced by Chief Justice of the United States Warren E. Burger.
Ronald Reagan, Remarks at Dedication Ceremonies for the New Building of the National Geographic Society Online by Gerhard Peters and John T. Woolley, The American Presidency Project https://www.presidency.ucsb.edu/node/260755