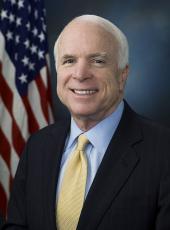 Remarks on Day One of the "Time For Action Tour" in Selma, Alabama
Thank you. Forty-three years ago, an army of more than five hundred marched across the Edmund Pettus Bridge; an army that brought with them no weapons, which intended no destruction; that sought to conquer no people or land. At the head of the column, dressed in a dark suit, white shirt, tie and tan raincoat, marched a twenty-five year old son of Alabama sharecroppers, John Lewis. They had planned to march from Selma to Montgomery, but they knew they would never reach there. They had been warned they would be met with force, and at the crest of the bridge, they were. Until then, they had marched in silence, with dignity and resolve, men, women, children and old people. All was quiet, even the angry crowd that watched the marchers. But everything was alive with apprehension, with the expectation that something momentous and terrible was imminent.
On the other side of the bridge, row upon row of state troopers in blue uniforms and white helmets, many on horseback, prepared to charge and stop with violence the peaceful army, intent only on conquering injustice. John Lewis took the first blow, a baton thrust to the stomach that shoved him back on the marchers behind him. He took the second blow, too, a hard swung club to his head, leaving a permanent scar where it struck. Blood poured from the wound, darkening his raincoat. He tried to struggle to his feet, and then collapsed unconscious, his skull fractured.
That evening, millions of Americans watched in stunned silence as ABC News broadcast the clash of might against right. They watched brave John Lewis fall. They watched the marchers -- peaceful, purposeful, loving, kneeling in humble resistance -- scattered and overrun by the troopers, who struck them with clubs and whips, chased them as they fled, trampled them beneath their horses' hooves. They watched old men and women fall. They saw dignified people claiming only their constitutional rights; affirming the promise of the Declaration of Independence without anger, malice or the least threat of violence, whipped and clubbed for their patriotism. They watched, and were ashamed of their country. And they knew that the people who had tried to cross the Edmund Pettus Bridge weren't a mob; they weren't a threat; they weren't revolutionaries. They were people who believed in America; in the promise of America. And they believed in a better America. They were patriots; the best kind of patriots.
The beaten and dispersed army on Edmund Pettus Bridge had conquered something after all -- the indifference of too many Americans to their courageous struggle for the basic rights of American citizenship.
"When I care about something," John Lewis wrote, "I'm prepared to take the long, hard road." I've seen courage in action on many occasions in my life, but none any greater or used for any better purpose than the courage shown by John Lewis and the good people who marched for justice with him. All his life, John Lewis has believed in Dr. King's concept of the "beloved community;" a country "not hateful, not violent, not uncaring . . . not separated, not polarized, not adversarial."
In America all things are possible, even a civilization as great as the one envisioned by Dr. King and John Lewis. But we are practical people, and most of us are honest, and we know we have a ways to go. This week, I will be traveling to places in America that aren't enjoying the prosperity many other parts of America enjoy, but where people are walking a long, hard road to make sure that their children will know the opportunities that other American children possess. They are places that for too long suffered too many disadvantages, but where people of good character and stout hearts believe in the possibility of making the future better than the past, the essence of the American Dream.
I want to discuss with them how they are working hard to make a better future for their communities and their country. I am going to listen to and learn from them about what government is doing to help their efforts and what it does to hinder them. I'm not going to tell anybody about how government can make their choices for them, but how we can help grow our economy so that people have better choices to make for themselves. I'm going to share some of my ideas for making our schools better, and how to help all parts of America have access to the astonishing improvements in education made possible by the information revolution, and the economic opportunities they bring. I'm going to talk about the great potential of America's community colleges to help people learn new skills that will help them find secure jobs in the global economy. I want them to know, that as we begin to address the security and environmental threats caused by our dependence on f oreign oil, I'm dedicated to making sure our efforts to start a green technology revolution -- which could be as transformative as the information revolution -- produces prosperity throughout this country.
There must be no forgotten places in America, whether they have been ignored for long years by the sins of indifference and injustice, or have been left behind as the world grew smaller and more economically interdependent. In America, we have always believed that if the day was a disappointment, we would win tomorrow. That's what John Lewis believed when he marched across this bridge. That's what he still believes; what he still fights to achieve: a better country than the one he inherited.
My friends, Americans change things. We always have. We don't hide from problems or mistakes or history. We change things and we make history. Hope in America is not based in delusion, but in the faith that everything is possible in America. The time for pandering and false promises is over. It is time for action. It is time for change; the right kind of change; change that trusts in the strength of free people and free markets; change that doesn't return to policies that empower government to make our choices for us, but that works to ensure we have choices to make for ourselves. For we have always trusted Americans to build from the choices they make for themselves, a safer, stronger and more prosperous country than the one they inherited.
I have always believed in this country, in a good America, a great America. But I have always believed we can build a better America. I am here because it is a place where great Americans once fought to do just that, and I'm going to places where they are still fighting for change; to make us a better country. I am going to meet and learn from patriots.
Thank you.
John McCain, Remarks on Day One of the "Time For Action Tour" in Selma, Alabama Online by Gerhard Peters and John T. Woolley, The American Presidency Project https://www.presidency.ucsb.edu/node/294314