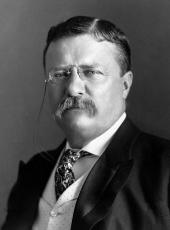 Remarks in Dallas, Texas
Mr. Mayor, and you, my fellow Americans:
It has been indeed a pleasure for me to come within the limits of your mighty and beautiful State. This afternoon I have been passing through a veritable garden of the Lord, and it is only a few weeks since that I did my part in helping in the growth here when I signed the bill under which the Trinity River will be improved. And I was mighty glad to do it, for I think that we Americans have learned the lesson that whatever is good for some of us is good for all of us.
And I can, in a sense, claim to be, by blood, at least, a typical President, for I am half Southerner, half Northerner. I was born in the East, and I have a great deal of the West in my spirit.
The Civil War has left you as a heritage of honor not merely the memory of mighty deeds done in it, alike by the men of the North and the men of the South; it has left us as an inspiration the way in which those men when the war was through returned to the callings of peace and wrought in peace success exactly as they had wrought in war.
You of this State of Texas have behind you a history containing deeds of which not only you, but all the country must be forever proud. My regiment was raised under the walls of that historic building of which it was said that Thermopylæ had its messenger of death, but the Alamo had none.
I will ask you men of the Civil War, if it is not a fact that as a rule the man who was a good soldier was the man who did well each day the little things of the day; the man that you wanted was the man who, when his business was to dig kitchen sinks, dug them. Was not that so?
So another word here: I want you men of Texas, you men of my age, to see today that exactly as you lift your heads here by virtue of what your fathers have done, so your children have the right to hold their heads high because of the way in which you have handled yourselves. A glorious memory is the best of all things for a nation, if the purpose of that nation is to try to rise level with that memory.
It is a poor thing for a nation if it uses the memory of the past to excuse it for inaction or failure in the present. Keep before yourselves ever that the very fact that you are proud of those who have gone before makes it incumbent upon you to leave a heritage of honor to those who are to come after you, and to train up those who are to come after you, so that they can do their work in the world.
What would you have all been fit for, you men who fought in the Civil War, if you had been trained up to believe that if you met a difficulty the proper thing was to lie down or run away; and you don't like, do you, for an occasionally foolish father, and I am sorry to say an occasionally foolish mother, to bring up the boy or the girl on the theory that all that is necessary is to have an easy time and to dodge difficulties. I cannot sufficiently thank you for the way you have greeted me today. I am more touched by it than I can express, and when I come to the soil of this State, hallowed by the great deeds of great men, I come knowing your people already and believing in them.
I shall go away with this feeling. A couple of years ago I went from the Atlantic to the Pacific. The fundamental fact and a mighty pleasant fact is that wherever you find the average American, the average American is a pretty good man. It is our unity, not the divergency, that is the great fundamental fact of our national life.
I shall go away a stronger and a better American for having been in this mighty Commonwealth of Texas. I thank you.
Theodore Roosevelt, Remarks in Dallas, Texas Online by Gerhard Peters and John T. Woolley, The American Presidency Project https://www.presidency.ucsb.edu/node/343729