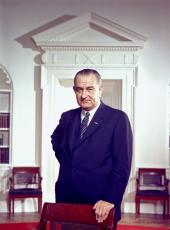 Remarks on Crime Control at the Signing of the District of Columbia Appropriations Bill.
Members of the Congress, .Attorney General Katzenbach, Director J. Edgar Hoover, Judge Pine, General Duke, Chief of Police Layton, all those who care about the Capital City of Washington, ladies and gentlemen:
Thomas Jefferson once said of the city of Washington: "It has been the source of much happiness to me during my residence in the seat of government and I owe much for its kind disposition. I shall ever feel a high interest in the prosperity of the city and an affectionate attachment to its inhabitants."
In saying that, the third President spoke what, I am sure, have been the sentiments of all Presidents to follow--certainly those of the thirty-sixth President.
For myself, Mrs. Johnson, and our daughters, Washington is a city that we love and we cherish.
Today, throughout America, I believe all the people of this country want their Nation's Capital City to be the Nation's pride, a beautiful city, a city of good schools and good homes and good neighborhoods and good citizens. Above all, I believe Americans want Washington, D.C., to be an example of a clean and safe city where law is respected, where order prevails, and where every citizen is safe in his home or on the streets.
That is why I am this afternoon signing, within an hour from the time I received it, the appropriation measure for the District of Columbia, just enacted by the 89th Congress. The scope of this measure is broad, covering, as it does, the full range of governmental services and programs serving the residents of the District of Columbia. For many of these activities, this bill will mean significantly improved support. In other areas we realize that still much more support is needed.
But this afternoon I want to emphasize one particular aspect of this legislation in which the Congress and the Executive are of one mind. That is, our determination that crime in the District of Columbia, like crime in all our cities, must and will be brought under control.
In our land today, no concern is more urgent to any of us than the increasing scope of crime and violence in the United States. There is no place where this malignant growth troubles us more than here in the Capital City of Washington, which should be the model city as well as the Capital of our Nation.
We know that Washington is not now a model for the preservation of peace and order. In fiscal year 1965, serious crimes in the Capital City rose 12.4 percent over 1964. Since 1957, housebreakings have tripled, auto thefts have more than tripled, and robberies have almost quadrupled. Serious offenses rose 26.3 percent in June of 1965 over June of 1964. This June was the 37th consecutive month in which the incidence of local crimes exceeded that of the comparable month in the prior year.
And even these figures do not give full measure of the impact of crime in the District of Columbia, just as they do not in other cities. It is not possible to record in statistics the inconvenience and the alarm that is felt by thousands of residents and visitors who change the course of their daily lives for fear of becoming a victim and statistic of crime.
I say simply, but firmly, that this is not the way that Americans want to live, or need to live, or will live. We just must take effective measures against crime and criminals of all kinds, and that is why we are gathered here on this White House porch this afternoon.
The course of the last few years just must be reversed. The wave of crime must be met and it must be checked, and our citizens must be protected, and our streets must be made safe, and our Nation's Capital City must be a safe and secure showplace for visitors. Our efforts toward this goal must begin this afternoon without any further delay.
All that we do must be, and will be, done in a manner consistent with our society's cherished values of due process, and equal and even-handed treatment for every citizen. But we are not going to tolerate hoodlums who mug and rape and kill in this city of Washington.
Much is already being accomplished within existing institutions in Washington to reduce the crime and to erase the conditions on which crime feeds. The interim action programs which I have presented to Congress are essential additions, but all of this is not enough. There are other steps that we can take, and that we are beginning to take at this very hour.
First, this bill, when it is signed, will provide immediately for the equivalent of 250 additional policemen on the streets of our Washington neighborhood. This is not a long, slow, recruiting and training process. By authorizing additional overtime, this bill will permit Chief Layton and his fine men to increase police protection for District residents immediately.
Secondly, I am, this afternoon, signing an Executive order establishing the President's Commission on Crime in the District of Columbia. I am proud and privileged to announce that we have been fortunate in securing a blue-ribbon membership for this Commission--a group of distinguished persons intimately familiar with all aspects of District life which bear on crime and law enforcement, and criminal justice and rehabilitation.
To the chairmanship of the Commission I am appointing Herbert J. Miller, Jr. Mr. Miller is a noted Washington attorney, who has just completed more than 4 years of outstanding service as Assistant Attorney General in charge of the Criminal Division of the Department of Justice.
To the vice chairmanship I am appointing one of the District's most outstanding citizens, an admired and respected lady, Judge Marjorie Lawson. I am also accepting now Mrs. Lawson's resignation, effective on August the 20th, from her position on the Juvenile Court bench of the District of Columbia. I am very grateful to her for readily accepting this new and challenging assignment.
In addition to these, the other members of the Commission will be: Mr. Frederick A. Ballard, a former president of the D.C. Bar Association; Mr. Donald S. Bittinger, president of the Washington Gas Light Company; Mr. Clarence C. Ferguson, the dean of the Howard Law School; Mr. Abe Krash, a prominent attorney with the firm of Arnold, Fortas, and Porter; David A. Pine, retired judge of the District Court; the Honorable William P. Rogers, former Attorney General of the United States; Patricia M. Wald, attorney and expert on the jail bail system.
This, I believe, is an experienced, understanding and, in every sense of the word, outstanding group of citizens. However, I am calling upon them to bring together the very finest expert knowledge that can be assembled from all over this Nation to support their efforts to meet the crime challenge in the Nation's Capital.
I want the Commission to lead the way-lead the way for all forces in the Washington community to act together against crime. Those who labor to correct social injustices must work together effectively in concert, and not in conflict, with those who have direct responsibilities in the detection and the prosecution of crime.
I anticipate the Commission will explore areas such as analysis of crime, its patterns, its causes in the District of Columbia, the most effective use of police services, and the improvements in law enforcement and training and methodology.
I want to make it clear that I want the best police force in the United States here in this Capital of our Nation, and I want to make it clear that we are going to have it or some fur is going to fly.
Treatment of offenders, particularly first offenders, from time of arrest to the time of rehabilitation and return to the community, possible revision of existing administrative and prosecution procedures, criminal laws, the rules governing criminal procedure, possible alternative methods of dealing with certain types of conduct that now process through criminal courts--all of this task is an enormous one.
But it must be comprehensive because too often in the past our approach to crime has been piecemeal; too many of those who study or work in the field feel alienated from others involved in the criminal law process.
From the front lines of police action to the patient work of rehabilitation, the goals of protecting society, of erasing the causes of crime, of preserving justice, should be seen as a single foundation, all of which is essential to the support of a truly civilized society.
And finally, let me make a third announcement that I am proud to make. To succeed Judge Lawson on the Juvenile Court, the Government is most fortunate to be able to secure the services of a distinguished graduate of Cornell University, an outstanding member of the District Bar, who has agreed to accept this position, the Honorable Aubrey E. Robinson, Jr., who is here with us this evening.
Let me conclude now by saying this: the District of Columbia has meant much to me practically all of my adult life. As I cherish my own home country that is far away this afternoon, I love this Capital City, I love its beauty and simple dignity, and all the meaning that is present here in its past and that is present in its promise.
There are many things that I hope to accomplish during my allotted time in this office. But with all my heart, I hope that for generations to come these will be remembered as the years when Washington flowered into its finest age.
This bill that I am about to sign is only a steppingstone, and all of us know that. There is more, though, much more, that is needed. What is needed will be done generously and fully.
We can all be proud to share in this work together, and I hope that the time is not too far-distant when this little group meeting on this porch this afternoon can reassemble and take inventory, and can point with great pride to the progress that began here this afternoon with the signing of this appropriation bill.
To the Members of the Congress who labored unselfishly long and hard to bring these results about, we say thank you for your understanding, and we will try to be worthy of your confidence.
Note: The President spoke at 5:27 p.m. from the portico overlooking the Rose Garden at the White House. In his opening words he referred to Attorney General Nicholas deB. Katzenbach, J. Edgar Hoover, Director of the Federal Bureau of Investigation, David A. Pine, retired Judge of the District Court for the District of Columbia, Brig. Gen. Charles M. Duke, Engineer Commissioner for the District of Columbia, and John B. Layton, Chief of Police for the District of Columbia.
During his remarks the President referred to Executive Order 11234 "Establishing the President's Commission on Crime in the District of Columbia" (30 F.R. 9049; 3 CFR, 1965 Supp.).
As enacted, the District of Columbia Appropriation Act, 1966, is Public Law 89-75 (79 Stat. 236).
See also Item 381.
Lyndon B. Johnson, Remarks on Crime Control at the Signing of the District of Columbia Appropriations Bill. Online by Gerhard Peters and John T. Woolley, The American Presidency Project https://www.presidency.ucsb.edu/node/241518