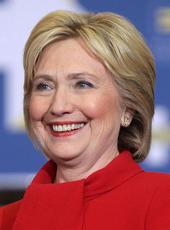 Remarks at Cowles Commons in Des Moines, Iowa
"Thank you! Thank you all so much. Wow! I am so happy to be back here in Iowa on a beautiful fall day to see all of you. And I especially want to thank Janelle for her intro-duction. And I so appreciate that Janelle and Nora and her husband Stu are here today. I remember so well when I met her back in 2015, and I saw that sign. And my best friend from sixth grade was also going through breast cancer and being treated. And when I saw Janelle's sign, it just made me think about my friend, and I wanted to go over and meet this woman who had been through 13 chemo treatments already. And we just clicked. And I have been so grateful to be able to get to know her better and spend time with her when I see her. And I got to introduce her to my best friend when my best friend came to Iowa. So the circle is completed, and more people are reaching out and finding ways to help each other.
Now, before I came out, I had the great, great privilege of saying hello to someone, Ruline Steininger, who is – is Ruline still here? I know she was going to try to stay. There she is. Hello, Ruline! Hello, Ruline! Ruline is a 103-year-old resident of Pleasant Hill who was born in 1913. I am so grateful for her support, and I don't know if any of you have seen the videos, both about Janelle and about Ruline. But I really do recommend that you see them both. Ruline talks about this long, active life that she's had and everything she has seen happen in America and the world. And I think it's important to have that perspective. So it's a great honor to have Ruline supporting me. I am so pleased. And she's going to go vote early today to make sure her vote counts.
I want to thank Dr. Andy McGuire for chairing the Iowa Democratic Party, fighting so hard to elect Democrats. And I want to lift up and thank our Democratic Senate candidate, Patty Judge. Where's Patty? Patty's out there fighting hard every single day, and she can use your help to make a strong case for her to go to the Senate. And Jim Mowrer, the 3rd District congressional candidate. Jim is running a great campaign, and we are really looking forward to having him in Washington. But that really depends upon everybody here and everybody across the great state of Iowa.
Now, while we're meeting on this beautiful day here in Des Moines, I know our friends in Cedar Rapids and the region are once again facing the potential of flooding. I talked with the mayor. I talked with city council members and other leaders over the last day or so. They hope that they will not have the flooding. They took a lot of good precautionary measures. Our campaign, along with thousands of people, came out and helped to put the sandbags in to try to prevent flooding. And I told them that if I'm so fortunate enough as to be president, we're going to have a big infrastructure program, and we're going to help prevent flooding in places like Cedar Rapids.
Now, I also just want to say on a personal note I was terribly upset this morning to learn about a train crash in New Jersey. That's very personal to me. I live in New York. People commute into New York from New Jersey. We had about a hundred commuters injured and one died. I just want to send our thoughts and prayers to them because it's a horrible accident that ran into the depot and caused all kinds of damage. So I want to lift up the people of New Jersey and New York today.
Now, we are starting to vote in Iowa today! And I saw my good friend Ruth Harkin, and she told me she was the first person in line to vote today. And we have, what, 40 days, 39 days, left. And each and every one of you have the chance to make sure that we keep our country on the right path. We have 40 days to win an election that's going to affect the next 40 years of our country. And you, every one of you, can make the difference in this election.
Now, how many of you participated in the caucuses? Well, we've got a bunch of active Iowans here. Are you ready to go to the polls? Well, luckily, in Iowa you can start today. Lots of folks don't have that opportunity across the country. And a lot of our campaign volunteers are going to direct people right from this rally to early voting sites. We've got one right down the street. So when you finish here, you can go vote. And we can be on the path to victory here in Iowa.
Any of you see that debate on Monday night? Well, one down, two to go. Well, I have to tell you, it was an extraordinary experience because I did get to say a few things about the positive agenda that we want to have for our country because I want this election to be about something, not just against somebody. And so I am going to close this campaign the way I started decades ago, fighting for kids and families because it's been the cause of my life. It will be the mission of my presidency because I know from my own experience that strong families are the base of a strong America. And I know from personal experience how important it is to give people the tools they need to make sure that they can go as far as their hard work, their talent, will take them.
Now, you may have heard me say this. I started talking about this way back in the be-ginning of the campaign here in Iowa. But I was very fortunate. None of us picks our parents. But I really was fortunate. My dad was a Navy veteran, a small businessman, and he worked hard every single day to build a good life to provide financial security, a good, solid, middle class life. And I know how hard he worked because occasionally I'd go down to his print plant where he printed fabrics for draperies. And it was not a very big building. It didn't have any natural life. There were no windows in it. It's what he could afford.
And there were two long tables. And he'd roll out the fabric, and then he would take a silkscreen. Any of you ever seen a silkscreen, an old-fashioned silkscreen? Not far from here there's a wonderful t-shirt store. Right? And they still use silkscreens for some of their printing. So he would take that silkscreen, and he'd put it down, and he would pour the paint in. Then he'd take a squeegee and he'd go across it. And then he'd lift it up, and he'd go all the way down the table. And if there was going to be more than one color, he'd do it all over again. And then when he finished, he would gather it up and put it in his car and he'd go deliver it to the customer who had ordered it.
That's how I was raised to think about doing business. You do your best. You enter into a contract or an agreement. Somebody orders your goods or your services. And then they pay you for it. Right? And as I said the other night, one of the things that we have found out is that as his own campaign manager said about him, Donald Trump has built a lot of businesses on the backs of the little guy. Her words. And I have met people who have been the victims of his refusal to honor contracts, to pay what had been bargained for. I just am grateful that my dad never did business with him or somebody like him because we couldn't have survived all that.
All that work, and then to be told we're not going to pay you, or maybe we'll pay you 10 cents on the dollar, or 20 cents? That's just wrong. What kind of person does that, takes advantage of dishwashers and painters and architects and glass installers and so many people? We've been looking into the records, and there's a long list of people who have been mistreated. I just don't believe that's the way we're supposed to treat each other in America. And that sure is not the way our president should be treating our citizens in our country.
Now, my mom had a very different story. My dad's father was a factory worker, but they had a strong family. My mom was abandoned by her parents and then sent to live with grandparents, and they didn't want her. So she was out on her own by the age of 14. She was working as a housemaid and a babysitter. And it may sound harsh, but I will quickly tell you that it was the first time in her young life that she ever was in a family that showed love and respect for each other. So for her, it was a gift.
And then she got another gift. The woman she worked for knew that my mom wanted to go to high school. And so the woman said, 'If you can get up really early and you can get your chores done and get the little kids off to school, you can go to high school. But you'll have to come right back.' That may sound harsh for a 14-year-old, but for my mother it made all the difference. And that's exactly what she did for four years, and most days she had to run – run – to get there. But she didn't care because she wanted to get an education.
So when I learned more about my mom's life, I knew that what I wanted to do was to stand up for kids and families, and especially for kids who've been left out or left behind in some way. That's why I went to work for the Children's Defense Fund and learned quickly that kids with disabilities were not in our public schools back then, and we worked to put together a coalition and convince Congress to pass the law, and boy, every day I am so thankful for your former Senator Tom Harkin, who made the rights and opportunities of people with disabilities the centerpiece of his distinguished career.
So that's been my mission: How are we going to do more to help kids and families? And so when I talk about the economy – because I think we have three big issues facing us. Number one, we need an economy that works for everyone, not just those at the top, right? We need to keep our country safe and we need to lead the world with strong and steady leadership, in accordance with our values. And we need to bring our country together. We have to heal these divides.
But when I think about the economy, yes, I want more new, good jobs with rising in-comes. I see my friends from the laborers here. We need to do work that builds our roads, our bridges, our ports, our airports, our tunnels, our water systems, our sewer systems. This is good, honorable work, and boy, do we have a lot of it in America. We are living off the investments that our parents and our grandparents – and sometimes even great-grandparents – made. If we're going to have a competitive economy, we need to be building America again. And we also need to do more advanced manufacturing. And some of the most exciting developments I saw throughout this whole campaign were right here in Iowa. I saw in your community colleges some of the most advanced training that I've seen anywhere in the country. And I met young men and women who were getting credentialed to be able to leave high school to get good jobs as machinists and tool and die makers, and as designers using 3-D printing. I was so impressed. And I think we need to do that across America. And we need to bring technical education back to our high schools. It was a mistake when we took vocational education out of our high schools.
Another way that Iowa has influenced and inspired me is what you've done with clean renewable energy. Now, it wasn't a partisan issue in Iowa. It really got a big boost from your wonderful former governor, Tom Vilsack. But it's been continued over the years. And look at the results. Look how much energy you are getting here in Iowa from clean renewable sources, most particularly wind. Right? And look at the number of jobs – it's nearly 10,000 jobs now that are related to that. Plus the renewable fuel standard, which has motivated people to be creative about using biological material and experimenting with cellulosic material. I was in the forefront of moving toward a clean renewable energy future, and I'm excited by that.
I'm running against someone who thinks climate change is a hoax perpetrated by the Chinese. I know it's real. I believe in science. But I'll tell you what else is real. What's real are the economic opportunities, the new jobs and businesses we're going to create by assuming the responsibility to combat climate change, and the young people of our country are going to lead the way to doing that. Now, we also need to help small businesses. Iowa is filled with small businesses. It should be easier to start one, it shouldn't be so cumbersome to deal with all the multitude of regulations. We're going to try to streamline that process. Being the daughter of a small businessperson, I believe in giving people the chance to have their destinies in their own hands. And we're going to work hard. I want to be a first-class small business president, in honor of my dad, and I'm going to do everything I can to help you get started, and grow small businesses.
But while we're growing the economy, we need to make it fairer. And here are a couple of things I want to do. Let's raise the national minimum wage, so people who work full-time are not still in poverty. I've met – you know, two thirds of the people on minimum wage are women – and I've met a lot of minimum-wage workers right here in Iowa and across America. Sometimes they have to take two minimum-wage jobs, because a full-time minimum wage job will earn you $15,000 at the end of a full-time year of work. We also could give the biggest boost to incomes, and particularly family incomes, if we finally guaranteed equal pay for women's work.
And the other thing I want to do is make sure more companies adopt profit-sharing, so if you helped to create the profits, all of you, not just the top executives, will be able to share in those profits. You know, at the debate the other night, one of my well-known supporters, Mark Cuban, was there in the front row. And he really, I think, unsettled my opponent. But I'll tell you, Mark Cuban's a real billionaire who actually uses profit-sharing, and not only while the business is ongoing, but one thing I really appreciate: first business he sold, he shared the profits with all of his employees. 300 employees became millionaires, because they had a boss who rewarded them for the hard work they did to make it a successful company, all together.
And the final point I want to make about this is about family economics. You know, let's tackle the cost of childcare. Between 2000 and 2012, childcare costs went up 25 percent. Incomes barely budged, right? So we're going to increase federal investment, and provide more tax relief to working families, so no parent has to pay more than 10 percent of their income for quality childcare. Now, if you don't have small children or grandchildren right now, you might not realize the cost of childcare in a lot of states is more expensive than tuition at public colleges and universities. A lot of families are just so stressed out.
The other thing I want to do is to finally have our country join the rest of the advanced economies, and provide paid family leave, so you can take care of your family members. Now, a lot of people think this is primarily about newborn babies, adopted babies, and of course that's a big part of it. Last year, in Newton, a mom said to me, I'm counting on you to know what it's like trying to take care of a newborn and having to go right back to work. Right?
That's a lot of you. There you are. Okay. And I've got to tell you, I hear that all over. When my granddaughter was born and I was in the hospital with my daughter, I was talking to one of the nurses, and I said, so what is your biggest worry? She said, well, my biggest worry is that so many of these new moms have to go right back to work. Right back to work. But it's not just for babies. It's for sick children, sick spouses, elderly members of your family who are having health problems. There is nothing more important than caring for each other. And I will tell you, it is wrong to make it so difficult for American families.
The other big expense for family economics is education. Every one of our children deserve good teachers and good schools, no matter what zip code they live in, right? And we also have to make college affordable. Yesterday in New Hampshire, I was with my friend and my former opponent, Senator Bernie Sanders. I am very proud of the campaign that Bernie and I ran. It was a campaign about issues, not insults. And we shared a lot of the same goals, even though we have different ways of getting there. And so after it was over, he and I sat down and we began to hammer out some ideas about what we could do together. And one of them was to make college tuition free for any family whose income is $125,000 or less. And to make it debt-free for everybody else, so that you only pay what you can afford to pay, without going into debt.
Now, right now, Iowans hold more than $12 billion in outstanding federal student loans. An education should give you a boost, not hold you back. And we're going to offer relief to those of you who already have debt. We have 40 million people who already have student debt in America, 300,000 of them right here in Iowa. We're going to help you refinance. It is outrageous that you can get a home mortgage at 3 percent, a car payment at 2 percent, and I met people in Iowa who were paying 8, 10, 12 percent interest on their student loans. I'll tell you what. I am not going to let the federal government make a profit off of lending money to young people to get their educations.
And college is crucial, but this is not said often enough. Four-year college is not, and should not, be the only path to a good job that supports a middle-class life. So we're going to have real apprenticeships, not the kind where you're told, 'you're fired,' but the kind where you're told, 'you're hired.' We're going to help more people in high school and community college on the job learn a skill.
So I'm excited about what we can do together. I know so much of this campaign has been about, you know, whatever my opponent says, and who he attacks, and who he derides and denigrates. And the list is long. But it's not about that. It's about you. It's about your families and your futures, and each of us should be telling you what we intend to do in the job. Now, I have this old-fashioned idea. I'm asking for your vote. I should tell you what I'm going to do, what my plans are. So Tim Kane and I have actually put out this little paperback book. And I see somebody holding one in the front row. It's called, not surprisingly, 'Stronger Together.' You can pick it up at a bookstore or an airport, wherever they sell paperbacks. And you can see what we're trying to do, and where we're going to get the money to pay for it. And the simple answer to that is, we're going to make the wealthy and corporations finally pay their fair share to support America.
Now, my friends, my opponent has a very different vision for America. He actually bragged about gaming the system to get out of paying his fair share in taxes, maybe not paying any taxes at all. And what I really find so disturbing about this is he spends all of his time just dumping on America. Calling us a third world country. Saying our military is a disaster. That everything about America is in bad shape. But then it's probably true, he hasn't paid a penny in federal taxes to actually support our military, or our vets, or our schools, or our roads, or our education systems. He actually is proud of the fact that he lets everybody else pay taxes. He says that makes him smart.
Well, I'll tell you what, if not paying taxes makes him smart, what does that make the rest of us? My husband and I have put 40 years of our tax returns out into the public. You can go and look at them, and you can see that we've been blessed, and we're grateful for that. But we have paid the highest marginal tax rates, and we are glad we could, because we have both benefited from this great country of ours, and we want to pass that on to the next generation and the one after that.
Donald Trump is also proud that he rooted for the housing crisis back in 2008 and -9. Think about that. Five million families lost their homes. And he rooted for it because he said he could make money off of it. He even said that it is just business. Well, what kind of person believes that – that throwing people out of their homes, foreclosing on them, destroying the dreams of hardworking people is just business? Well, I'll tell you, that's a person who should never be president because they don't understand the American dream and how hard it is for people to make it.
So look, I think after – Thank you. I think after what we saw Monday night, we'll have two more debates to be able to contrast and compare. I have no idea what he's going to say the next time. But you know, I will spend some time preparing for it.
But we can't do any of the things that I just talked about or anything that you see in our book without your help. The future of our country, the future of our economy and the future of our society will be on the ballot. It breaks my heart to see all the mean-spirited, divisive, bigoted things that are being said in our country. We can have our differences, for heaven sakes. We're Americans; that's in our DNA. But we should respect one another. We should listen to one another. That's the way we're going to get things done together.
And so I want you to join this campaign. The election will be close, but we can win Iowa and we're going to win on November 8th. So if you can, text 'Join,' J-o-i-n, to 47246, or go to hillaryclinton.com and sign up to volunteer. If you're not sure if you're registered, see these signs, 'I Will Vote?' Iwillvote.com. You can go to iwillvote.com, put in your name and your address, to make sure you're registered. Because sometimes people get dropped off the registration lists and they are surprised when they show up to vote that they're not on it. So check that out. And then, vote, and get everybody you know to vote. And I hope that a lot of you will go to vote after today, after this beautiful rally we're having. Because we will prove that we are stronger together. And you know what else we'll prove? We will prove that love trumps hate.
Thank you all very much."
NOTE: Speech as delivered. Secretary Clinton was introduced by Windsor Heights resident, Janelle Turner.
Hillary Clinton, Remarks at Cowles Commons in Des Moines, Iowa Online by Gerhard Peters and John T. Woolley, The American Presidency Project https://www.presidency.ucsb.edu/node/319571