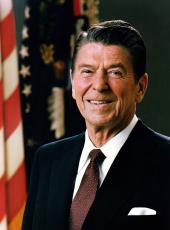 Remarks at a Congressional Barbecue on the South Lawn of the White House
Before I talk about these wonderful entertainers who have been so generous and kind with their entertainment and so wonderful, I want to thank—at the beginning of the evening—I want to thank my good friend from California, and the other good friends with him and his troop, our barbecuers from Santa Maria, California, who came here all the way to barbecue.
I'd thank Roger Williams, except he isn't here to hear that. The reason he came down and said goodby was, he had to catch a plane. So, he's on his way. Ane we appreciate his talent I know, and we certainly all appreciate Tammy Wynette.
You were nervous? I had goose bumps. Tammy was beautiful. And thank you so very much for being with us. And you know, I'm going to get a record of that and send it up to these ladies and gentlemen on the Hill— [laughter] —"Stand By Your Man." I like the whole idea.
And finally, this Army Chorus, it's always an inspiration to hear you. And of course, the Marine Orchestra has left us already. And they were wonderful in their part of the program, and this orchestra and your company that is with you, Tammy. We're most grateful to all of you.
I think one of the great pleasures that Nancy and I have had is getting to know so many of you personally in these 20 months that we've been here and to discover that we can disagree and still be agreeable. And on the Republican side, your support and guidance has been a valuable asset. I don't take it for granted. There's one thing, you can't be called a rubber stamp— [laughter] —I found that out on the tax bill. It's kind of like a happy marriage though. You have quarrels, and it's still a happy family.
Somebody told me—this is another news announcement—that Dave Stockman is getting married. His toughest budget battles lie ahead. [Laughter] If you think he doesn't take the budget seriously, the wedding cake is going to be cheesecake made with surplus cheese.
This has been an historical Congress, I want to say to all of you, whichever side you were on. You were part of, I think, a great philosophical change in direction, and I think it's a tribute to our form of government and to each of you that we can move from one basic economic and social perspective to another without a threat to the political freedoms that we all love so well and which were so beautifully proclaimed by the chorus here. But if there were any doubts, you made it clear that we are Republicans, we are Democrats, but one thing for certain, we are all Americans.
And now, again, under an almost full Moon, the weather turned out, everything was just fine. But this entertainment, Tammy and all of you, and all of you back there, it was just wonderful, and we thank you very much. Thank you.
Note: The President spoke at 6:40 p.m.
As printed above, this item follows the text of the White House press release.
Ronald Reagan, Remarks at a Congressional Barbecue on the South Lawn of the White House Online by Gerhard Peters and John T. Woolley, The American Presidency Project https://www.presidency.ucsb.edu/node/247101