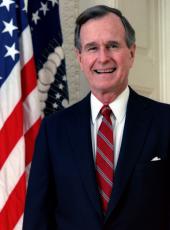 Remarks Congratulating the University of Michigan Wolverines on Winning the NCAA Basketball Championship
The President. Where's Bo? Is your Athletic Director here?
Coach Fisher. Bo's not here. We have our Associate Athletic Director.
The President. All right. Please, be seated. My briefing paper was wrong. [Laughter] Glad to see you back.
Well, President Duderstadt and Coach Fisher and all you Wolverine players and staff; and members of the Michigan congressional delegation; and players and coaches of the Dunbar, Highpoint, and Archbishop Carroll High School teams; above all, friends, welcome to the White House. Let me recall, first, that this was once the home of a Michigan alumnus -- the home court, you might say. [Laughter] And I know that this morning -- that Gerald Ford would join me in saying that Michigan basketball, like America, is truly number one. And secondly, let me welcome you here to 1600 Pennsylvania Avenue. For nearly 200 years, this has been America's house. And in 1989, you have become America's sports heroes.
And you know, it was another sports hero, Yogi Berra -- I love to quote Yogi -- who once said at a state dinner right here in this building: "How could you get a conversation started in there? Everybody was talking too much." [Laughter] Well, today America is talking, and they're talking about you all and your incredible championship. And they're calling it Wolverine Wonder or the Michigan Miracle or basketball's Impossible Dream. And the 1989 Wolverines, indeed, had it all: depth and quickness, shooting and intelligence, and that strength of character which embodies a champion.
For example, there's Terry Mills and Loy Vaught and Mark Hughes, who combined for 27 points in that great semifinal game against Illinois; or Sean Higgins, who scored the winning basket against the Fighting Illini; and, yes, Bo Schembechler, you did get Illinois, and I wish you were here to join us today. [Laughter] And then there's Rumeal Robinson, of whom Sports Illustrated said -- and Jerry Ford would love this one -- "He looks and plays like a fullback." And against Seton Hall, your two free throws -- I expect the sports fans in the country will never forget them -- those two free throws with 3 seconds left won Michigan's first-ever national basketball championship.
And don't worry. I'm not forgetting Glen Rice. [Laughter] This year he became the Big Ten all-time leading scorer and the NCAA tournament's most valuable player. And, Glen, in the tourney's 6 games, you scored 184 points to break the old record held by a guy who works up the Hill here: Princeton's Bill Bradley.
And finally there's Steve Fisher, new permanent coach at Michigan. Steve, compared with you, Walter Mitty was a hum-drum existence -- [laughter] -- and your success even Ripley would disbelieve. But in 3 amazing weeks, you became the first rookie coach to win a national basketball championship. And you helped Michigan become the first school to win the Rose Bowl and NCAA basketball title in the same year. And last Monday night, surrounded by your wife and two boys, you showed that nice guys can finish first. And Thursday night, Steve and his wife were here walking the dog at the White House -- [laughter] -- and he did a good job on that. [Laughter] So, we're glad you're back. And 8 weeks ago, following a last-second loss to Indiana -- forgive me -- Dan Quayle insisted that I bring that one up. [Laughter]
The Vice President. Yes, you guys remember that? [Laughter]
The President. Glen Rice said that every Michigan player was "going on a mission." Well, last week, in Steve Fisher's words, that mission reached basketball's "promised land." And today, schools from Syracuse to North Carolina to UCLA salute your story. And today, "Hail to the Victors" is the number one basketball hit parade song. Mission impossible? Yours has been a mission accomplished.
And thanks for coming here. God bless you all, and God bless the United States.
And now, Rumeal, I have a prop for you -- a basketball. And where is it? Here. All right. Go for it. Right here, we've got a little demonstration. [Laughter] You want to fire one off? Oh, wait a minute, hold off. I'm getting something, don't go away. [Laughter]
[At this point, Rumeal Robinson and the President each shot basketballs into a hoop.]
That ÿ7Eÿ7Epressure ÿ7Eÿ7Emust ÿ7Eÿ7Ehave ÿ7Eÿ7Ebeen ÿ7Eÿ7Esomething.
Coach Fisher. Mr. President, it's with great pride that our basketball staff, coaches, and administrators present you with a Michigan Number One jersey to join us and these high school athletes to let you know how proud we are to be here. And we are all number one today alongside you. Thank you very much.
The President. Thank you, Steve.
Note: The President spoke at 11:05 a.m. in the Rose Garden at the White House. Dr. James J. Duderstadt was president of the university.
George Bush, Remarks Congratulating the University of Michigan Wolverines on Winning the NCAA Basketball Championship Online by Gerhard Peters and John T. Woolley, The American Presidency Project https://www.presidency.ucsb.edu/node/248205