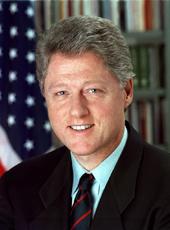 Remarks at a Commencement Luncheon at the University of California San Diego in La Jolla
Thank you very much for the gift. Chelsea will treasure the Dr. Seuss T-shirt, and it is an especially appropriate gift since last week I spoke at her high school graduation—believe it or not, I was much more nervous then than I was today—[laughter]—and I asked Chelsea and her classmates to forgive us, their parents, if we were acting a little weird that day. And I explained that we were reliving their whole lives and that, among other things, we wished just one more time we could read children's books to them. So that will always remind her of that, and I thank you.
Let me say to your student body presidentto-be, and to the young woman who spoke before me at the graduation, if Coleen and Souley are emblematic of the undergraduates at the University of California San Diego, this country is in good hands, and you should be able to capture virtually every elected position in the entire State—[laughter]—in just a few years. It beats anything I ever saw. It was great.
Let me also thank you for making Dr. John Hope Franklin and the members of the President's Advisory Board on Race and the members of my Cabinet and the White House and the Members of Congress who are here, making us feel so welcome. We brought quite a lot of interlopers here to this event today in the hope that it would impress upon the country and the press, which will have to tell the country about it, the importance of this issue and this moment and our intentions. You have given me a great opportunity to be here today, and you've given the Nation a great gift if we can do what we set out to do here. And I will never forget that.
I'm especially glad to be here in San Diego to do this. You know, I spent a lot of time in this community over the last several years. I have come to love it and also to respect it, because I see the capacity here to make things work. One of the things I didn't get to talk about in my speech—you can't talk about everything—but in the end, we have to be judged by whether what we do makes sense or not and produces results. This community has one of the lowest crime rates of any major city in America. It deals with a whole wide range of complex problems, I think, in a very sensible way. And I see people here continually coming together across lines that divide them, and I hope that will be a model for the entire country. So for all those reasons, I'm very thankful.
And the last thing I have to say is that early this morning, when I'd had precious little sleep and my body clock was off anyway, my wife called with her last-minute criticisms of my speech—[laughter]—which is a routine I have come to look forward to in life. [Laughter] And as usual, she was right, what she had to say, and I made three changes she suggested I make in it. But the last thing she said was, she said, "Now, you remind those people that you've only been there once, and I've been there twice, and I loved it both times." [Laughter]
Again, Chancellor and all of you as part of the UCSD family, I thank you. I thank you on behalf of all of us who have come to visit with you today. I thank you for the ideas you have given me. Dr. Franklin, members of the board, you might be interested to know, around the table here they asked what they could do to help. And I said, well, we needed more credible research, and we needed more sources of information for the American people about basic things, delivered in understandable ways. We'll never have the kind of national conversation we want until we first agree on at least most of the facts. You know, if you have a different view of the same set of facts than someone else, it is wonderful because you never have to give up your bias, because you can say, "The poor soul just doesn't know the facts," so you can go right on with whatever you think and whatever you believe.
We are going to need the help of the university community and groups like the National Academy of Sciences and others, and we will be back to you on that. But the most important thing is, what I saw in the eyes of the students of this great university today convinced me without any question that we are doing the right thing, first, and secondly, that we will succeed.
Thank you all. God bless you.
NOTE: The President spoke at 1:24 p.m. in the Birch Aquarium at the Scripps Institute of Oceanography. In his remarks, he referred to Souley Diallo, incoming associated student body president, University of California San Diego; and historian John Hope Franklin, Chair, President's Advisory Board on Race.
William J. Clinton, Remarks at a Commencement Luncheon at the University of California San Diego in La Jolla Online by Gerhard Peters and John T. Woolley, The American Presidency Project https://www.presidency.ucsb.edu/node/223928