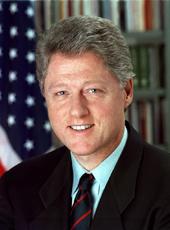 Remarks Commemorating the 50th Anniversary of the GI Bill of Rights
Thank you so much, Mr. Shropshire, for that introduction and for your service to your country and for making the most of the GI bill. And thank you, Mr. Mendoza, for your service to your country and for reminding us of the future of the GI bill.
Thank you, Secretary Brown, leaders of veteran service organizations, and staff of the department of veterans administration who are here; to all the Members of Congress, Senator Robb, Senator Thurmond, Senator Jeffords, Congressman Price, Congresswoman Byrne, Congressman Sangmeister, Congresswoman Brown, Congressman Bishop; and thank you especially, Congressman Sonny Montgomery, for a lifetime of devotion to this cause. I'd like to also acknowledge three of Congressman Montgomery's colleagues in the Senate and House on the relevant committee who could not be with us today: Senator Rockefeller, Senator Murkowski, and Congressman Stump.
Before I begin, if I might, I'd like to say a brief word about a development in Brussels this morning that is in so many ways a tribute to the men and women who have worn the uniform of this country over the last 50 years. Today Russia took an important step to help shape a safer and more peaceful post-cold-war world.
As all of you know, it wasn't very many days ago that we and the Russians were able to announce that, for the first time since both of us had nuclear weapons, our nuclear weapons were no longer pointed at each other. Today Russia made a decision to join 20 other nations of the former Soviet Union and Eastern Europe and Western Europe in NATO's Partnership For Peace, to work together on joint planning and exercises, and to commit themselves to a common future, to a unified Europe where neighbors respect their borders and do not invade them but, instead, work together for mutual security and progress.
I want to join with the Secretary of State, who was on hand for the signing in Brussels, in commending the Russian people and their leaders on this farsighted choice. And I think that all of us will join them in saying this is another step on our long road in man's everlasting quest for peace. We thank them today.
As Secretary Brown and Mr. Shropshire said in their eloquent remarks, I had the opportunity not long ago of commemorating the service of our veterans at Normandy and in the Italian campaign. Joined by some of the veterans who are here today, including General Mick Kicklighter, who did such a wonderful job in heading the committee that planned all those magnificent events, we remembered the sacrifices of the brave Americans and their Allies who freed a continent from tyranny.
Their legacy is plain to see today in the wave of democracy sweeping across a united Europe. But their legacy is also clear here at home. Fortunately, in spite of the terrible losses, most of them did come home. And with a helping hand from Uncle Sam, they sparked an explosion of American energy and industry. They built the great American middle class, the powerful example which, more than anything else, helped us over the last 50 years to win the war for freedom and democracy and enterprise, because people could look at the American veterans, the legacy they made here at home and see that our system, our values, and our ideals worked.
As all of you know, it was 50 years ago today that President Roosevelt signed the GI bill of rights. It was actually known as the Servicemen's Readjustment Act. Just as D-Day was the greatest military action in our history, so the GI bill arguably was the greatest investment in our people in American history. It provided the undergirding for what has clearly been the most successful middle class in all of history. That lesson, in many respects, is one I have tried to make the lesson of our administration: If you give the American people, ordinary Americans, a chance to help themselves, they will do extraordinary things.
Before World War II, our country typically gave veterans pensions and bonuses, but they had nothing to build a future with. That's why despairing veterans of World War I actually marched on this city in 1932, and why President Roosevelt, learning the lesson of World War I, declared that the GI bill gave "emphatic notice to the men and women of our Armed Forces that the American people do not intend to let them down."
We know why the GI bill didn't let them down. It relied on the American values of work and responsibility. It offered not a handout, but a hand up. The veterans of World War I got a handout, and they deserved it. But it was $60 and a train ticket home. The veterans of World War II got a ticket to the American dream.
The GI bill helped over 15 million returning veterans begin that journey. It helped all of them, black or white, Asian or Latino, rich or poor. But it was up to them to seize the opportunities. And look what they did. They built countless new homes and businesses. They flooded colleges and trade schools. Out of the World War II class, 450,000 became engineers; 360,000 became schoolteachers; 240,000 became accountants. That's before we needed them all in Washington. [Laughter] One hundred and eighty thousand became doctors and nurses; 150,000 became scientists, paving our way to the next century. All of us are better off for their determination.
We cannot even calculate how much our Nation has been enriched by the GI bill, how many communities have sprung up, how many companies have prospered, how many families have earned their share of the American dream. This much we do know, that the GI bill began the process of building the middle class that has been the bulwark of our prosperity ever since the end of World War II.
And it's still working today. For 50 years now, soldiers like Hugo Mendoza have stood sentry around the globe, securing our freedom, and knowing that on their return they would find also a stepping stone of opportunity. Today, as we face yet a new era of change and challenge, we have new choices to make. Almost everything I am trying to do as President is to ensure that we make the right choices so that we can secure our liberty and our prosperity and expand those great virtues across the world as we move into the next century.
Almost everything we are trying to do is animated by the spirit and the ideas behind the GI bill. Give Americans a chance to make their own lives in the fast-changing world; they will secure the American dream. They will secure our freedom. They will expand its reach if you give them the power to do it.
At Normandy I was able to pay special tribute to the first paratroopers to land in the D-Day operation, called the Pathfinders, because they lighted the way for those who followed. Today, it is up to us to be the pathfinders of the 21st century. The powerful idea behind the bill of rights for the GI's is still the best light to find that path.
Our job now is to do everything we can to help Americans to have the chance to build those better lives for themselves. That is the best way to prove ourselves worthy of the legacy handed down by those who sacrificed in the Second World War, those who have worn our uniform since, and those who have been given their just chance at the brass ring through the bill of rights for the GI's.
Thank you very much.
NOTE: The President spoke at 1:25 p.m. at the Department of Veterans Affairs. In his remarks, he referred to Garnett G. Shropshire, World War II veteran, who introduced the President, and Hugo Mendoza, Persian Gulf war veteran. The proclamation of June 21 on the 50th anniversary of the GI bill of rights is listed in Appendix D at the end of this volume.
William J. Clinton, Remarks Commemorating the 50th Anniversary of the GI Bill of Rights Online by Gerhard Peters and John T. Woolley, The American Presidency Project https://www.presidency.ucsb.edu/node/219730