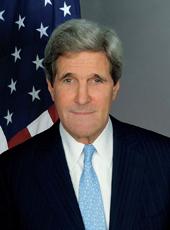 Remarks in Columbus, Ohio
Thank you, Dana, for an introduction that means more than I can tell you. And I know that I speak for everyone when I say that you and your family are in our thoughts and prayers.
Chris was my friend and one of the most hopeful people I've ever met. He treated every day like a gift and his life was a gift to us all. He not only showed us what it means never to give up, but he showed us what it means to believe – to seek, to find, and not to yield. His spirit soared even when he could hardly move. His courage, compassion, and determination were an inspiration – and I'm confident that because of him, someday soon millions of Americans will live – and live healthier lives. Chris once said, "So many of our dreams at first seem impossible, then they seem improbable, and then, when we summon the will, they soon become inevitable." Dana, your devotion to Chris and this cause are your own inspiration to all of us. And together, we will make his dream – the dream of so many millions – come true.
I'm pleased to be back in Columbus today, home to one of the great research universities in the world – Ohio State. And I'm also honored to be joined here today by John and Annie Glenn, who've been my companions for so many months and miles of this campaign. I can't thank them enough.
We face a fundamental choice in this election – the choice of a lifetime – and a choice that couldn't be clearer.
I believe that we need a President who defends America and fights for the middle class.
When I am President, we will make a fresh start in Iraq to bring our allies to our side and train the Iraqis so that we can succeed and bring our troops home. I will fight a tougher, smarter, more effective war on terror. We will hunt down, capture, and kill the terrorists wherever they are.
I will never give any other nation or organization a veto over our national security. But I will never forget what Roosevelt, Truman, Eisenhower, Kennedy, and Reagan all knew – that America is stronger, our troops are safer, and success is more certain when we build and lead strong alliances, not when we go it alone.
But a President has to be able to do more than one thing at a time. And today, I want to talk about one of the great issues that matter to middle class families: an America that leads the world in science and technology.
There is no issue more fundamental to creating the good jobs of the future, curing disease, making America independent of Mideast oil, and educating the next generation of scientists than our investments in science and innovation. As President, I will make science and technology a priority once again.
For 225 years, America has been defined by our sense of limitless possibility. We've always approached the future with imagination and dreams. What other nation could dream of flight – and have two bicycle mechanics from Ohio make it happen? What other nation could produce a man like John Glenn – who would help lead us to put the first footprints on the moon and find a path to the stars? What other nation could set out to learn more about disease and illness – and then lead an international coalition to map every single gene in the human body? This state has played an important role in that revolution – everything from the traffic light to the compact disc is a product of Ohio ingenuity.
But we haven't just created inventions that changed the world. In the process, we have created millions of well-paying jobs for middle class families here in Ohio and across America. The money we have spent at the federal level on research and development since World War II – working hand in hand with private investment – has been the best jobs program America has ever had. In fact, technology alone has helped account for half of all economic growth here in Ohio since 1945.
This hasn't just been a story of scientific imagination, but political imagination – from leaders at every step along the way who recognized that America's leadership in science and technology has given America a competitive edge in the world.
John Kennedy was one of those leaders. Forty-four years ago this week, he came here to Columbus to challenge America to lead the world in science and innovation. The Soviet Union had just become the first country in the world to launch a man into space.
Standing on the capitol steps, he said, "We cannot be satisfied as Americans to have the Soviet Union producing twice as many scientists and engineers as we are." Later in Dayton, to those who thought America could afford to wait, he said, "this country cannot settle for being first, if; first, but; first, when; or first, maybe. We need to be first on the far side of the moon and here in this country, and that is the issue."
In 1962, John Glenn became the first American to orbit the earth. Almost a decade later, another Ohioan, Neil Armstrong, completed that journey to the moon. When John Kennedy came here 44 years ago, America was falling behind in science and technology. Because of his vision, America was number one for decades. Now we are challenged not just by the successes of other countries, but by the failures of our own political leadership.
Once again, today America needs a President who believes in science as John Kennedy did. The American people deserve a President who understands that when America invests in science and technology, we can build a stronger economy and create jobs for the 21st Century. But George Bush has turned his back on the spirit of exploration and discovery.
We now have a President who is so beholden to special interests that he refuses to make the kinds of investments that benefit our common interests.
On one hand, he fights for corporate interests at the expense of the middle class. On the other hand, he has an extreme political agenda that slows instead of advances science.
It is wrong to take hope away from people. Hope is what gave us the polio vaccine and other breakthroughs in medicine. It is wrong to tell scientists that they can't cross the frontiers of new knowledge. It is wrong morally and it is wrong economically. When I am president, we will change this policy – and we will lead the world in stem cell research.
From nanotechnology to artificial intelligence, we know where the next generation of high-paying jobs will come from: jobs that pay, on average, 70 percent more than other jobs. Yet, George Bush has been so obsessed with cutting taxes for the wealthy that our investments in creating those jobs are dying on the vine.
This President has proposed cutting the National Science Foundation budget for research and development, cutting the EPA research budget, and cutting the Veteran's Affairs research budget. He's proposed cutting the Manufacturing Extension Program that business uses to develop new processes by 90 percent. This week, we learned that America has fallen to 13th in the world in broadband coverage. Broadband is critical to our long-term growth, but this president has proposed cutting the Agriculture Department's Rural Broadband budget, which brings the internet to America's small towns and rural communities.
The American Association for the Advancement of Science has said that to make good on all his campaign promises, the President would have to cut research funding at 21 of 24 federal agencies. And as the 9th largest recipient today of federal R&D funding among the 50 states, Ohio will be one of the hardest-hit states of all.
You get the feeling that if George Bush had been President during other periods in American history, he would have sided with the candle lobby against electricity, the buggy-makers against cars, and typewriter companies against computers.
Don't just take my word for it. This summer, 48 Nobel Laureates sent an open letter to the American people in which they said of the Administration, "By reducing funding for scientific research, they are undermining the foundation of America's future." These same Nobel Laureates have gone on record as saying the Bush Administration has systematically distorted facts to sustain their extreme positions.
In other words, the Administration's approach on scientific research is the same pattern we see in Iraq and on the economy today: if their policy isn't supported by the facts, then they just change the facts.
Under this President, America has been losing its lead in science. Our share of industrial patents is down, our share of Nobel prizes is down, our published research is down, and the number of new doctorates in the sciences is down.
The rest of the world isn't waiting for us to catch back up. In fact, this year, China and India will graduate 10 times as many engineers as we will have here in the U.S.
My friends, there is absolutely no reason why America should fall behind China on anything when it comes to innovation. If Asia can produce more research scientists, so can Ohio. If Tsinghua University can develop the jobs of the future, so can Ohio State. If Bangalore can be completely wired for broadband, then so can Dayton and Columbus.
This moment in history is too important -- the opportunities before us are too great – for America to trust a President who doesn't trust science. We need a fresh start on science and innovation. As President, I will see to it that America is once again at the forefront of scientific discovery.
First, we are going to create the well-paying jobs of the future by investing more in areas of research that are likely to create the industries that produce those jobs. Over the past four years, this Administration has lost more than 800,000 technology jobs, many to China and India. To keep and create good jobs here at home, we are going to close the tax loopholes that reward companies for shipping jobs overseas – and we'll reward companies that create and keep good jobs here at home.
We will invest in areas like advanced manufacturing, biotechnology, and nanotechnology that have the potential to improve lives and save them. And because we do not know where the next great breakthroughs will come from, I will support curiosity-driven, high-risk research that has given us such "accidental" discoveries as the MRI.
Second, we are going to help cure disease by investing in science and new technologies. We will not stand in the way of the future. We will find it. We will lift President Bush's ban on federal funding for stem cell research.
By blocking stem cell research, President Bush has sacrificed science to ideology. I agree with leaders from both political parties that stem cell research represents some of the best hopes of humanity. We are going to make funding for this research a priority. And we will uphold the highest ethical standards in the process.
Third, we are going to make America independent of Mideast oil by investing in the energy technology of the future – in innovations that will create good jobs across America. America once led the world in the production of clean energy products and the payrolls that go with them. We have to do it again – whether it's in wind, solar, ethanol, or clean coal.
We'll give automakers tax credits to retool their plants so they can build the fuel-efficient cars of the future, and we'll make sure that alternative energy sources will account for 20 percent of our fuel and 20 percent of our electricity by 2020. We will invest in energy-saving technologies so our homes, businesses, and factories are more efficient. I believe it's high time we had an America that relied on its own energy ingenuity – and not the Saudi Royal Family.
Fourth, we are going to create the workforce of the future by making college more affordable and preparing our workers for tomorrow's economy. If you're a freshman at Ohio State this fall, you are paying 74 percent more -- $3,000 more – than a student who arrived here in 2000. To make college more affordable, we will offer a tax credit on $4,000 of tuition so young Americans can turn their aspirations into achievement.
To close the growing skills gap on math and engineering between America and the rest of the world, we will support all-girls math and science schools and special after- school and summer programs that aim to get more girls and minorities engaged in math and science at an early age. We will give colleges new financial incentives to increase the number of science, technology and math majors they graduate, and double the National Science Foundation's graduate scholarships in these fields.
I am going to be a President who believes in science.
In the end, this isn't just about policy, it's about hope. It's about honoring the families here in Ohio who have seen jobs go overseas, and hope somebody is looking out for them. It's about honoring the mothers who want their children to grow up in world where the ground is safe to play on and the air is safe to breath. It's about honoring the hopes of my friend, Chris Reeve.
Chris had an unquenchable belief in the innovation and genius of America. He drew strength from the talent and dedication of scientists he met. And in turn, he inspired them, too – stunning doctors by regaining some sensation over 70 percent of his body and moving most of his joints. He never lost faith that America and American science was the greatest hope for humanity. That's a faith I believe all of us should share, for Chris Reeve, and the millions of people like him who believe in the possibilities of this remarkable time and our remarkable country. Some ask, how can we do it? My question is, how can we commit ourselves to anything less? With your help, that's the kind of President I'll be. I ask for your vote. Together, let's give America back its future and its truth.
Thank you, God Bless you, and God Bless America.
John F. Kerry, Remarks in Columbus, Ohio Online by Gerhard Peters and John T. Woolley, The American Presidency Project https://www.presidency.ucsb.edu/node/217039