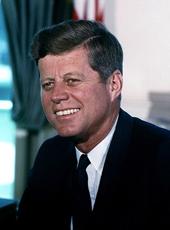 Remarks at a Civic Luncheon in Chicago.
Mr. Mayor, Your Eminence, Rabbi Mann, Bishop Burrill, Senator Douglas, Mr. Logelin, Mr. Lee, distinguished guests, Mr. Smith, ladies and gentlemen:
I am glad to be in Chicago because I am struck every time I come by the strong public spirit which runs through this city in the determination to make Chicago second to none, and everything about Chicago to be the best that men and women working together can provide. And also by the happy spirit of community effort which joins business and labor and churches and all the civic groups, the newspapers and all the rest, in selling Chicago to the people of Chicago, to the country, and the world.
And as Mr. Smith said, all these things do not just happen; they are made to happen. And the reason they are made to happen, I think, in Chicago, is because of Mayor Daley. So I am glad to be here today.
I did not realize--which shows the advantage of getting out of Washington--I did not realize until I began to look up some of the details of O'Hare what an extraordinary effort this has been, the largest airport in the world here in the center of the United States. So I hope that Chicago will continue to tell its story, not only here but all across this country, of what a great metropolis it is, its energy and vitality, and its commitment to the future. I don't think that there is any doubt that if this country continues to grow, if we can maintain a rate of economic vitality and prosperity, that Chicago will be among the leaders, and that the future of O'Hare Airport, named as the Mayor has said after. a great Chicagoan who died a good many thousands of miles away from here, that Chicago and O'Hare will be symbolic of the progress of this country.
There is, I think, the central thesis, however, that we face serious problems in this country in the decade ahead if we are going to maintain that growth. And I want to mention one of those problems because I think it concerns us all, in Government, in the city, the National Government, the State, labor, management, all of us as citizens. I think the number one domestic concern of the United States is going to be, in the 1960's, the question of jobs, jobs for a tidal wave of men and women who are going to be hitting our labor market in the next 5 years. It is a concern which requires the united effort of all of us. Some people may think it strange that jobs, which was the great issue of the thirties, when we were in a depression, should also be the great concern of the sixties, when we enjoy a relative period of economic prosperity.
The difficulty in the thirties was that there was an inordinately low supply of jobs for the men and women who wished to find work. The difficulty now is the tremendously high manpower demand which exceeds the supply of jobs. But now, as then, every effort must be made by all of us to strengthen the economy so that we can find work for the people who want it. This involves not only Chicago in this country, but it involves our position of leadership in the world. Mr. Khrushchev has said that the hinge of history would move when he was able to demonstrate that his system could out-produce ours. The hinge of history will move if we are not able to find jobs for our people, not only during recessions but also during periods of prosperity. And there are three reasons why I regard this as the number one problem we are going to face in this country in the coming years, and it is serious enough to warrant a careful examination by all of us to realize that it cannot be reduced by platitudes and hopes, and the effect of this problem is being felt and will be felt here in Chicago and Illinois and across the country. There are three reasons for it: first is the labor released by the revolution in farm technology. Agriculture has been this Nation's largest employer, engaging more people than steel, automobiles, and public utilities, and the transportation industries combined.
But now one farmer can produce the food and fiber needed for 25 Americans, compared to only 7 at the turn of the century. New fertilizers, insecticides, research, and all the rest have made this one of the great productive miracles of all time, has been one of the great stories for the United States around the world in contrast to the failure of our adversaries, but it is a fact that since 1947 our farms have increased their output 30 percent, at the very time that the man-hours worked on those farms were cut in half. Farm employment during that period declined by 3 million, an average of 200,000 a year--comparable to the population of the city of Akron, Ohio, being thrown out of work every 12 months. In the last 2 years alone, farm employment dropped by a half a million, while farm production and farm income were both rising. It is estimated that, disturbing as it may sound, only 1 out of every 10 boys growing up on the farms of the United States will find a living in agriculture.
This leads us to the second growing tide of manpower, our Nation's youth.
The crest of the postwar baby flood has swept through our elementary and secondary schools and is now about to engulf the labor force. Last year, for example, 2.8 million young Americans reached the age of 16. This year 3,800,000 will be coming into the labor market at that age. Altogether, in the 1960's, 26 million new young workers will enter the labor market, an increase of 40 percent over the 1950's, and a far greater number than this country has ever had to absorb and train in our history.
Already workers under the age of 25, although they comprise less than one-fifth of our labor force, constitute more than one-third of our unemployed. Last year the unemployment rate for men age 25 and over was 4.4 percent. But for those age 20 to 24 it was 9 percent, and for those 14 to 19 it was a shocking 13 percent. Although young people are staying in school longer than their fathers, the rate of school dropouts, 4 out of every 10, is too high, for job openings for the untrained and the unskilled are declining in factories, mines, farms, and railroads, in the construction and service industries.
Moreover, the jobless rate is always highest among the unskilled. In our modern society even high school graduates find that their skills are inadequate. But Labor Department surveys show that their rate of unemployment is far below that of school dropouts, not only in the year of leaving school but in the later years.
The latest surveys also show that unemployment rates among college graduates are much lower than among those who come out of high school. But unfortunately, only 1 out of every 10 finish college. In short, as challenging as it will be to provide, first, jobs for the 26 million new young workers entering the labor market in the 1960's, far more difficult will be the problem of absorbing the 7.5 million who will not even finish high school, including nearly two and a half million who will not even finish the eighth grade.
I ask you to mark these figures well, for youth unemployment poses one of the most expensive and explosive social and economic problems now facing this country and this city. In the last decade, for example, arrests of youth increased 86 percent. What will the figure be for the next decade when the net increase of potential young workers in the labor force rises 15 times as fast as it did in the 1950's?
Finally, underlying all of these trends is the third phenomenon, both cursed and praised, and that is technological advance, known loosely by the name of automation. During the last 6 years the Nation increased its manufacturing output by nearly 20 percent, but it did so with 800,000 fewer production workers, and the gain in white collar jobs did not offset this loss. Since the Second World War the real output of the private economy has risen 67 percent, with only a 3-percent rise in man-hours.
I do not wish to be misunderstood. Increasing productivity and advancing technological skills are essential to our ability to compete and to progress. But we also have an obligation to find the nearly two million jobs which are displaced by these advances.
This city is no stranger to any of these problems. You have seen your railroads laying off machinists and boilermakers, as the proportion of diesel locomotives rose from less than 15 percent of all locomotives in 1947 to 97 percent today. You have seen your downstate coal mines laying off workers as new machinery makes it possible for 46 men to dig the coal that 100 men dug in 1947. And you have seen your steel mills employ 79 men to produce the steel products which required 100 men only 10 years ago. Chicago, I might add parenthetically, also proves the exception to this pattern since it now takes 10 men to manage the Cubs instead of 1!
This is not a blue-collar problem alone. Office and clerical workers are increasingly being displaced by automatic computers and processes. The Farmers Home Administration of the United States Government processes 35 percent more loans per employee than it did only 2 years ago.
This administration intends to press ahead with Government economy, but we also have to find in the private economy jobs for these people who are willing.
All these trends you have seen in this city and State, workers displaced by automation, school dropouts roaming the streets, men looking for work who have left the farm, the mine, the factory, the railroad, or the distressed area. You have your share of jobless Negroes and women and older workers and all the rest, even though under Mayor Daley's hard driving leadership this city is creating new jobs faster than almost any city in the country. The same is true on a larger scale of the Nation as a whole. Our civilian labor force grew by nearly 12 million during the last 15 years. But the number of jobs grew by only 10 million. In the last 5 years we saw an annual increase of only 175,000 private jobs, outside of agriculture, compared to 700,000 in each of the previous 10 years. Our total gross national product output grew at a rate of only 3 percent, while unemployment remained continuously above 5 percent. And last year's loss of man-hours, in terms of those willing but unable to find full time work, was a staggering 1 billion workdays, equivalent to shutting down the entire country with no production, no services, and no pay for over 3 weeks.
Some 14 million Americans had some unemployment in 1962, and 28 percent of last year's unemployed were out of work 15 weeks or longer. Fifteen percent were out of work a full 6 months or longer.

This Nation must do better than that.
The trouble is that each of these figures grow worse after each recession, and each one is bound to grow worse in the sixties as the labor force increases even faster, unless we take actions to reverse these trends and make the most of manpower. Unless we step up our rate of growth, unless we create a supply of jobs which is more equal to the demand, our rate of unemployment will steadily and swiftly climb to the recession level of 7 percent, even without a recession. Without full employment consumer markets are below their potential, without strong consumer demand plant capacity is not fully in use, without full plant utilization profit margins are reduced, without higher profits investment lags, and so the sagging spiral continues downwards.
Our task is to reverse this spiral, to recognize it in the first place, and no single magic solution will solve all of our manpower problems. Above all, we need to release the brake of wartime tax rates which are now holding down growth at the very time we need more growth in order to create more jobs. Ten billion dollars more in tax savings in the hands of American consumers and investors, as I have proposed to the Congress, will be multiplied many times in new markets, new equipment, new jobs, new payrolls, and then still more consumption and investment.
As this decade is unique in terms of the trends converging upon it, so is 1963 uniquely qualified to be the year that we cut Federal taxes. Inflationary pressures are at bay, no world crisis strains our resources, the dollar is strong, new investment incentives have been enacted, world war material prices are stable, and the number of idle men and machines can clearly absorb this expansion. But tax reduction alone is not enough if we are to attack unemployment in those areas and among those workers where the need is greatest.
Tax reduction alone will not employ the unskilled or bring business to a distressed area, and tax reduction alone is not, therefore, the only program we must put forward. To mention but a few, we urgently need to improve our schools and colleges, to reduce the number of dropouts, to reduce the number of unskilled workers, to keep young people out of the labor market until they are ready for the jobs which automation creates, instead of those it is sure to replace.
We urgency need a youth employment opportunities program to give young people training and job experience instead of hanging around the streets, out of work, and out of hope. We need to step up our efforts for aid to distressed areas, for the retraining of the unemployed, particularly in those areas where it has been chronic, for more security for our aged, for improving our housing and our transportation industries, and for ending race discrimination in education and employment, which helps increase, of course, the chronic unemployment of minority groups.
These are all controversial measures. There may possibly be others that are needed or others that are better, but at least it is a problem that we should all concentrate our attention on and not merely assume that it is going to be settled if we ignore it.
O'Hare Airport was not built in that spirit and this problem will not be solved unless we concentrate the best energies of this country on the solution of a serious national problem. I have no doubt these problems will some day be solved. The question is, will they be solved in ways which impoverish us, with restrictions on the workweek, or inefficiency, or in competition, or will they be solved in ways which enrich us by expanding our economy and putting people to work?
The choice is up to us all, to you here in Chicago, to those of us in Washington; depends on the will of the people and the will of the Congress.
Twenty-five hundred years ago the Greek poet Alcaeus laid down the principle which best sums up the greatness of Chicago: "Not houses firmly roofed," he wrote, "or the stones of walls well-builded, nay nor canals and dockyards, make the city--but men able to use their opportunities."
Chicago is blessed to have such men at its helm. And my fervent hope is that the United States of America, in meeting the needs of this decade, will also be peopled by "men able to use their opportunities."

Thank you.
Note: The President spoke at a luncheon in the Conrad Hilton Hotel in Chicago. In his opening remarks he referred to Richard A. Daley, Mayor of Chicago; His Eminence Albert Cardinal Meyer, Archbishop of Chicago; Rabbi Louis L. Mann of Chicago Sinai Congregation; the Right Reverend Gerald F. Burrill, Episcopal Bishop of Chicago; Paul H. Douglas, U.S. Senator from Illinois; Edward C. Logelin, president, Chicago Association of Commerce and Industry; William A. Lee, president, Chicago Federation of Labor; and C. R. Smith, president, American Airlines, Inc.
John F. Kennedy, Remarks at a Civic Luncheon in Chicago. Online by Gerhard Peters and John T. Woolley, The American Presidency Project https://www.presidency.ucsb.edu/node/237088