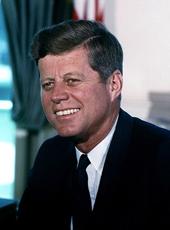 Remarks at a Civic and Academic Reception in St. Patrick's Hall, Dublin Castle
Mr. Mayor, faculty and officials of these two great universities, ladies and gentlemen:
This city, these schools--this country has certainly done more than it should have to show friendship for my own people and to honor my country. I must say, as the recipient of this outpouring of good will for the United States, I am most grateful to you all. I feel most indebted, not only to all of you here who hold positions of responsibility, but to all the people of this city, which has welcomed us so generously, and this country, which has made us feel so very much at home.
So, Mr. Mayor, I want to thank you for the honor you have done me this afternoon, and also, through you, to express our thanks to the people of Dublin. I can imagine nothing more pleasant than continuing day after day to drive through the streets of Dublin and wave, and I may come back and do it.
I want to also say how pleased I am to have this association with these two great universities. I now feel equally part of both, and if they ever have a game of Gaelic football or hurling, I shall cheer for Trinity and pray for National.
It is appropriate to have this opportunity to form this association because Ireland and education have been synonymous for nearly 2,000 years. For so many hundreds of years this country had colleges and universities of 2,000, 3,000, and 4,000 students in the darkest ages of Europe, which served as the core, as the foundation, for what became the enlightenment and the religious revival of Europe. This country was wise enough to see in days that were past, that when it finally became independent, that it would need educated men and women.
Democracy is a difficult kind of government. It requires the highest qualities of self-discipline, restraint, a willingness to make commitments and sacrifices for the general interest, and also it requires knowledge.
My own country, in its earliest days, put the greatest emphasis on the development of education for its citizens. In the Northwest Ordinance, which was drafted by Thomas Jefferson and John Adams, it was provided that a section of land would be set aside in every 30 sections in order to educate the people. Thomas Jefferson once said, "If you expect the people to be ignorant and free, you expect what never was and never will be." And in the heights of the Civil War, when the outcome was most uncertain, and the results in doubt, the United States Congress, under the leadership of Abraham Lincoln, passed the Morrill Act, which established our land grant colleges, and which set aside public land in every State in order to maintain a State college and State university. We have just recently celebrated the 100th anniversary and we now have in every one of our States universities which have educated our sons and daughters and helped make it possible to maintain self-government.
So education, these two great schools, the city of Dublin, the country of Ireland, the future of the West, all are closely intertwined. And I can assure you that there are no honors that you could give me, as the President of the United States, than to have received the three distinctions which I hold today and shall always value.
Thank you.
Note: The President spoke at 5 p.m. His opening words "Mr. Mayor" referred to Sean Moore, Lord Mayor of Dublin.
Before his remarks the President was twice made an honorary doctor of laws (by the National University of Ireland and by Trinity College of the University of Dublin). He was also made an honorary freeman of the city by the Lord Mayor and Corporation.
John F. Kennedy, Remarks at a Civic and Academic Reception in St. Patrick's Hall, Dublin Castle Online by Gerhard Peters and John T. Woolley, The American Presidency Project https://www.presidency.ucsb.edu/node/236980