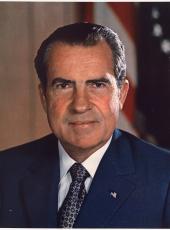 Remarks at City Hall in Indianapolis, Indiana.
Mayor Lugar, Governor Whitcornb, all of the distinguished mayors from cities all over America, and this wonderful audience welcoming Mrs. Nixon and me here in Indianapolis:
This is for me, Mr. Mayor--and for all the members of the Cabinet that are here on this unprecedented visit, this is for all of us an historic day; and we are so glad that you welcomed us as warmly as you have. And as you have welcomed us, Mr. Mayor, I would like to share with our friends here in Indianapolis and in Indiana the reason why we have this meeting, a little bit of history.
In April of last year, we had a meeting in the Cabinet Room in Washington, D.C. Many times such meetings have taken place there. It was a meeting of the President of the United States with mayors, 10 mayors from across the country.
And in that meeting, we discussed the problems of cities and how the Federal Government could work with the cities in solving those problems. Today, we are meeting in Indianapolis. We are again meeting with 10 mayors.
Now there are two differences I would like to mention:
First, then, we were bringing the mayors of the cities of America to Washington. Here, we are bringing Washington to Indianapolis and to the cities. And this is the theme I wish to emphasize. I believe that it is time that, after over a century and a half of power flowing from the people and from the local communities and from the States to Washington, D.C.--let's get it back to the people and to the cities and to the States where it belongs--because the power should be there, because I very firmly believe that the people know best. The people of Indianapolis know what is best for them. The people of Indiana know what is best for them.
Yes, Washington must lead and Washington must provide assistance for all the programs, but I want the members of our Cabinet to know what the people out in the heartland think. I want them to know what their needs are, what they think we ought to do. That is Why we are here.
And another thing that distinguishes this meeting, Mr. Mayor, is this: The meeting we had previously was only of the 10 biggest cities in the United States. Now, the meeting today is of still very large cities. Indianapolis is a large city but according to the charts, it is a medium sized city. The Mayor of Washington, D.C., is here and of Indianapolis, [and] San Diego, and we want to see what the problems of those cities are and how they differ from those of the larger cities. Sometimes they are the same. But we are trying to find out what the problems are so that we can deal with them more effectively in Washington, D.C.
So what I am really saying is this: Geographically, this meeting is different, because geographically, it is being held at Indianapolis. We are bringing the Government to Indianapolis. Politically, it is different, because politically we are bringing the Government to the people rather than having the people come into Washington, D.C.
And then, finally, this thought: This is an occasion where we are going to discuss the problems of cities, the problems of crime, the problems of division, which, of course, have plagued many of our cities and much of our country, problems you are all interested in.
I know, too, that there are other problems that everybody here is interested in-the problem of peace in the world, and I can only say this: There is nothing to which this administration is [more] dedicated, nothing to which I am more dedicated than to continue to make the progress we have made in bringing men home from Vietnam rather than sending them out to Vietnam.
And I look forward to the time when we will not only end that war, but where we can build a solid basis for peace in the future, a peace that we can keep, a peace that Americans can look proudly on because it was a peace that was won, not over anybody else, but a peace providing for the right of people to determine their own future.
And so, Mr. Mayor, I just want to say that to be here in Indiana, not as a son of Indiana, but as a grandson of Indiana, always makes me very proud, and to have this wonderful welcome is an added dividend.
And I only hope that out of this meeting will come some new ideas--I know there will--so that we can in Washington do a better job serving you. That is why we are there and we hope we deserve being there in that capacity. Thank you.
Ladies and gentlemen, I think you would all like to see the members of the Cabinet who are here with us for this historic meeting:
The Attorney General of the United States, John Mitchell; the Secretary of Commerce, Maurice Stans; the Secretary of Interior, Wally Hickel; the Secretary of Housing and Urban Development, George Romney; the Secretary of Transportation, John Volpe; the President's Science Adviser, Dr. Lee DuBridge; the Director of the Office of Economic Opportunity, Don Rumsfeld; the Counsellor to the President and a member of the President's Cabinet, Dr. Patrick Moynihan; and since Indiana, I think, is still known as a State with a great interest in agriculture, a son of Indiana, a graduate of Purdue--pardon me, Indiana University--the Secretary of Agriculture, Cliff Hardin.
And I just want to say I know Indiana well. I think I have spoken in every small and medium-sized town in this whole State over the past 22 years. But I want this Cabinet to know Indiana and to love it as I do. And I am sure they will.

Thank you very much.
Note: The President spoke at approximately 1:20 p.m. before attending a meeting of the Council for Urban Affairs. He was introduced by Mayor Richard G. Lugar, whose remarks are printed in the Weekly Compilation of Presidential Documents (vol. 6, p. 133).
Two news briefings were held later that day in the City Hall auditorium on the meeting of the Council for Urban Affairs. The first was by Dr. Daniel P. Moynihan, Counsellor to the President, and the second by Jack Maltester, Mayor of San Leandro, Calif., and President of the U.S. Conference of Mayors, Mayor Lugar, and John R. Price, Jr., Executive Secretary of the Council. Transcripts of the briefings are printed in the Weekly Compilation of presidential Documents (vol. 6, pp. 135 and 140).
A list of those scheduled to attend the meeting was released by the White House on February 4, 1970.
Richard Nixon, Remarks at City Hall in Indianapolis, Indiana. Online by Gerhard Peters and John T. Woolley, The American Presidency Project https://www.presidency.ucsb.edu/node/240653