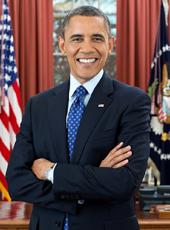 Remarks at a Cinco de Mayo Celebration
The President. Buenas tardes. Bienvenidos a la Casa Blanca—[applause]—su casa tambien. And Happy Cinco de Mayo. I know there are tacos and churros and margaritas. [Laughter]
Audience member. And tequila!
The President. Tequila. [Laughter] So I'm going to be brief. I'll let you get back to the tequila. She sounded very excited about that. [Laughter]
Let me, first of all, ask everybody to give a big round of applause to our musical guests, the Esperanza Azteca Youth Orchestra of Los Angeles and Puebla, Mexico. [Applause] Yay! So one of the biggest Cinco de Mayo fiestas in the world happens every year in L.A., and some of these students left their hometowns to be here today. So we are very, very proud of them. I also want to welcome our guests from Mexico—Under Secretary Sergio Alcocer. Give him a big round of applause. Ambassador Alejandro Estivill is here. Give him a big round of applause.
We know the origins of Cinco de Mayo. On this day, more than 150 years ago, thousands of soldiers from one of the world's most powerful armies marched towards the city of Puebla. And the farmers and the peasants who lived there were as hopelessly outmatched as their uniforms were mismatched. But they held their ground. They sent the invading army running in the other direction. It's one of the great David-vs.-Goliath stories in history.
And the United States, of course, has made Cinco de Mayo a celebration of our own. After World War II, when States and cities across the country sought to recognize Mexico and Mexican Americans for their contributions to the war effort, recognition of Cinco de Mayo in the United States took off. And today, we celebrate it with parades and barbecues and dances and street fairs and parties just like we're having today, with tequila. [Laughter]
So this holiday is an opportunity to remember how deeply Mexican American culture is woven into the fabric of this country. People of Mexican heritage and their children and their children's children have influenced our commerce and our culture and our language and our literature, our faith and our food. Like so many immigrant groups in this country, Mexican Americans have kept us young and dynamic and energetic as a people.
So we reaffirm our commitment to those traditions, and part of the way we reaffirm it is to reaffirm our commitment to comprehensive immigration reform, because that's who we are as a country. The story of America is a dynamic story. So we're not just going to stop now suddenly and forget everything that helped to build this country. And part of what built it was the incredible power of our immigrant communities. Our prosperity, our security demands comprehensive immigration reform.
That's the reason I took the actions I did last fall—within my legal authority—to make our immigration system fairer and smarter and more just. That's why Congress still needs to step up and ultimately pass comprehensive immigration reform.
Audience members. Yes! The President. I know that it's so challenging when you know the right thing to do, and there are folks blocking your way and obstacles in your path. But I just want to remind everybody that progress is not always a straight line. Sometimes, you have to take this turn and that turn and go over this mountain and that valley. But the good news is, the American people are with us, because they understand that the story of America is a story of progress. And it's often written by people who come here with a vision for what's possible and are willing to take risks and aspire to something bigger than what they've already known.
As one of my predecessors, Franklin Roosevelt, once said, "Remember, always, that all of us, and you and I especially, are descended from immigrants and revolutionists." Immigrants and revolutionists. Now, that's not the story of looking backwards, that's the story of looking forward. That's what we're doing today. And that's why I'm so glad that all of you are joining us.
So with that, viva los Estados Unidos. Viva Mexico. Feliz Cinco de Mayo. And go easy on the tequila. [Laughter] Muchas gracias, everybody.
NOTE: The President spoke at 5:42 p.m. in the East Room at the White House. In his remarks, he referred to Undersecretary of North America Sergio Manuel Alcocer Martinez de Castro of Mexico; and Supreme Court Justice Alejandro Estivill-Castro of Mexico, in his former capacity as Mexico's Ambassador to the United States.
Barack Obama, Remarks at a Cinco de Mayo Celebration Online by Gerhard Peters and John T. Woolley, The American Presidency Project https://www.presidency.ucsb.edu/node/310771