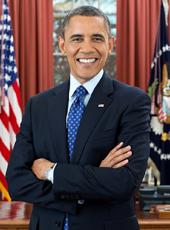 Remarks at a Cinco de Mayo Celebration
The President. Hello, everybody.
Audience members. Four more years! Four more years! Four more years!
The President. No, no, I can't. No, no, no.
Audience members. Four more years! Four more years! Four more years!
The President. All right, let me say, in addition to the Constitution, Michelle will not allow that. [Laughter] Buenas tardes.
Audience members. Buenas tardes!
The President. Feliz Cinco de Mayo! Bienvenidos a la Casa Blanca.
This is one of our best fiestas of the year. And I want to thank Yanely for not only the introduction, but for being just—what an unbelievable example of the young people who are going to be leading us in the future. She wasn't even nervous backstage. She knew she was going to do great. So we're so proud of her.
We have a couple of guests I want to just make sure to mention. Representative Joaquín Castro is in the house, from the great State of Texas. I know your parents are proud of you, and we're proud of you.
I want to thank our special guest chef, Johnny Hernandez, who brought his taco and margarita recipes all the way from San Antón. And give it up for our outstanding performers, Maná. I was thinking about coming out and playing. But I decided maybe not. [Laughter] Let me not spoil the party.
We all know the story of Cinco de Mayo. A hundred fifty-four years ago, the French, one of the strongest armies of the 19th century, marched on the tiny town of Puebla. An ill-equipped and hastily trained band of Mexican patriots grabbed whatever weapons they could find, and they fought off the opposing forces and eventually regained full independence.
A hundred fifty years later, Americans and Mexicans still celebrate Cinco de Mayo. In backyard barbeques and baseball parks, from Chicago to Austin, folks are enjoying music and food and good times with family and friends, just like we're doing here today. Earlier, I had a chance to speak with President Peña Nieto of Mexico about our shared work on advancing the prosperity and the security of Americans and Mexicans. And so I wished him a happy Cinco de Mayo. And he asked me to extend the same to you, so I'm doing my duty here. It's a reminder of not just a holiday, but the incredible bonds that our two countries share.
Audience member. Hey!
The President. Hey! [Laughter]
And on my final Cinco de Mayo at the White House, in the company of this extraordinary group, I want to remind everybody of everything we've gotten done. We've been busy. And we couldn't have done it without you. Together, we increased high school and college graduation rates, cutting the Latino dropout rate by more than half since 2000. Together, we ensured that more than 700,000 DREAMers have the opportunity to reach their potential.
Together, we continue to fight to fix our broken immigration system. The fact that we weren't able to get it through Congress has been one of the most frustrating aspects of my Presidency. But our ability to take actions within my legal authority to make our immigration system fairer and smarter and more just, I continue to believe, are going to help pave the way for us to finally get the law passed through the next Congress.
And I've got to tell you, I'm going to keep on working on this not just as President, but as a citizen, once I'm leaving here, because I think it's one of the most important things we can get done. Now, in order to do that, everybody has got to follow this young lady's lead and get out there and vote. So we'll have another occasion to talk about that. But we're going to have to have some historic turnout rates come November.
Today is, really then, not just a celebration of all that we've gotten done, but it's a commitment to continue our work. Change is hard. Sometimes, it takes time. Sometimes, you take two steps forward, and then you have to take one step back. But it's always possible to bring about the change we hope for as long as good people are willing to work together and remain committed, willing to march and organize and vote and educate our friends and our families and our neighbors, and tell the stories of all the incredible people who have contributed to this great Nation of ours who are immigrants, who came from some other places, but ended up weaving their stories together with people from all around the globe to make this unique country we call America.
Change is possible because of people like you. It's because of people like Efrain Escobedo. I want to tell his story, because Efrain was born in Los Angeles to two immigrants from Mexico. As an oldest child, Efrain took on the role as his parents' advocate, translating for them in school and at the doctor's office. And when he turned 18, eager to exercise his new right to vote, he realized that his parents couldn't vote. He said, I had these two parents who raised me to love this country and worked so hard to be there, and yet, in a very important way, they weren't a part of this democracy.
The more Efrain learned about the power of his vote, the more he threw himself into the work of turning whole neighborhoods of people like him into active and engaged citizens. And through the organization where he works, the California Community Foundation, he's worked tirelessly to encourage people to apply for citizenship and become involved in their communities and to vote and to consider running for office themselves.
In 2007, with other Latino leaders, he helped lead a campaign to encourage people to become U.S. citizens, and he joined the citizenship campaign I launched last September. And since Efrain's campaign was launched, millions of people have become U.S. citizens and active participants in our democracy. And that just shows you the difference that one person can make. If we use our democracy, he says, it does work, and every vote really does count.
Throughout this room, all across this land, we're blessed with people like Efrain. And that's what makes strong communities. That's what makes for a strong country. People working to push this country forward, even just a little bit, and then handing it off in better shape for future generations. And that's really what we celebrate here today.
And for that, I want to thank you. For that, I think you've all earned a few margaritas. [Laughter] So thank you, everybody. God bless you. God bless America. Viva Mexico.
NOTE: The President spoke at 4:12 p.m. in the East Room at the White House. In his remarks, he referred to Denver, CO, resident Yanely Gonzalez; Maria del Rosario Castro and Jesse Guzman, parents of Rep. Joaquín Castro; and Efrain Escobedo, vice president of civic engagement and public policy, Californian Community Foundation, and his parents Efrain Escobedo, Sr., and Rosa M. Escobedo.
Barack Obama, Remarks at a Cinco de Mayo Celebration Online by Gerhard Peters and John T. Woolley, The American Presidency Project https://www.presidency.ucsb.edu/node/318445