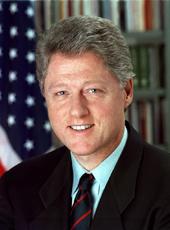 Remarks at "Christmas in Washington"
Thank you. Thank you, Kelsey. I'd like to thank all the cast of "Frazier," Peri and Jane and John and David, for the wonderful job they did tonight; Gloria Estefan; Clint Black; Al Green; Dawn Upshaw; the Naval Academy Glee Club—makes you proud to be Commander in Chief—[laughter]—the U.S. Army Band's Herald Trumpets also do; the magnificent Eastern High School Chorus; and of course, Ian Frazier and the "Christmas in Washington" Orchestra, for the magnificent music all of you have given us. Let's give them a great hand. [Applause]
Every year, Hillary and Chelsea and I really look forward to this wonderful "Christmas in Washington" evening. Besides getting us into the holiday spirit, it also gives us the opportunity to recognize one of our country's preeminent health care facilities, the Children's National Medical Center right here in Washington.
As always, Christmas is a time for us to reflect on our good fortune in the past year. This Christmas, I have much to be grateful for. But among the things I am most grateful for is the way the people all around the world still look at our beloved land. Recently I returned from Europe, where this was brought home to me ever more than before. People see America as a nation graced by God with peace and prosperity, a land of fundamental fairness and great freedom. And even though it sometimes imposes extra burdens on us, it is wonderful to know that people the world over trust us to work with them to achieve and share the blessings of peace.
So at Christmas, as we celebrate the birth of a homeless child whose only shelter was the straw of a manger but who grew up to become the Prince of Peace, let us remember that He said, "Blessed are the peacemakers." And let us ask the blessings of peace this Christmas for everyone, from the Middle East to Northern Ireland, to Bosnia, and not only for the children there but, of course, for our troops as well. And let us also as Americans resolve, each of us, to do what we can to be peacemakers, not only to bring peace and reconciliation around the world but also to the most difficult neighborhoods of our own Nation, to every child who deserves to be free from violence and full of hope. That is our prayer for this Christmas.
Hillary and Chelsea and I offer this wish of our season to all of you and to all Americans everywhere: Peace on Earth, good will toward men. Merry Christmas, and God bless you all.
Thank you.
NOTE: The President's remarks were recorded at 6:20 p.m. at the National Building Museum for broadcast at 10 p.m. on December 13. In his remarks, he referred to Kelsey Grammer, Peri Gilpin, Jane Leeves, John Mahoney, and David Hyde Pierce, cast members of the television show "Frazier;" and entertainers Gloria Estefan, Clint Black, Al Green, Dawn Upshaw, and Ian Frazier.
William J. Clinton, Remarks at "Christmas in Washington" Online by Gerhard Peters and John T. Woolley, The American Presidency Project https://www.presidency.ucsb.edu/node/221269