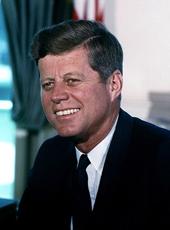 Remarks in Chicago at the Dedication of O'Hare International Airport.
Mayor Daley, Governor Kerner, Senator Douglas, Government and State officials, ladies and gentlemen:
Twenty-one years ago this year, a young Navy officer stood at the White House and was decorated by President Roosevelt with the Congressional Medal of Honor for heroism extending far beyond the line of duty. I remember as a young naval officer myself how the extraordinary feat of "Butch" O'Hare captured the imagination not only of our Armed Forces but also of the country. His extraordinary act in protecting his ship, shooting down, while he was alone, shooting down five of the enemy, during difficult days in the Second War, gave this country hope and confidence not only in the quality and caliber of our fighting men, but also in the certainty of victory.
Therefore, 21 years later, I am proud to come to Chicago, to this airport, to take part in this act which commemorates his public service, his great naval service, and also reminds me of how much we owe to those who made this country of ours.
I think one of the extraordinary facts of the Second War was the number of men who were highly decorated, particularly with the Congressional Medal of Honor, who later lost their lives in combat in later days. "Butch" O'Hare was one of them, being killed 18 months after the act of honor by the President of the United States, when his life could have been much easier. John Basilone, who got the Congressional Medal of Honor, in the Marine Corps, in Guadalcanal, and who was later killed on the beach at Iwo Jima, was another. But time after time, men who could have stayed at home and felt their duty done, went out again and some of them were killed. So today we not only dedicate the International Airport, but we also recall all those who made it possible. This is an extraordinary airport in an extraordinary city, in an extraordinary country, and it is a tribute to the constructive action of the Federal Government, the State government, and the city government, under the distinguished leadership of your great mayor, Mayor Daley.
To keep these various interests working together and make this the most extraordinary airport in the world for this great city is an amazing feat. This airport lives up to its name. There is no other airport in the world where planes can make instrument landings on parallel runways, simultaneously. There is no other airport in the Nation which maintains three instrument landing systems. And there is no other airport in the world, and this should be a source of satisfaction to the people of Chicago, there is no other airport in the world which serves so many people and so many planes. Some 13.5 million airline travelers passed through O'Hare Airport last year. In 5 years it has gone from the 16th most active field in the country to the 1st, like so many other things about Chicago. During this airport's daily peak periods, an airliner lands and takes off every 43 seconds. Every day one out of every five air travelers in this country passes through this airport, enough people in one day to equal the population of Bloomington, Ill. Every day some 1300 to 1400 landings and takeoffs occur. So I think that this airport is an extraordinary national asset, named after an extraordinary American.
All of this traffic in and out of Chicago proves, as it has since the beginning of this country, that Chicago occupies a most important and vital strategic area in the United States, where all the lines of communication cross. That is why the future of this city is so bright. Indian canoes traveled this route from Lake Michigan and the Mississippi River before this was the United States.
And it will be doing the same thing in the year 2000. Railroads, highways--all the rest will come and meet in Chicago and make this a vital, booming city. These are all the things that can be done, but I think a good deal more must be done. One of the problems is with the people who live around the airports. I hope that the National Government, along with the airlines, will continue to work as hard as they can to make sure that the noise from these jets which take us in and out do not disturb the lives of a half million people whose homes are in the immediate area. In addition, air cargo is only beginning to be as important as it is. In addition, I think we must make a special effort at O'Hare and all our other airports to welcome the people who come from abroad. This may be the first view they have of America. We want them to know what a warm and vital and vigorous country this is. And I hope we will make every effort to make them at home, and to urge their countrymen to come and visit us.
Finally, we look forward to the day in aviation when we are going to travel 3 times the speed of sound, and go to any place in the world in a few hours. And when that happens, we want the United States to be in the lead, as it has been in the lead in jet transportation since the jet was invented. All in all, I am proud to be here in Chicago taking part in a great ceremony, honoring a great American to whom we owe much, looking to the past and saluting him, and looking to the future and saluting the city of Chicago. Thank you.
Note: The President's opening words referred to Richard J. Daley, Mayor of Chicago; Otto Kerner, Governor of Illinois; and Paul H. Douglas, U.S. Senator from Illinois. Later he referred to Lt. Comdr. Edward H. O'Hare for whom the airport was named.
John F. Kennedy, Remarks in Chicago at the Dedication of O'Hare International Airport. Online by Gerhard Peters and John T. Woolley, The American Presidency Project https://www.presidency.ucsb.edu/node/237079